Harry Wheeler of Harmonic Rooms spends a week in November in the company of some of the current greats of the acoustic guitar, and reflects on the enduring legacy of John Fahey and Robbie Basho.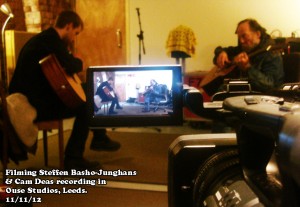 Last November, I spent over a week in and out of the recording studio with my trusty video camera and two explorative guitarists, Cam Deas and Steffen Basho-Junghans. Part of the appeal of getting these two guys together was the cross-over in their respective styles and approach to their instruments (primarily 6 and 12 steel-string guitars), combined with their difference in age. With Cam being in his early twenties, his playing has a youthful passion and vigour to it which also contains high energy and real sparkle, while Steffen, being in his late 50s, has a more mature approach, which in contrast is softer and displays a deeper sense of emotion. However, both musicians share a sense of adventure in their sound and attitude, which made me curious to hear them exploring as a duo.
10/11/12

Before we even got into the studio together we ventured over to Bradford where my fellow band mate Chris Hladowski ( of The Family Elan) had organised an intimate show in the upstairs room of the radical social centre that is The 1 in 12, a shining jewel of culture amongst many in the great city of Bradford. It's not often that shows happen high up in this room, which is usually used as a café and radical library. There was a great vibe when we arrived. Most people were buzzing from the gourmet vegan food they'd just finished that came with the door admission, which also included a performance by 12-string virtuoso James Blackshaw. There was something fitting about Blackshaw playing amongst so many books. Like books can be food for the brain, Blackshaw's music is food for the ears. I've put him on a couple of times in Leeds, filmed him playing at a Blackest Rainbow event in Sheffield and finally seeing him play live in Bradford only confirmed the consistent effect that his music has on me: thoroughly nutritious ear food. The 1 in 12 also includes a vintage screen printing press, which was utilised in creating the stunning poster for the event by Nick at the Print Project, which you can get hold of here.

11/11/12
Our first day in the studio, but without our recording man, so more of a playful warm up getting used to the room.
12/11/12
In our time together we had 'the voice of the turtle' with us (John Fahey's ghost) as I'd helped arrange two screenings of In Search of Blind Joe Death: The Saga of John Fahey directed by James Cullingham,who we were lucky enough to have with us to give a question and answer session at the Leeds International Film Festival screening.
We'd arranged the first screening to be held at my favourite cinema, The Hyde Park Picture House. It's all draped in red, complete with original gas lighting and green-glass jellyfish light coverings.
James has taken upon himself the impossible task of fitting a whole man's life into an hour. Undoubtedly there will be incredible stories missed out of the film and a few vital missing talking heads, but that's just the nature of film-making. Fahey touched so many people on a strikingly personal level that it would be impossible to cram them all into a feature length documentary. One of the best talking heads is Joe Bussard, whose love of Fahey and music in general bursts out of him with natural pleasure. At one point he plays some of the original tapes he recorded with Fahey and recalls with shear delight a memory of them making a record together, backwards. Another notable talking head was Pete Townsend, who gives some great quotes and convincingly likens Fahey to Charles Bukowski.
Fahey did a lot with his life. I first heard of him though various guitarists I'd interviewed for my Harmonic Rooms You Tube Channel (James Blackshaw, Nick Jonah Davis, C.Joynes and Steffen Basho-Junghans). With out ever being a devoted Fahey fan myself, from my discussions with these learned guitarists I knew a film about the man would make for some pretty engaging viewing. At present I've seen the film three times and can say in all honesty that on every viewing it kept giving something new. There are many characters in this film and its clear that in his life Fahey had had a deep impression on them all, including his ex-wife Melody Fahey who features in the film and manages The John Fahey Trust which allowed James Cullingham to create the documentary.
After the question and answer session, Cam Deas took to the stage and presented two pieces on his 12-string sandwiched together:
Finally Steffen took to the stage with a song "About another mighty man" (please watch the video for an explanation).
13-14/11/12
Back in the recording studio, this time with our man at the recording desk, drums were pounding and valve amps throbbing, these sound explorers left their guitars behind and to quote Steffen, created a "South American camel ride," amongst other surprising twists and turns, including a hilarious vocal improve session by SB-J.
15/11/12
I organised a show for Steffen and Cam in Leeds Wharf Chambers, a venue that the city has long needed. Such a vibrant city needs a co-op run venue that is culturally lead, like the 1 in 12, The Cube in Bristol, The Star and Shadow in Newcastle and the Cowley Club in Brighton. The first time I put Steffen on was in 2006 in the same venue, then called The Common Place. It was an extremely hot summer evening, which was in stark contrast to this freezing cold November night. A few friendly faces turned up but I think the cold kept most away, which is a mighty shame as it'll probably be one of the last shows I put on in Leeds. However, I managed to capture some magic for you: Steffen Basho-Junghans and Cam Deas perform as a duo:
16/11/12
Our last day in the studio together, which has resulted in three hours of duo pieces and overdubbed material to sift through over the next coming weeks. Whilst filming Steffen and Cam mid-session I got swept away with the sounds and started constructing an idea for a short film that all being well will see the light of day by the end of 2013. Watch this space.

17/11/12
Second screening of In Search of Blind Joe Death, this time at one of London's most recent cultural hubs to bubble up amid the masses.
A packed out Café Oto got up-close and personal with the film, with the attentive audience curved around the screen. Maybe it was the free-flowing booze that livened everyone up a bit, as the audience seem to respond well with many laughs. Fahey had a playful, rebellious attitude towards life and society at large. This is illustrated particularly well in his interaction with Laura Webber on her guitar show. One of my favourite moments is when Fahey flicks the ash of his cigarette into his cheep Hawaiian guitar while she watches in horror.
I'm told the DVD will be released mid-2013 and extras will include performances by Chris Funk, Joe Bussard, Stefan Grossman, Terry Robb and Tim Knight. There will also be audio clips from Fahey and an excerpt of the interview with Dean Blackwood, co-founder of Revenant Records.
18/11/12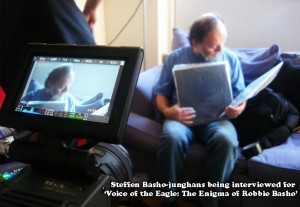 From one documentary about an American guitarist and cultural landmark to another. My final day with Steffen saw him being interviewed for an up and coming feature documentary Voice of the Eagle: The Enigma of Robbie Basho.
Robbie Basho is indeed an enigma. This is partly due to his premature death in 1986 and largely due to the power of his music that has set a spell of fascination on many a listener. He was a contemporary of John Fahey and even featured on his coveted Takoma Records. Almost forgotten as an artist around the time of his passing but now many re-releases of his extensive back catalogue are bubbling up all over the place and quite a few film makers wanting to deal with his story (including myself) so I'm eager to see the results of this production.
In conclusion, my week's activity proves that the steel-string guitar is alive and well, and while it might not be considered a concert instrument as Fahey hoped, there's no killing the voice of the turtle or eagle or what ever personal voice you want to resonate though those steel-strings.
-Harry Wheeler-