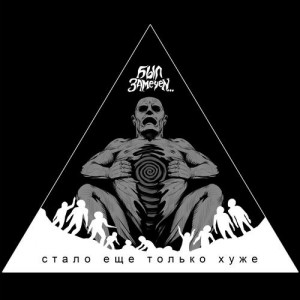 Psychedelic trio Был замечен (transliterated and truncated to B-Z for short) bring the heavy noise from Kharkiv, dealt out with a steadfast determination to fry the listener's brains while shaking the rafters that's entirely admirable. Their second album стало ещё только хуже (It Just Got Worse) sets out on a mission to befuddle, bamboozle and all-out confuse over five tracks on two sides of compact cassette (and digital download).
Their lo-fi credentials are occasionally a little harsh on the ears as the VUs creep close to the red, but then again some space cadets like their guitar-bass-drums hot, and it adds to the sense that B-Z are always teetering on the edge of exploding into overload and aren't too afraid to go there either.
Khleb
has a rich and powerful voice, his singing flowing with a stentorian tone. His intonation frequently calls to mind the plainsong of Orthodox monks as he declaims with rising passion over the ultra-heavy rhythm section of
Lv
at the bass controls and 
Amorth
on drums. There's plenty of melodic lines tinkled out on an electric piano and/or organ or delivered with the carefree acoustic strums of
Amon Düül
, but the trio also know how to
let rip, hard, fast and with a raucous purpose
, sparks and shards flying until B-Z relent and drop back down into a slumbering sludgy throb or a cursive swarm of resonant feedback.
Mikola Lebed
brings some raddled space saxophone to the headily brewing surge of opener "глазницы" ("Orbits"), and Khleb is joined by
Elina
for some one-two vocal ba-ba-bahs on the frenetic "шифровал" ("Encrypted"). The music wriggles and spasms as if sucked up into the psychic vortex of a demented night dancing on some serious loungecore hallucinogens, the saxophone snaking in like
a jazz panacea for all the ills of the world for which rock'n'roll can't offer a cure
. It's here that the recording really bleaches out, but as mentioned above, given the sometimes scuzzy sound and B-Z's self-avowed DIY ethos, this isn't much of a problem when taken in the spirit of the album; by this point the band and their listeners may well be too far gone and maxed out themselves to care.
There's more than a touch of that Faustian embrace of the dynamics of chaos too, "в один конец" ("At One End") shifting from Tapes-like cut-up mania into pastoral strums and shakes. There's the feeling that the song could segue into the dulcet melodies of "Jennifer" at any given moment, an impression that is only heightened when the rambling piping and rhythmic acoustic ripples get locked into a terminal atonal velocity.

Side two somehow manages to be yet more expansive, and is split between two extended workouts; the first graced with the vocals of
Vanya Ayvan
, complementing Khleb's thoughtful-sounding musings (automatic translation of the
lyrics
helps to get a fleeting sense of the cosmic verities being recounted, but cannot possibly convey the nuances to a non-Russophone) with some urgently throaty near-rapping as the electronics get seriously squiggly around them. It's crunchy, it's
funky as hell and deliriously groovy at the same time
.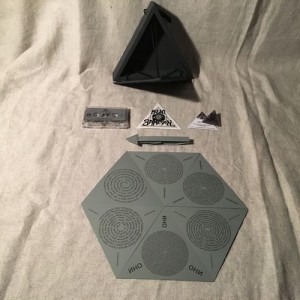 Like all good psychotropic albums though, the best is saved for last. Twenty minutes of ominous chants and swirling synthesis take matters on a journey into the "молчаливый космос" ("Silent Kosmos"), a slow-burning ride to the edges of the known universe. The layers and levels fuzz deployed here are both mind-bendingly frazzled and ear-piercingly repetitive, twangs of spluttering treble splintering the void with a relentless dedication to long-form astrophysical motion rendered as all-enveloping, brain-flensing sound; B-Z are to be applauded for their thorough dedication to the art of making minds and ears fly.
The cassette itself comes lovingly packaged in a mysterious-looking triangular black wooden box, which opens up to reveal a series of cunningly designed art cards and other three-pointed objects, all of which have obviously been put together with a great deal of thoughtful attention to detail. Unsurprisingly — given the amount of work that seems to have gone into making the boxes and their contents — there's only fifty of them being made too. It's a great way to put out a set of recordings that stand up well enough on their own merits; and never mind the resale value — feel the art, and the noise.
-Linus Tossio-