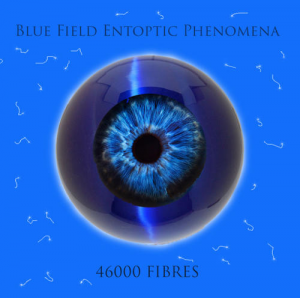 This is the first 46,000 Fibres release in eleven years and it's been well worth the wait. I first experienced The Fibres back in 1995, snapping up their début offering Emanates at a local record shop that has long since disappeared back into the anodyne dullness of town. A strange brew that exacted a curious pull – a joy of glinting directions and vascular honeycombs. Now, years later, I'm pleased to say they are back with a brand new slice of improvised action, culled from a recent two-hour session.
It's a hushed reverential start, sparsely checking out its composites before lifting the lid off proceedings in the second track. A sense of adventure following on a banquet of slash oblique fairies chugging the frets
Arto Lindsay
-stylee and whipper-snapping percussives. A colourful spectrum strung out on a basslined continuum, all
Sunburned Hand Of The Man
solidity shot (ooooh now I miss those peeps) giving the fruity uppers
plenty of keeling opportunity to put the cat amongst the pigeons
. Dribbling the dandy in moist chucks of ear goodness, thirteen minutes that could have easily sprawled well beyond its confines. Pulling mantle from "Realignment", "Aqueous Humour" rasps its flanged circulars to a brothy detachment of retinas peek-a-boo(ing) eeling electronics. A short interlude from which "Haiad" grabs the limelight completely in a slow-throttled raga oozing random percussives, easing out to some meaty tribal footfalls and teasing apertures – a sparring of chords and wow lasers spittooning plenty of diagonal distraction to a booming finality. A satisfying chuck of reactive improv, the ghosts of which finger their way through and are expanded upon as the rest of the album plays out in
a mellow chain of harmonics that kerb-crawl withering lights through your cranium
.
Love the way "Neutral"'s undulatory spaceiness drinks in those emerald glitters of guitar, to be overtaken in a deep churchy drone to which little shards of agitated chord accent. A firm favourite of mine as its hypnotic tropics silver nitrate in elastic spans and harpy Korg. "Determinism" shares a similar vibe, bound in mellow rebounds of lyrca keyline/guitar, swinging a spacey canopy, opening out to a Atem-like cosmos of sustained goodness and swarf-fingering comet. Immersive goodness that sends glassy telegrams to some other dimension. A droning speaker buzzing harmonium milking some über-tasty polarising geometries and jazzy halflings, and the short, noisy excursion of "Peripatry" follows before easing you out of the album's grip with seductive free-fall sunshine of "Halocline" — a plucky bass/drum combo overrun in fanciful guitar…
A conversation of sideway glances and meaningful stares. The focus slipping piscine-like between each musician's contribution. A
Papa M
-like amalgam that grasshoppers betweens, knits algebraic equations from its dancing curves.
Understated magic of the highest order
… a joy -shaped-go-go of
NEU!
-like hammers to sizzled arps and monotronic deflations. Leaving you eager for more, as all improvised goodness should.
-Michael Rodham-Heaps-