London
27 July 2017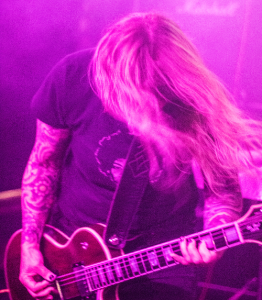 Our Black Heart, on a dingy sidestreet in the middle of Camden, is rapidly becoming one of the capital's finest purveyors of underground heavy music. Not only does it once a year double as the command centre for Desertfest's weekend-long celebration of all that is doomy and stoned, that event's organisers are also consistently putting on some of the heaviest gigs London has to offer in the upstairs room of this rockiest of rock pubs.
Tonight is yet another of these, and the room is
packed to capacity with leather, denim, beards and beers
as
Alunah
take to the tiny stage. Driving bass roars underpin their onslaught, which is something akin to early
Blood Ceremony
, but heavier, and solos spiral off into the void. And then, rather brilliantly, they give us a cover of
The Cure
's "A Forest", which starts off with a note-perfect recreation of the intro before descending into the deepest, darkest doom as the
Melvins
-esque bottom end takes over. It's a bit like the inverse of one of those old
Snuff
cover versions, and the whole set is Very Good Indeed. Tonight's headliners are
Acid King
, and as more people crowd into the tiny space I have to confess I can't see a fucking thing for most of the show. But that doesn't matter, really, because
Acid King are all about the riffs. And boy do they have riffs.
As heavy as
Electric Wizard
, with whom they share not only a fascination with murderous teen Satanist
Ricky Kasso
, but also a love of '70s bikesploitation movies, they approach a slightly more mantric feel that's almost reminiscent of a far less chilled
Om
.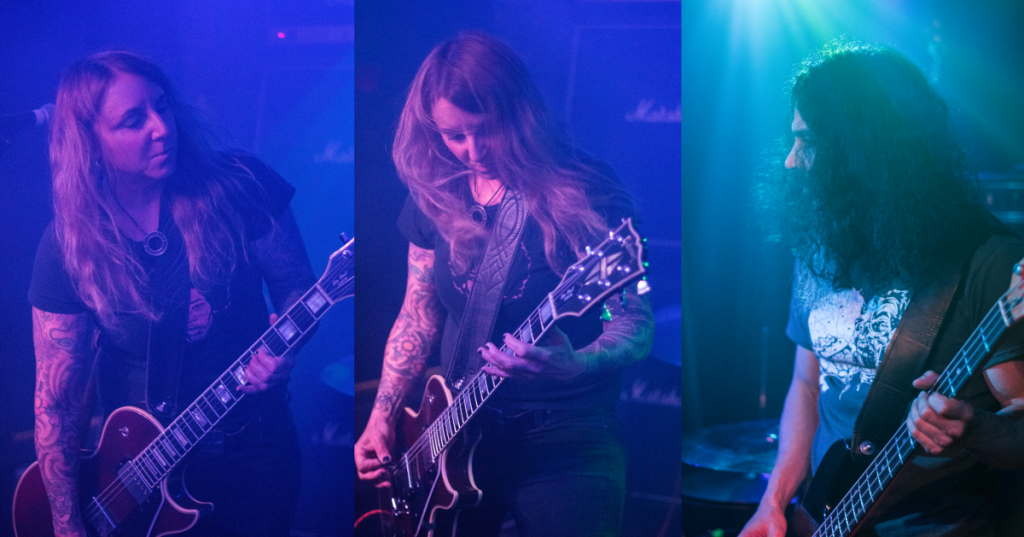 And there's also something a bit more garagey going on, as demonstrated on "2 Wheel Nation"'s
Stooges
/
Loop
psychedelia. Of course, as with all doom, the ghost of
Black Sabbath
still lurks, and "Electric Machine" comes on like
how "Supernaut" would react if you'd crept up to it in a dark corner and bamboozled the heck out of it
.
"Teen Dusthead" absolutely kills with it's Melvins-heavy sensory overload, and by the end of the set the place is shaking like it's partly from the noise and partly because it's just fucking scared.
Hail to Acid King. Long may they reign.
-Words: Justin Farrington-
-Pictures: Dave Pettit-