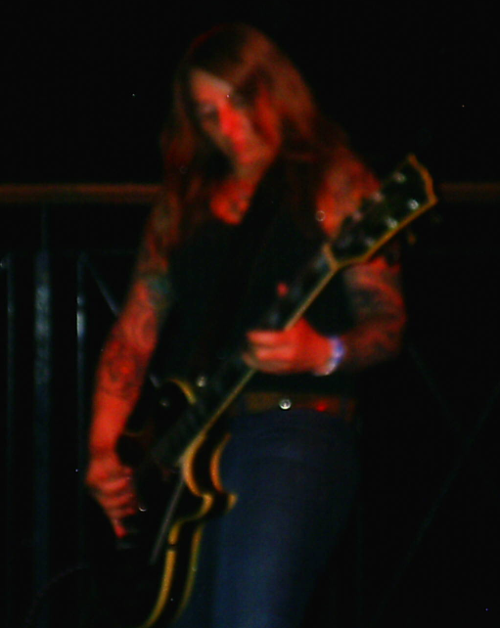 London
18 June 2014
Acid King are one of the few US bands to tour the UK/Europe every year, even when there is no new product to promote. Lori S, Joey Osbourne and Mark Lamb seem to get off on being on the road bringing their own brand of biker/doom/sludge to the ears of their followers where ever they may be.
The Underworld
is its usual dank self, where the smell of stale beer and the overflowing toilets adds to the ambiance of a venue that has had some of the greatest metal bands tread its boards in the last few years. This is a rock venue in a very old sense of the term. When Acid King step on to the stage and Lori cranks her guitar into its first power chord, the atmosphere in the venue is already electric.
The note hangs in the air for what seems an eternity
, then Joey's drums crash in and we are off. A mention here has to be made about Mark's bass playing (maybe because I was standing on his side of the stage); it was a powerhouse of subtle melodies and taut riffs that steam-hammered through the numbers and at points drove the songs into their weedian, bong filled psychedelia.
The set is full of classics like "Busse Woods" and with a large body of work to call from, Lori has plenty of crowd favourites to pull and wrench from her guitar. Her voice soars from a lower level to a coyote howl around at the moon in a desert landscape at night. Her guitar playing is masterful, heavy licks broken up by sweet melodic leads and chunky chords shift seismically as if wanting to move tectonic plates. The sound of the band is where the film Easy Rider and the band Sleep have a motorcycle crash with Electric Wizard on the way to Woodstock.
As the set moves on, Joey's drumming becomes ever more elaborate as he sits almost buried beneath his kit like
Neil Peart
of
Rush
. He
crashes on the cymbals and paradiddles like his life depends on it
. The set begins to power up like the revving of a motorbike engine and by the time it leaps into its conclusion the audience knows they have witnessed a truly great gig as the howls for more begin before the last notes begin to fade.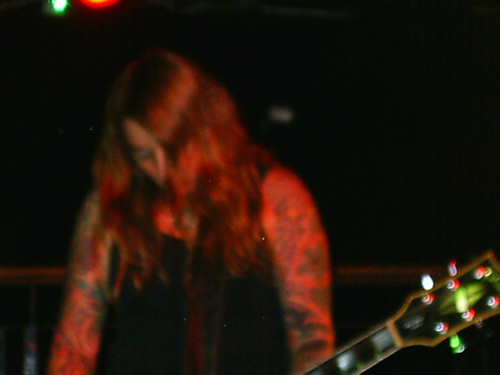 Its always a pleasure to witness Acid King live and they bring a genuine excitement and enthusiasm to all of the gigs I've seen by them so far. Their songs mange to work on many different levels, as great heavy metal with at times anthemic touches, and down and stoned grooves that revel in the joy of the riff and of good old-fashioned blues. I'm sure they will be back on tour again next year and I look forward to witnessing Lori, Joey and Mark bringing a bit of '70s American biker chic to London town again.
-Gary Parsons-