The Spitz, London
5 June 2003
When the Acid Mothers Collective come to town, a few things are certain – extended improvisations, guest appearances (tonight's honourable psychonaut is none other than Daevid Allen), antics and japes at the keyboards, and hair. Lots and lots of hair: not just on the heads of Makoto Kawabata and Higashi Hiroshi, what with the Camembert Electrique crowd out in force, some spectacular mullets are in evidence in the capacity crowd too.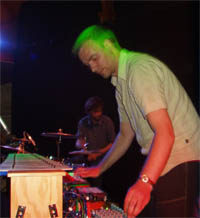 Hirsute fans aside, the evening opens with the shorn Norwegian Kosmische favourites Salvatore, whose progression beyond Post-Rock finds them riding on solid grooves accompanied by rippling melodies. Their instrumental glide is usually right at home, but tonight their performance lacks a continuous sparkle, breezing through on a pleasant churn of electronics and assorted guitar, basses and drums without really ever lifting off.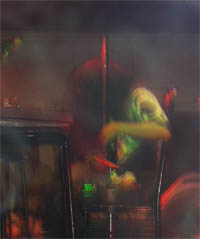 Next up is a solo excursion on the headless/bodiless guitar from Kawabata Makoto (big dark frizzy hair), and as he folds himself around his instrument, he brings forth a rippling tide of feedback and harmonics. The tones seem unending, slowing cresting into the soaring round of chiming chords as Higashi joins in at the synth controls. As the audience sit back on the floor and occasionally sway to the simple beauty of the music, it's odd to reflect that a decade ago (never mind if this had been the Seventies) the whole of the venue would have been actively tripping their collective heads off. Perhaps they are, but if so, then it's a calmer – perhaps older overall – crowd now, and the psychedelic scene maybe isn't what it used to be.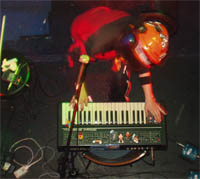 Neither is the music, as Kawabata is replaced by Cotton Casino, who springs, cavorts and stumbles her way to her own synth to form Pardons. It's probably a good thing that she is wearing a safety helmet, as the torrent of out-there analogue synthesis they produce would really bring on the lysergic feeling, given the right state of chemical imbalance. Otherwise, their improvisational cacophony sounds fine for a few minutes, but doesn't really stand the test of time.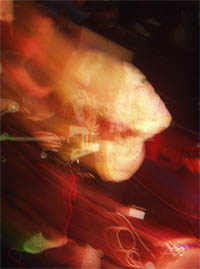 Tsurubami are basically everyone in the Soul Collective plus flautist Glen bringing some spaced-up trills to something closer to the rocket-fuelled Acid Mothers experience – quite deranged, quite nuts, and a full-on ride into density and freeform instrumental fireoworks. Theirs is quite a draining journey, so when the group shifts once again back to the core AMT trio along with Daevid Allen to become Guru + Zero (Allen modestly describes himself as the Zero) it's a relief to report that matters become more soothing. Allen curls himself into his glissando guitar, extracting ripples and swoons of the sound which has thrilled millions of spaceheads since the comedic days of Gong.
Even if his shock of pure white hair is thinning a little now, Allen hasn't lost the ability to conjure quintessential niceness from six strings and a more numerous set of effects units. The Acid Mothers interact well with the original Pothead Pixie, and the night concludes on a definite high – though a somewhat early one, given that it's a Thursday night and things end early in London.
-Antron S. Meister-