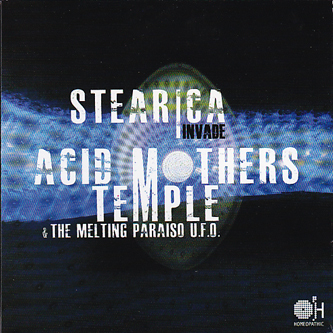 Collecting Acid Mothers Temple releases can leave you very light in the wallet area (I know this from experience) due to the volume of their output . So there is quite a minefield of material out there to negotiate, some amazing, some a little like the band treading water. As I know AMT well it was going to be interesting to hear what Stearica, a band I didn't know, would add to the mighty Japanese behemoths sound.
Opening track "Vulture Chiama Fujiyama" is two minutes of feedback with a spoken word section at the end, not much else I can say about it really….. "Queen Kong" has Higashi Hiroshi's trademark synth twirls over a pounding industrial rhythm, staccato guitar riff and chainsaw noise synth to underlie it. This picks up around the middle with echo guitar lead that makes things cosmic for a few seconds before the pounding drums crash back in and the whole track ends on an even keel.  "Warp Lag" has mystical guitar over Steve Jansen-style drum fill as again synths build up the main melody and add a razor-distorted theme.  More percussion clatters in "Noodles +Peperoncino" which includes echo Stockhausen keyboards over muted echoed guitar chords. The drums rumble away and the bass drives the piece forward, until spoken word vocals slide in, and the last part verges on Eno ambience.
Tracks 5 and 6 both have the name "Inani" and are not separated in to parts 1 and 2. A fade in of industrial rhythms start track 5 before an over-echoed drum kit kicks in a martial beat.
At this point the album begins to sound like an early Test Dept record
. Backwards voices herald in the first of
Kawabata Makoto
's lead freak out guitar solos – this, however, feels like it's come a little late in the album. Track 6 verges more on psychedelic territory as a tuneful guitar plays chords and the drums pick up the tension before we hit an acoustic guitar melody that brings the track alive. "7 Alienial Di Spra Di Ogni Sospetto" is the longest track on the album, spanning a mighty 10 minutes (the whole album is only just over 40 minutes long). Drones build up the intro gradually as again the drums play centre stage. To be fair this track sounds a little more like traditional AMT with Kawabata's guitar chiming out to the planets before the pace picks up into some atonal chords taking it into a slightly
Sonic Youth
territory.
At the end of the album I wasn't quite sure what to think. It's certainly not an atypical AMT album so I really wouldn't recommend it for people who are hearing the band for the first time. The album sits between two camps and is neither fish nor fowl. Most of the time, it sounds fairly industrial and only occasionally lifts much beyond that into something different. Most of what is AMT's trademark sound seems buried; in fact the album seems to crunch away under a constant blanket of background noise drone that detracts from some of the excellent playing on display at times.
On the whole this is an interesting release, with both bands working through some very different ideas
. However, I do feel its an album more for collectors and completists  of both bands rather than a strong stand-alone release in its own right. So, worth investigating if you're a fan.
-Gary Parsons-