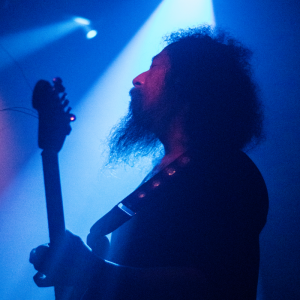 Corsica Studios, London
29 September 2016
It's the beginning of autumn and leaves are already starting to turn a darker shade on the trees and supermarkets are already trying to sell us Christmas fare three months early. It is also traditionally the time when the mighty Acid Mothers Temple decide to do their UK tour. Its almost as if its a yearly ritual to go to a small club in London, usually Corsica Studios, and have my ears pummelled by Japan's finest.
I've seen AMT at nearly every London show for the past thirteen years and where they used to play to a handful of space rock and krautrock freaks their audience has grown exponentially — and for good reason, as they are one of the finest live bands around. So as I made my way to Corsica, I was expecting the place to be full, but as I walked it I soon realised that it was rammed to the rafters.
Wooden Indian Burial Ground
were already onstage as I eased my way through the audience to try and get a view of them. Their sound is a mixture of psych-driven riffs with catchy high end vocals, making them sound like a cross between
Wooden Shjips
and
Rush
. The sound is lush and full, but borrows more from Noughties psych than from that of the Seventies. It's precision-played, with some astounding lead guitar licks. They surge from psychedelia to pop rock in one song. It's a clattering barrage of
sound that's kept tight by its relentless assault and taut time-keeping
. It hints at desert blues and the
Grateful Dead
without ever stepping into the arena of the Sixties. At one point, the guitar playing reminded me of
Rowland S Howard
from
The Birthday Party
. There's an edge to them, they don't drift into otherness like
Electric Moon
and they are not as rigid as prog rock, but at times they traverse a place that's somewhere in between.

The venue is at bursting point by the time Acid Mothers Temple take to the stage. 
Hiroshi
Higashi
stands sentinel behind his keyboard, easily the coolest synth player in rock at the moment with his long white hair and beard making him look like some ancient mystic. 
Mitsuru
Tabata
 is his usual impish self, looking like he's ready to cause mischief at any moment.
Makoto Kawabata
 straps on his guitar, his wild mane of hair falling over his face as his instrument makes a few clunking feedback noises. Then it's a whoosh from the keyboards and
a crash of noise from the guitar and we are off on a cosmic space ride
for the next hour.
Acid Mothers Temple are a freak out band. It's music to drive you crazy just as the lysergic acid begins to hit your brain. It's full force ahead music that is both beautiful, discordant and out there all at the same time with its mesmerizing sound. It seems like the members of the band are in their own world when performing, one we are only getting a slight glance into at points. "Dark Star Blues" is catchy as it slowly builds into its monstrous ending and Kawabata's sonic assault lead guitar takes no prisoners as it whirls around beyond the venue and out into the firmament. He throws himself around, going wild as he strangles notes out of his Stratocaster; all the while Higashi looks cool as a cucumber, gently swaying back and forth behind his keyboard.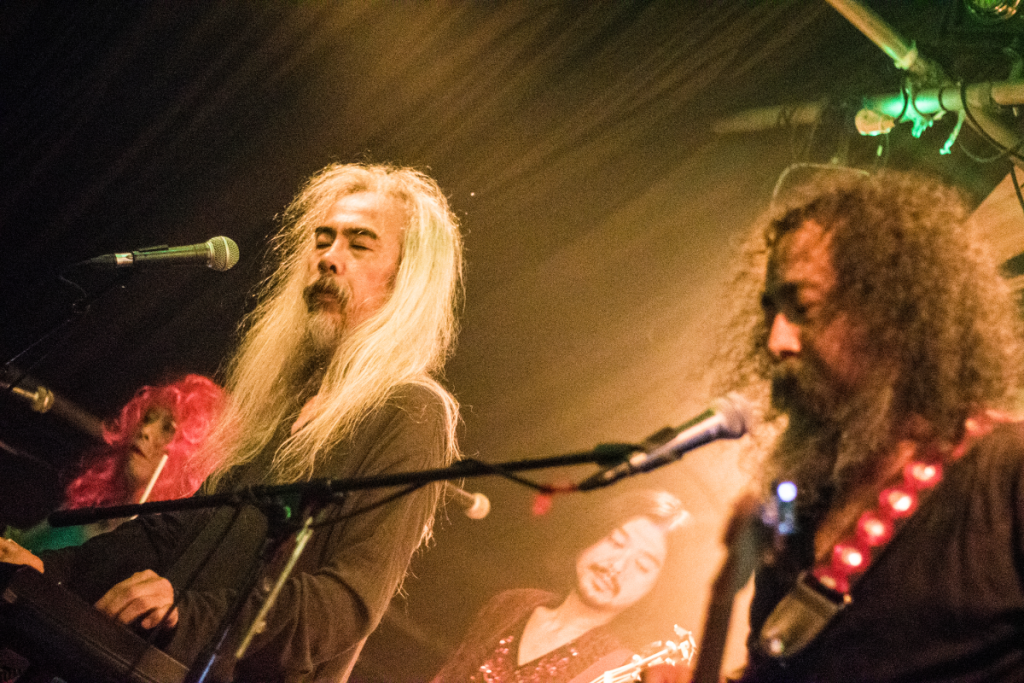 "Pink Lady Lemonade" gets the biggest cheer from the audience as
its drifting riff carries around the venue in preparation for its eventual take off to the outer limits
of our solar system. In a strange way, this song is Acid Mothers in a nutshell, but also at the same time only part of what they do sonically. Its lyrical guitar fugue is a drift through the cosmos before it becomes, like the Rosetta mission, a crash landing on a comet.
Tonight feels like a celebration of AMT's legacy of music of the last thirty years. The gig, as always, is wonderful wild rollercoaster ride to the far reaches of the psychedelic experience. There was, allegedly, even dancing on top of the merch table. AMT are a fuzzed out, echo drenched, inner temple, wah-wah infested, guitar-smashing, out there, cosmic vibe, freakout, LSD, white light at the end of the tunnel, ear-smashing, multi-coloured, mind-bending, vibrating, psychedelic band that should be playing when the world ends as it will make us all go to a better place.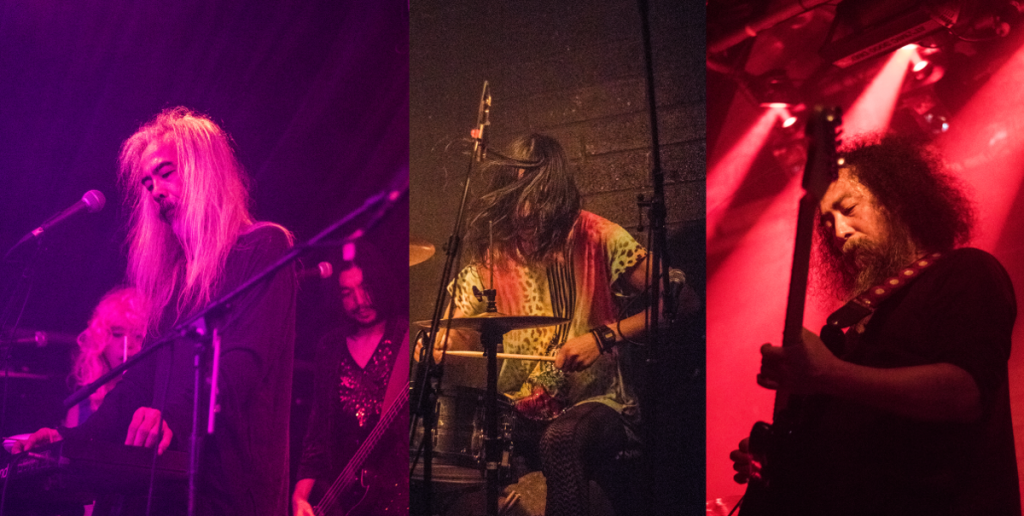 My yearly ritual
ends with feedback guitar and my Christmas has come early
, just like the shops. But AMT are far more pagan than any nativity play, they are the cosmic dancers that will revel in the madness and mysteries of midwinter and bring a rainbow colour to our ever-darkening days.
-Words: Gary Parsons-
-Pictures: Dave Pettit-