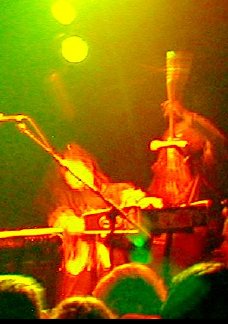 Kosmische @ The Garage, London
31 May 2001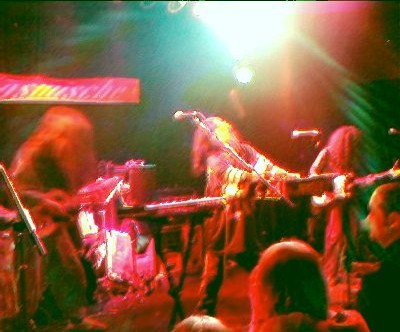 Beware all snow leopards; indeed all mammals were at risk of having their asses rocked Thursday at the Kosmische Club's presentation of Acid Mothers Temple. Once Southall Riot was done with their opening imitation of all that was Krautrock in a Nineties sort of style, all three chord-led and droney – and most of which I missed – Acid Mothers Temple strolled on, lit up and rawked out. An enthusiastic audience had to have been relieved by the breathing space afforded by the last minute manoeuvre to downstairs at The Garage, knowing that Upstairs would never have accommodated the sweating, grooving, smoking crowd, much less the band's hair. You would never want to invite this group over for showers, unless your idea of fun is gathering hairballs from the drain, but they did put it all to good use with some of the most swinging head banging since, well, way back when.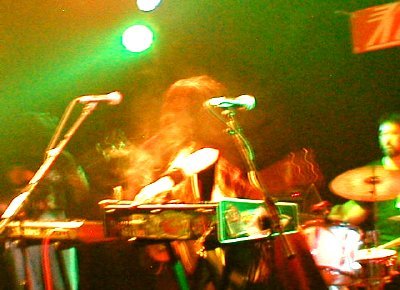 The Japanese have a knack it seems, for picking out a particular Western thing and imitating it all to perfection, often better than it was done in the first place. In turns, Westerners seem to lap up the Japanese take on whatever iconic entity is being newly presented and enjoy it as much or more than the original. In this way, Kawabata Makoto's group carbon-copied some of the best of Seventies Prog, sounding a lot like Amon Düül II , or Hawkwind circa 1973, looking a lot like The Freak Brothers (and Sister). You can't say however, that they just kept their heads down and played. Far from it. Along with all the hair swinging was plenty of physical action, ranging from guitar smashing to the constant state of near collapse of the girl onto her keyboards. Amazingly enough, while chain smoking curious cigarette after curious cigarette, the band were still able to pull off a completely together set of chants in their native Japanese which was even more interesting than their other music, along with some beautifully-harmonized yodelling.
It must be said though that their playing in total was amazing, the spaced-out synth and phaser sounds, the percussions, the whole and the all. One might have mistaken them for a group that has been around forever, especially with the recent trend for re-forms and reunions. This is however, a modern take on groovy old music and Acid Mothers Temple are re-creating from a full-tilt genre they obviously love. Many people spoke of coming to this gig because of the reputation of the last Acid Mothers London show in November. Kosmische seem to have found a charm in promoting and showing this most involving of bands. It was said by the veterans that the first show far outdid last night's performance, but everything is always better the first time. The enthusiasm of the band and crowd alike bear testament to good drugs and good music, and a good time had by all.
–Lilly Novak-