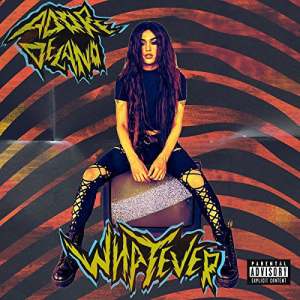 Adore Delano's third studio album is finally the record that we've all been expecting from the punk rock princess of season 6 of RuPaul's Drag Race. Her first two albums, Till Death Do Us Party (2014) and After Party (2016) topped dance charts and are played all across the world. But now, Adore's grungier side has made an appearance. Adore's fans, as well as Drag Race enthusiasts and community, were sent into a frenzy upon the release of the single "Negative Nancy", which showed a different, dirtier side of Adore we had been waiting to emerge in her music, in addition to her fashion and attitude.
"Negative Nancy" starts out similarly to tracks from Adore's previous albums, though with a heavier guitar to them. The
vocals become grungier and grungier as the truck plays on, developing almost into fully-fledged screaming
. As a deathcore and metal fan myself, I could barely contain my joy at hearing my favourite pop singer start howling. I'm sure other fans must have felt this way before, having been attracted by Adore's punky, standoffish attitude and teenage charm in
Drag Race
, and then been slightly disappointed by the poppiness of her music. That was the case for me, but the songs grew on me little by little, with tracks such as "Jump The Gun", "I Look Fucking Cool" and others that might appeal more to an alternative audience. Therefore, "Negative Nancy" brings in the fans of Adore's personality to like her music. This track is heavier, growled out and
represents the part of Adore that is too punk to wash her tights
. The video shows Adore captaining an androgynous softball team, which isn't that far off Adore's relationship with her fanbase. This video seems to be less about affirming Adore's femininity and drag queenness and is more just not giving a shit about gender. Recently, many have observed Adore being more androgynous and gender neutral, bring out more of their
Danny Noriega
side and merging the two to become a modern LGBTQ+ hero.
"Whole 9 Yards", Adore's "love spell to you all", is filled with angsty lyrics and guitar, but still bears the typical dirty Delano style of lyrics, a mixture of a love song and piss-taking. The music video is the album art work come to life, a long haired wig, ripped jeans, smokey eyeliner and Doc Martens. Visually, the video is more towards the feminine side of Adore, but the vocals are noticeably more mature and scratchy than Adore's previous works.
When a musician turns twenty-seven, do they all have a fear of joining the 27 Club? It seems that Adore Delano does. "27 Club" is a track that starts almost folky and develops into the scratchy not-quite screams that have been taking centre stage on this record. You can almost hear the smoke tearing up Adore's throat in the vocal, ripping raw, calling to those beyond the grave while embodying the pain we all feel at the loss of a beloved artist who changed our lives.
This track calls to mind both My Chemical Romance's "All The Angels" and Nirvana's "In Bloom" in an interesting way. But the lyrics seem to be a plea for life, for Adore's life to not end, but also almost as if she's pleading with her childhood heroes from the 27 Club to prove us wrong. Kurt Cobain seems to bear a heavy influence on this track, both musically and lyrically, but it could be anyone's game. This song is more real and simpler than anything we've heard so far.
"Butterfly"'s thumping beat drags you into heavy guitars mixed with hip-hop elements and enticing lyrics, playing around with gender and the blurred lines. A strange mix of
Marylin Manson
esque vocals and chanting makes it feel similar to Adore's other styles of songwriting without losing the punkiness that resonates throughout this record. "Pretty Boys Cry" resonates gently into broken hearts and shattered souls, shaking with the pain of lost love. The vocals on this track prove that
Adore still has the tremendous voice that can twist to any genre and cover everything from Lana Del Rey to Nirvana
. There's a sort of old pain, the type that never fades in these chords and lyrics. "No School" is what we've all wished for, right? Well with this track, now
Adore's given us a song all us teenagers can relate to in some way or another
, one that embodies the feeling we all go through while suffering the oppression of education systems. We all have different school-related problems, but Adore has given us an anthem we are all united by. "And I don't ever want to see them again" is the lyric that reccurs throughout this song, and we all know what that feels like. "They" could be anyone: teachers, bullies, friends. School forces us into the expectations that society prepares for us, but some, like Adore break out of the lines, making her own way of life and proving to all of us that anyone could do it, really.
Adore has brought her ratchet couture into all aspects of her music with Whatever, in contrast to the dirty poppy hip-hop combination of Till Death Do Us Party and After Party. It appears that the rebellious side of Adore observed in her personality and aesthetic has slipped more and more into her music, as no more shits are given about what people think, even more than before. Delano has proved her musical versatility with Whatever, as well as showing us another more mature, confident side of Adore, while seeming to blend more of Adore Delano and Danny Noriega together to create a yellow (ie neither blue nor pink) genderless superstar taking the world by storm and pushing at — and breaking — society's confining expectations.
Adore is becoming ever more an icon to represent our generation, as well as proving that it doesn't matter
what
we are, more
who
we are.
-Frankie Harmonia-