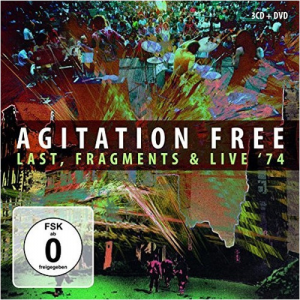 Agitation Free is not the most mentioned band when I think about early krautrock, space rock or progressive music. I knew the name, but had yet to get a grip of what they put out, and how they sounded. So getting this box of lots of old stuff I never heard before was something I was very much excited about. I was looking forward to a lot to get in-depth, with more than four hours of music to digest.
The band formed in 1967, in Berlin, and soon became famous for their multimedia lightshow and becoming a house-band in the Zodiac Club. After some changes in the band, they finally released their début in 1972, and the second album a year later. Unfortunately, Agitation Free disbanded in 1974, but managed to do some live recordings, that later appeared on the Last album two years later, and this is where the boxed set starts.
So, what does the
Last
 album sound like? What first strikes me overall are all the lovely, varied soundscapes, and how they occasionally move onto something completely different. The first track is "Soundpool", a very descriptive title, as it is constructed from lots of great sounds first, and then it moves into some kind of space-prog. It continues with even more soundscapes and back again, to more spaced-out music. In between I hear inspirations from eastern music, and the blend strikes me as very space-kraut. This CD continues with two long tracks that move in quite varied directions. They create
almost classic prog rock, but also mixed with some hard blues, loops and once again, strange space-like sounds
. The bonus track "Schwingspule" on this CD is a lovely blues-space rock of the kind that the 
Grateful Dead
would do at their best, although it has a very noisy improvised intro. The next CD is
Fragments
, originally released as CD in 1995, but here also with a couple of bonus tracks, and a Quicktime movie of "Agitation Free At Work" too. While one track is a studio recording, the rest are taken from the farewell live gig in 1974. It starts off with a long track, and again they improvise in a very much blues-like fashion, but with the overall feel of space-prog. I can hear some small changes, but they keep up a good stamina. In between
they change the beat and rhythms, and also incorporate strange sounds from another world
. So this CD continues, and the key words space, prog are still very much the essence here, but it would be unfair to minimize it as such. It would be just as fair to say something about how they get into a jazz groove, or how (I believe) they improvise in such a together manner, that their band-togetherness is very much apparent. Or how they sound like a band from Canterbury and Berlin, as the kraut-prog blend really stands out in this band.
"Mediterranean Flight" stands out as a very slow, silent, no-beats tune. But the bonus "Crashending" gets me on my feet again, and I can hear Saturn is waiting, but the blues is coming in fast, and Pink Floyd can go to sleep while the agitators are free to go for it. And when they are passing the asteroid belt and start jazzing it up, the engines are kicking the afterburners in, making them continue ruling the stage.
Live '74
 is taken from one live gig, it seems, as the first four tracks are played in one go. There is some improvised offworld blues guitar, so that I find myself dreaming my way into space and looking to find a way through the galaxies. Introducing strange synth sounds grounds me, somehow, and also when they start getting in and out of atonality. It is very much the same moods that the band present here as on the previous discs, maybe even some gentler stuff, although exciting enough. But they are also still putting in strange found noises, or ones picked up from an intergalactic radio transmitter that sends messages, gossip about royalties and their lives on a world where they have two suns or even more.
The band plays very well together; on "Laila" the bass goes on forever in a fantastic, steady repetition and with very good interplay between the two guitarists. The DVD contains a complete concert film, "Live At Kesselhaus Berlin", from 2013, and shows them in good form, and finishes off with a convincing spaced-out version of Floyd's "Interstellar Overdrive".
In conclusion, this was a nice introduction for me to this lovely band, making me want to hear more. A must-have for fans that already are very familiar with Agitation Free, it goes without saying, but then again, lots of the recordings have been out there before. The bonus tracks, the Live '74 disc and the DVD might be well worth it, anyway.
-Ronny Wærnes-