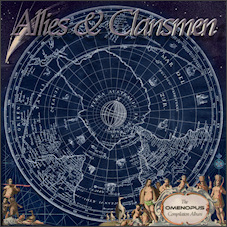 OK, let's start up here with a massive amount of respect to Lee Potts for putting this together. For not only does this CD look great and has some marvellous music on it but it's absolutely free from the above website, all you have to do is pay the P&P and the disc will wind its way to you from the cosmic reaches of outer space to brighten up your day.
The album starts with the
Omenopus
track "Call Your Name," a beautiful melancholic song touchingly sung that taps into the same vibe as some of
Led Zeppelin
's acoustic numbers until it punches in with big power chords and sends you skyward.
1912
's "Please Take Me Away From Here" has lilting piano that hits a more prog rock vein and reminded me of recent releases by
Opeth
in its execution and has a wonderful
Gilmor
esque guitar solo. It's great to hear some new
Omnia Opera
material after all this time and "Second Skin" doesn't disappoint. Its full of heavy guitar chords that punch you through the stratosphere into a cosmic otherworld; I can't wait for the album to come out proper, and one of my personal favourites on this album. "Secret" by
David Speight and Friends
is a short cosmic jazz style piece where the drum rhythm takes control. "Fingers Ten" by the
Chumley Warner Bros
is a soft summer sounding song with shimmering vocals by
Bridget Wishart
and pastoral guitar and piano parts, and it has a wonderful lazy
Nick Drake
feel.
"Robot" by Osiris the Rebirth hits into Robert Calvert-era Hawkwind with its clever lyrics, wobbling synthesizers and heavy chords. Toxic Conspirators" "Dukes Journey" comes across as an interesting experimental/dub hybrid that is bass heavy with drifting synth patterns. Sarah K Panton's "On The Radio" has the sound of songs past heard on the top of a hill on summers days and I felt had a touch of Kate Bush about it and seems too short; more please. Spirits Burning's "Stand and Deliver" is not a cover of the Adam Ant song, but a brooding rocker not unlike The Mission used to do, with a great catchy chorus and a powerful guitar solo. Earth Lab's "Money Monkey" is a deep space funk blues with strong sax taking up the main motif over slide dobro guitar, you could imagine this being played in a New Orleans bar on Jupiter. "Cosmic Fantasy" by Krankschaft is a tribal space rocker with oozing synths and chugging guitars that bend up to a blistering middle eighth solo. I must check out their album at some point. "The Cossack Groove" by Futatious is a bright reggae-tinged number with flute taking over the main melody and reminds me of free festivals from many years back. The Higher Craft's "Gateway" is a majestic psilocybin piece where  female vocals sound as if they come from another world as the track spins on down the rabbit hole of your unconscious mind.
Stephen Palmer
's "Landscape" has a cathedral-like feel to its keyboards as it plays its sad hymnal to its vista and reminds me of some of
Andy Pickford
's work. "The Gift" by
Isis
has an
All About Eve
feel of serenity about it that dances through darkened trees with its lovely passionate vocals.
Hawkwind
's
Harvey Bainbridge
is up next with a track called "Rev Me Up Under New York" that works its way to a solid
Orb
-like ambient trance beat with sampled voices overlaying the synths (is one of them TV boffin of old
James Burke
?). "Black Widows" by
Dr Hasbeen
is a straight-ahead space rocker that screams at the stars with its power chords and chanting vocals. And finally Mr Potts himself finishes the album with "Instincts," a short piece of
music concrete
that leaves the album to hang in the air for a while after it's stopped spinning……
What can I say as a overall comment except get this album, not just because it's FREE, but because it has some great music on it and will certainly make you want to investigate a lot of the bands further, and catch them live as well. Bravo to all concerned on this labour of love.
-Gary Parsons-