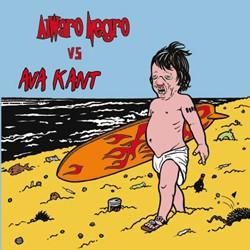 Instrumental surf music seems to be making something of a comeback this year, and a most welcome one too. I've recently thrilled to the live sounds of excellent Welsh twangsters Y Niwl on a couple of occasions and now the tide has just washed up this split 12" featuring two groups from Italy's foam-drenched Tyrrhenian coast.
The sleeve depicts a pointy-toothed delinquent with a Black Flag tattoo carrying his surfboard across a beach strewn with syringes, bottles and condoms to an oily black sea. Turn it over and there's battered and broken Fender Jaguar on the reverse – the two images give a pretty good impression on what's to be found in the grooves. Both groups have certainly assimilated their Dick Dale and Link Wray records, but being children of a less innocent and optimistic time and place, bully them into shape with a punk informed belligerence that shows they're no gremmies.
Of the two groups, Alwaro Negro probably deviate a bit more from tradition, using found spoken word samples and an almost urban groove on opener "Designed for Shock Effect!" and utilising a toes-to-the-nose garage punk production throughout their four tracks… imagine Henry Rollins cast as lead in Dick Dale's bio-flick. Turning over the record, Ava Kant might initially sound more like a traditional surf combo with their reverb drenched and tremolo-heavy sound, but they still have some surprises up their sleeve, such as their brief invention of surf-ska during "Ava Spy-der", a penchant for sudden tempo changes and my personal highlight – the shimmering slide guitar on album closer "Hawaii Submarine War".
Both groups manage to pull off that Cramps type trick of reinvigorating a semi-forgotten genre with an affectionate irreverence that steers it well clear of mere pastiche. This record is a total joy for any fan of vigorous guitar instrumentals and from the evidence in these grooves, I can only imagine just how hard these two groups must hit the lip live.
-Alan Holmes-