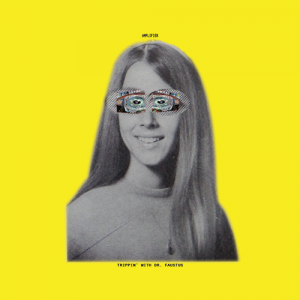 It's always interesting to hear a band you have not heard of before, especially when the words "space rock" and "prog rock" are being attached to their name and they are getting a lot of press attention. So I slipped my disc into the player and was prepared to take a trip in to the outer reaches.
Spacey sounds introduce "Rainbow Machine" before it heads in to a kaleidoscopic riff that's big and powerful, but somehow gives a feel as if Rush and Opeth were on a collision course with each other. A big catchy chorus hints at Oranges and Lemons era XTC. This is psychedelia with prog overtones that touches on the vastness of the cosmic consciousness. Deep, dark chords open "Freakzone", which touches upon elements of late Hawkwind; however, here chords jangle with joss-stick infused late-sixties wonderland. "Kosmos (Grooves of Triumph)" has a lightness of touch that changes in tone to a heavy monster — it's like Ozric Tentacles were hit with a sledgehammer and goes beyond mere stoner rock as the song feels expansive and has that catchy chorus element again.
Deep bass throb introduces "The Commotion (Big Time Party Maker)" that leads into a more straight-ahead rocker that relaxes some of the more psychedelic elements of the earlier songs and shows
Amplifier
's (dare I say it) pop chops on full display. "Big Daddy" trips a fine line between West Coast psychedelia and big power chords that wouldn't have been out of place in
Love
-era
Cult
. The song slides through its changes, all the while sounding larger than life with its barrage of guitars. "Horse" slips into mellow blues territory with drifting desert guitars, and this soon
turns into a prog-style love song with some guitar licks that Steve Howe would be proud of.
Acoustic guitar takes us on trip with "Anubis", and here the band move into early
Genesis
-sounding chord sequences while the vocals have a distinct feel of late Sixties American folk. This is an ethereal break from the monster riffs that have gone before, and the air of hazy summer melancholia certainly suits the band's vocal sounds. Mellotron-sounding keyboards introduce "Supernova" over a steady pulsing drum pattern by
Matt Brobin
. Then out of nowhere the song explodes into a soul-warming big sound with all the hues of the rainbow included in its uplifting chorus passage. Wah-wah guitar kicks in on "Silvio", a tale about a man who was a slave to temptation after selling his soul. Chords shuffle around under an expansive rhythm section as
we enter into the void and delirium of the netherworld
.
"Old Blue Eyes" has a doom-sounding bass passage that mixes metal with some awkward angular early XTC-type chord sequences. It's a strange hybrid of a song that slips between metal, prog and math rock and a strange closing track for the album as it leaves with the air of unanswered questions. It does have a rather wonderful guitar solo though.
Trippin' With Dr Faustus
really wasn't the kind of album I was expecting it to be. It metamorphoses into so many things over its hour-long running time that sometimes it's hard to nail it down, but maybe that's a good thing. Its production sounds vast and
the songs sound big, as if they are forming their own solar system
. Amplifier are certainly a band to watch out for and I can imagine what a powerhouse seeing some of these songs performed live would be.
-Gary Parsons-