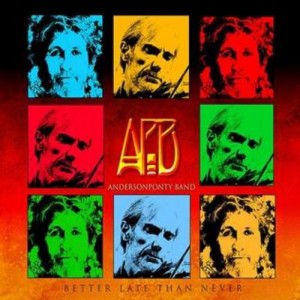 It was the late Seventies when I discovered Yes via a friend of mine. At first I couldn't quite believe what I was hearing. There were all these complex time signatures and chord sequences flying around from my stereo that at times it felt like music from another world. Soaring over all this alien music was the voice of Jon Anderson, high in its register, seeming almost angelic and out there. From then on I was hooked and became a massive Yes fan. So I always keep an eye on what past and present members are doing musically. So getting to review a Jon Anderson album for the mighty Freq was always going to be a pleasure.
Better Late Than Never
is a studio album taken from live performances and enhanced. It's an album featuring
some fantastic musicianship that swells and hangs beautifully like a cloud upon the air
. Opening track "One In The Rhythm Of Hope" features those complex Yes time signatures, but sets them in an ethereal melodic mode. Anderson's voice sounds strong and unmistakable as it hits in and already you are pulled into the meaning of the lyrics as his voice climbs around the song. "A For Aria" has the sound of Jon's work with
Vangelis
as keyboard chords hang, allowing Anderson's voice to recount his paean to love and
Jean Luc Ponty
's violin plays a spine-tingling melancholy melody. Then we are treated to a cover of the famous "Owner Of A Lonely Heart", which the band performs with aplomb. "Listening With Me" has a touch of early
Genesis
' pastoral shades in its tune and use of organ. This is lazing on
a summer's afternoon among the long grass kind of music, just letting it flow over you
. Here Jean Luc's violin reminds me slight of
Kansas
with the way it dances around over the track. The classic Yes song "Time And A Word" is done as a reggae number which certainly adds a new slant to this old favourite.
A new song "Infinite Mirage"is up next and Anderson sounds like he is singing to the spheres as the music transcends heavenward; it reminds me of things that Jon was doing in his Song Of Seven era. "Soul Eternal" slides in from the end of the previous track, its violin chopping away over a steady rhythm and Anderson being at his best, singing one of those melodies that get stuck in your head. Some lovely piano carries this re-imagining of "Wondrous Stories" that almost makes a jazz shuffle at times. "And You And I" gets truncated down to under four minutes, but to be fair it must be hard to do something different with this giant from the Yes catalogue as it's such a structured song. "Renaissance Of The Sun" conjures up images of Mayan temples and worship of our life-giving orb in its stirring music.
A full head-on version of Yes's "Roundabout" piledrives forward, with Anderson sounding like he's having fun singing this classic he wrote over forty years ago. "I See You Messenger" is a mercurial number that flits around like a lazy fly in the afternoon. The album closes with "New New World", probably one of the more progressive sounding numbers on the record. Violin and synth build up nicely under one of Jon's strongest vocal performances and it's a great way to end the album.
The album is chock full of great performances and its nice to hear some of those classic old numbers given a new lease of life. Hopefully for the next album there will be more original numbers written by Jon and Jean-Luc as it would be great to hear a larger selection of new tunes from the pair. The album comes with a live DVD as well so you get plenty for your purchase.
-Gary Parsons-