London
12 October 2003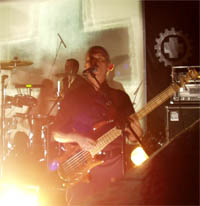 Witnessing Laibach perform onstage is guaranteed to be a spectacular experience – not in the form of flaming scenery, explosives or even sheer brutalist noise, but because they put on a show. A proper show with much too much in common with a political rally for some tastes, but a theatrical event nonetheless, and one which grips their audience with an impassioned fervour.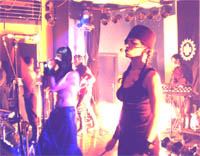 As the group have moved on to a weighty Electro/Techno sound since their messing with the heaviest of Metal for their previous visits to the UK, they arrive onstage to the fading strains of the Blue Danube in high-collared black clubwear, heads shaved, or hair slicked back with bulbous shades for bassist and keyboardist respectively. However, their singer and lead throat, the man with the power to shudder the walls of Constantinople with his gravelly voice alone, arrives in customary black apron and coalman's hat, leather flaps framing his head in Pharonic style. The ominous strains of the utopian SF hymn "B Mashina" preface what turns out to be a storming performance in a rising throb of crunchy hypnagogic rhythms and taped choral intensity, and one which leaves no Stones unturned and knife untwisted in the belly of what for the sake of argument can be called Western culture.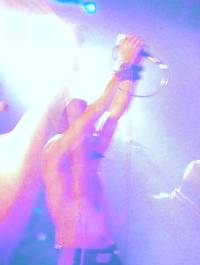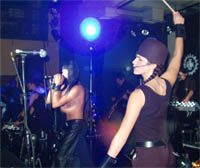 The show stands out as an example of sheer bravura production and presentation. The packed-out Scala seems stunned collectively by the mesmerizing spectacle of the singer's (Laibach prefer to operate in collective mode, and rarely credit individuals) charismatic stage persona – a kind of messianic orator hectoring the crowd and civilization in general for its decadence, its lack of moral fibre even. He forms his arms into crosses, a post-Imperial clenched fist or an open palm punctuating the growled and gutteral lyrics with attention-holding assurance. The taped and live backing choirs bring a Wagnerian aspect to the music, even more so on stage than record, and the whole is an object lesson in how theatrical Rock Opera should be staged, smoke and dramatic lighting deployed at just about the right level of intensity without straying into Spinal Tappery. It is probably best for the sake of avoiding silliness that the antlers have disappeared long ago from Laibach's wardrobe department.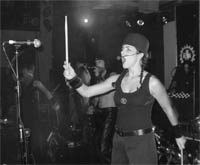 A wry sense of humour is present throughout Laibach's show too – in the choral-Industrial cover of Status Quo's "In The Army Now" or the appearance of two pigtailed drummer madschen kitted out in militaristic Balkan hats and Laibach vests, pounding away on eather side of the stage front for what seems like hours in perfect rhythmic time to the propulsive, enveloping mass of the group's visceral music. The rousing drama of "Das Spiel Ist Aus" and threatening "Now You Will Pay" up the operatic ante to climactic levels, and appeals to the body are not neglected either, as the thunderous riffs of "God Is God" and puslating Industrial Techno grooves of "Achtung!", "Alle Gegen Alle" or "Tanz Mit Laibach" prove, setting feet stomping and even a small mosh pit rippling at the front. The final encore rocks "Sympathy For The Devil" into grimly-headbanged territory, closing the show with only one regret, that their stupendous version of "Jesus Christ Superstar" didn't make an appearance on the set list.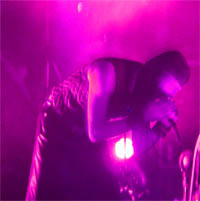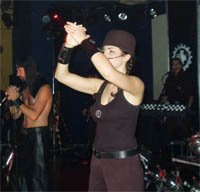 There is often much made of Laibach's apparent flirtation with Fascism, though it would be fairer to reflect on their origins in a Totalitarian state. Artists who have seen their country emerge (largely bloodlessly) from the rigid certainties of the particular form of Yugoslav Communism into the subtler tyrannies of free market Capitalism and the chaotic wars which overcame their former fellow citizens are bound to have a different perspective on such matters. The welter of powerful forces at work on Laibach collectively and personally seems to well up into an expression of fascinated moral and musical examination, pushing and probing at the extremes of something less than savoury at the heart of mass consumer culture, and in the case of this live show, the symmetry between rallies and Rock concerts.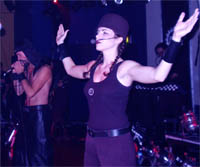 Nowhere is this more evident than in the sardonic lyrics to the title track from their album WAT and the wheezing chug of "Hell: Symmetry". Grandiose as the propaganda films which their accompanying projections ape, the songs declare that Laibach are no ordinary Pop band, a group which have no wish to save their audience, are not here to please and offer nothing or less in return for adulation, playing with their fears and desires regardless. This is a statement of such stupendous hubris as to demand either willing acceptance that they are truly so self-satisfied in the manner of Mussolini that their followers will purchase Laibach-branded boot polish (on sale at the merchandise stall – maybe aimed at all the leather-clad and uniformed members of the crowd?) – or to penetrate the disguise, to recognise that the actor is not the clothes and makeup adopted for the purposes of suspension of disbelief in order to advance a story.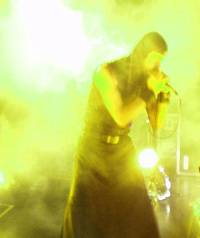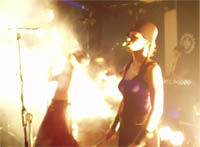 In Laibach's case, the story is a cautionary one from artists who have found themselves not only courted for their controversial stances, but who have placed themselves in a confrontational position of opposition to established orders and regimes – old and new. The Nazi Party were able to seize power in Germany through clever manipulation of historical and mythological imagery – Laibach have done something similar to Western music from Strauss to The Beatles, but – and this cannot be emphasized enough to avoid any misunderstandings – for vastly different ends.
-Richard Fontenoy-