Dakar And Grinser – I Wanna Be Your Dog
Label: Disko B Format: 12″
Those Electro funsters Dakar & Grinser are at it again, this time ripping into one of the most covered of all songs. It turns out that "I Wanna Be Your Dog" is a prime candidate for the drum machine and 303 pulse treatment. D&G add in some shimmering end of the Century shimmers, some old school bleepy breakdown plus the odd canine sample or emulation, whichever might be the case, and groove on down like Iggy Pop would want it done. The only problem is their vocals style, which lacks the menace of Mr. Pop, and ends up sounding a tad whiney almost. But it's a fair enough effort, and will sound great on a dancefloor.
The B-side "I Can't Get Enough" doesn't bear all that much relation to the Depeche Mode track of similar title, apart from the usual similarities that afflicts anyone who uses a drum machine in Disco-Synth-Poppy manner, and D&G do here. Ho hum, so maybe they'll appeal to the same club scene. Floorfiller material and no mistake, with an uninspired vocal which repeats the song title in louche manner over some retro-(vaguely) Garagey beats and the requisite ticking rewind and re-re-repeated voice sections. Eighties as fuck, but the bit when everyone was posing in New York or Chicago, updated for a new decade and another city (Munich). Still just as functional, just as mid-range, and just as ecstatically mindless.
-Freq1C-
Dakar & Grinser – Take Me Naked
Label: Disko B Format: 12″
First of all, "Take Me Naked" is catchy, very very catchy. Its the kind of tune you could unconsciously find yourself humming on the tube. If the Revolting Cocks had made Eighties pop this is what it would have sounded like. Come to think of it – that`s what they did do – in a round about bastardised fashion. Just not quite in the round about bastardised fashion of Dakar & Grinser. Hindsight is a wonderful thing, and so is grave robbery. The 80s haven't been revived here – that would imply resuscitating something on the brink of death. The 80s are well and truly dead – thank God. "Take Me Naked" desecrates the grave stone before plundering the contents.
Really, everybody should own a copy of this record. It's got great party sing along potential with lines like "She wrapped her fingers round my prick/I couldn`t stop that kinky chick" This is pretty representative of the lyrics. They start in that vein, and continue in that vein – always accompanied by thumping 80s power pop. How could such a record be dislikable? The remixes are just as good, they take 80s grave robbery to new depths. The Zombie Nation remix sounds and smells like the corpse of Depeche Mode in the heyday of early Synth Pop. The porno drawl is evilly pitch-shifted to add yet another layer of majesty to this likeable opus. The Gerard de Luxxe remix reminds me of the Fine Young Cannibals, sort of. It's power Pop to the hilt, lots of arpeggios float on top of bombastic synth pop beats. The only thing it doesn`t have is 5 minutes of drum machine fill patterns in the middle. I'm not sure who said that just sticking a drum machine in the middle of a record turned it into a remix. That's what the Eighties remix was, though.
What a great record! It borders on the pornographic, it reveals the Eighties for what they were, and if we all rush out and buy a copy of "Take Me Naked" it'll get to number 1!
-Mephisto-
Label: Underscan Format: 12″
"Face on Mars" is dark and distorted slow and sinister Electro. Analogue melodies drift over mechanical factory floor rhythms, then for good measure the end result is chewed up and spat out in a mangled form. The music on this EP isn't all dark and maimed, though. "Apparently Infinite" is awash with gorgeous analogue filters and old style drum machines. Dalezy drifts somewhere between the glitchcore of Autechre (and a thousand others) and the automated strains of Electro. All together most agreeable.
-ap-
Dandruff Deluxe – Silverpfeil
Label: Crippled Dick Hot Wax Format: CD
Blending easy longecore mellow jazz inflections with Glam guitar stylings, Howard Lespie and Carl Blend throw in all the apparently sophisticated musical devices of previous eras (including the requisite vibes and noodling saxes) and stir in decidedly post-modern flavourings (including bursts of noise). Rarely entering standard Nineties easy-retro territory, Dandruff Deluxe end up constructing their very own surf-happy, Jazz fusion cocktail lounge faux-paradise without so much as a hint of irony.
Tracks such as "Hot Scene" or "Monday" could easily have come straight from Crippled Dick's porn-soundtrack back catalogue, complete with (admittedly restrained) guitar-heroics of the early Seventies kind. Other pieces, such as "Pepperoni", dip into Indie or Country rock much the same way the Butthole Surfers (ab)used Heavy Rock or Blues motifs – though without nearly as much intensity, though the surf-boogie "Gimme The Water" features a weird octave-strangling croon alongside the (abruptly-faded) soaring guitars, and "Jonestown Prayers" exhibits similar sick humour among its deranged harmonica melody and driving rock beat.
Apparently innocuous enough to fill the playlists of drivetime Golden Oldies radio, Silverpfeil rummages though the detritus of three decades worth of ear candy, extracts some of the choicest excresences and moulds them into a semi-recognizable pastiche which lingers like a viral infection, as if a lounge-bar covers band's rider had been spiked. Condensing the middling, rather than the flagrantly outrageous, elements of all their source material results in a mildly psychoactive cocktail of subtle pleasantness, which slips down easily enough, leaving a lingering aftertaste of presumed familiarity and a parallel universe-induced hangover.
-Antron S. Meister-
DJ Danger Mouse – The Grey Album
– Label: Coming to a P2P client near you soon Format: MP3

Thanks to the Internet The Grey Album has become famous or infamous … depending on whether you work for EMI or not. DJ Danger Mouse's remix of Jay-Z's Black Album and The Beatles' White Album has been hailed by the critics as a masterpiece of mixing. It has also been dismissed as gimmick. The music isn't what all the fuss is about, though. After learning about the project EMI, who own the rights to The Beatles songs, served an order cease and desist. DJ Danger Mouse has agreed to comply but by then it was too late. The Grey Album had the "banned" reputation and had hit peer to peer file sharing. EMI can get hot under the collar, but really they've got no one except themselves to blame. If they had let the whole matter drop quietly who would have heard of DJ Danger Mouse? The album was originally limited to 3000 copies. Now it has achieved cult status and even spawned the downloading protest Grey Tuesday. It's the same story as radio stations being banned from playing the Sex Pistols' "God Save The Queen". Only the Internet makes it easy for a thousand copies to blossom into millions.
Roc-A-Fella Records, who put out the Black Album, have taken no action. This is unsurprising. Releasing an acapella version of the Black Album has a clear message: remix this album. The Grey Album is by no means the only remix around. Jay-Z's swan-song album The Purple Album mixes the Black Album with samples from Prince. Hip Hop has always had an uneasy relationship with copyright. Queen and David Bowie took Vanilla Ice to court. Public Enemy were pretty blatant. Listen to "Terminator X To The Edge Of Panic" on It Takes A Nation of Millions … They way they take apart Queen's "Flash Gordon" is hilarious, but not a single credit to May, Mercury, et al.
So much for the hype and politics, but what about the new 'must have' peer to peer album itself. Ultimately The Grey Album must be judged on its artistic merits. Polemical works created mainly to challenge copyright … or any other law for that matter … bore me. This wasn't DJ Danger Mouse's intention. He is quoted as saying "I wasn't thinking if what I as doing was legal or not. I wasn't trying to challenge copyright laws with this album. It was more a creative — an artistic — process." Jay-Z's lyrics appear on top of more or less chopped up segments of The Beatles. DJ Danger Mouse supplies the beats. The structure and track titles come from The Black Album, although DJ Danger Mouse picks his Beatles tracks well. The narration from Jay-Z's mother on December 4th is on top of the acoustic guitars of the Beatles track "Mother Natures Son". Rick Rubin's rocking production of "99 Problems" is recreated using samples from "Helter Skelter" … easily the hardest Rock track on The White Album. I suspect that there will be plenty of Beatles fans that do not appreciate this. If you frowned at Laibach's Let It Be, you'll positively grimace at the Grey Album. This is rough Hip Hop, unlike the pretty slickly produced Black Album. Generally this is fine by me: I've always had a soft spot for music that sounds on the verge of falling apart. "Encore" mixed with "Glass Onion" rocks. "Dirt Off Your Shoulder" takes the melancholic "Julia" and turns it into an epileptic rush of beats like a CD furiously skipping. Ironically, The Grey Album suffers the same problems as the White Album: it meanders too far. Sometimes the noisefests come together, sometimes not.
-ap-
Danielson – Tri-Danielson (Alpha)
Label: Tooth & Nail Format: CD,LP
Ok, first things first – they're Christians. Now before there's any uproar about God-botherers and the like, remember two things: One, not every Christian musician is a Stryper-imitating, clean-cut pedlar of soft Rock (there's nothing in the bible about that); Two, if a HipHop, Reggae or any other kind of artist brings God explicitly into their music (not forgetting Goths, or Spacemen 3 and Spiritualized for that matter), there's at most a cringe and usually an acceptance of the particular person's right to express their belief system (or borrow someone else's). No problem there, so what is it about American Christians that makes them so appaently objectionable? Nothing as such, it's more the Right-wing politics that hide behind supposedly religous arguments that cause more concern.
In fact, Danielson is probably what the world has been waiting for (well, was pleasantly surprised to find emerge) – art-Folk Psychedelic (Christian) music. Despite being in Danielson Famile guise mcuh of the time (a third of Tri-Danielson, as it happens), there's no similarity to dreadful groups like Hanson either – just to get another pointless frame of reference out of the way. Daniel Smith and (mostly) family are like very few other bands, though there are elements of The Holy Modal Rounders, Bongwater and Pixies to be found in their unique sound, which combines acoustic and electric instruments (wind and string) with organ and (from this album at least) electronics. Lyrical concerns cover both Danielson's relationship with his mother, with God and other people, documenting his very human struggles to be righteous and conveying uplifting joy at his moments of spiritual ecstasy.
No apologies are necessary for this recording – conducted in three sessions, with Kramer producing and perfoming on one. Energetic two-steps such as "Rubbernecker", the reflective pastoral moment of "Southern Paws" and the surprisingly electronica-influenced cover of Ken Nordine's "Flesh" all show different sides to Danielson, conveyed in his strangely affecting high-pitched voice. Few records are as surprising, as engaging and ultimately so heartfelt as those of Mr. Smith and his (literal or otherwise) brothers and sisters – even if the otherwise clever take onShangri-Las-style teen-talk which forms the intro to "Pottymouth" does hector somewhat on the subject of swearing in what is otherwise a weirdly-constructed stomper. With the accompanying second album (Omega) expected in the Autumn, 1998 lookls like being a bumper year for Danielson Famile releases, following last year's excellent Tell Another Joke at the Ol' Choppin Block. From the air of semi-innocent wonder to moments of doubt which are the central themes of these remarkable records, all human (existential) life is here.
-Antron S. Meister-
Danielson – Tri-Danielson!!! (Omega)
Label: Tooth & Nail Format: CD,LP
Literally starting where Tri-Danielson!!!(Alpha) left off by being numbered (on the CD at last, in a completely useless but amusing technical development) from track fourteen, Tri-D(Omega) completes the concept album from the Holy Trinity of Clarksboro, New Jersey appearing once again in Danielson, Danielson Famile and Danielsonship aspects. The concept remains the moral problems of living in a complex world, approached from a Christian attitude with a decidedly avant-Psychedelic methodology. Without doubt one of the strangest musical formations around, collectively Danielson and Family are also among the most literally thrilling and enjoyable to be heard.
The themes range from the egalitarian nature of human existence in "Thanx To Noah" via the pernicious evils of televison lambasted with considerable verve in "Idiot Boksen" to the vices of capitalism mocked by "Sold! To The Nice Rich Man". As with the Alpha selection, Danielson's distinctive songwriting style and falsetto voice are accompanied by solo acoustic guitar and sundry backup from the rest of the (occasionally honorary) family and guest who also include once again co-producer Kramer on bass and a local choir. Each line-up alternates from song to song, but same flavour is carried through of an essenitally spiritual quest for enlightenment in a world of temptation and vice. At no point is this more obvious than in the live introduction to "Sold!…", where Daniel Smith strums a version of "He's Got The Whole World In His Hands" and leads the crowd in verses changed to "He's got the junkies and the flunkies/In His hands/He's got your eyeballs at the beach/In His hands" before the main song fades in. Such sentiments, while well meant, are enough to get the backs of atheists up, but then there are those who dislike acoustic guitars too.
Anyone dissuaded on the grounds of the religion of the band are missing out on some phenomenal music, from the joyful energy of the group to the profoundly odd moment of "Don't You Be The Judge", which in best Folk tradition has a singalong chorus, a call and response verse where everyone gets to express their thoughts on the subject of judgement, and a tendency to re-arrange the words in disorienting ways. And then the real fun kicks in, as the voices of the singers get progressively more and more treated and a monster fuzz-bass wells up. This may be Danielson's finest moment of pure uplifting noise, but the finale of the three-part (naturally) "Deeper Than My/The/Our Govt." explores the group's faith in a personal and world-wide Saviour in an accumulating blend of electronic pulses, chimes, swelling harmonies which rise to a peak of near-ecstatic, heartfelt, phasing bliss. With the reversed opening chant of "Tri-Danielson!" from Alpha to close the programme, the cycle of a remarkable work is completed.
-Antron S. Meister-
A Dark Matter – Causality Violation
Label: Shades Of Grey Format: CD

A Dark Matter's new album Causality Violation showcases former Terra Firma member Chad Hagedorn's interest in the psychedelic and Prog era – Love, The Seeds, The Dukes Of The Stratosphere and King Crimson are all bands he cites as influences – coupled with diverse directions taking up the reins of more recent luminaries of the lysergic age as The Legendary Pink Dots (or more specifically Edward Ka-Spel) and My Bloody Valentine in their more straightforward days. Enough of the comparisions and references – Causality Violation certainly has some moments of speculation about early Pink Floyd (not apparently listened to at all…), and flows easily from gentle vocal tracks into classic, echoey Space Rock with a definite retro feel to it.
Floaty riffs tinkle across smoothly-swingly basslines; slightly Hawkwind-like on occasion, but without the head-down chug, in fact. Cymbal washes and acoustic interludes make pastoral noises; bubbly synthesizers initially make more of an accompaniment to the guitars, bass and drums than a full-tilt contribution, though there are some quality ambient electronic moments in the reflectively-spacey "Change Of Worlds", complete with flutes and all. The effect is very much the sort of music to heard at yr local free festival – trippy without being too heavy, soaring off into blue skies and taking a gentle come down to solid Indie Rock foundations. This is found especially the FX throb of "Nightfall" or the harmonised vocals and organ riff of "The Genie Project", though "The End Of The Beginning" takes things into gurgling soundscape territory. Likewise, "The Serpent" circles its effects in nicely-judged formations around a simple ditty, while the madcap laughing in the middle section of "Slide" doesn't sound so much insane as like he's having a really fun time.
Causality Violation doesn't have the most groundbreaking, earth-shattering of sounds, but will certainly provide a shimmering listen or three. Or four, or five…
-Antron S. Meister-
Dark Star – Travelogue II
Label: Soleilmoon Format: CD
Wolfgang Reffert's collaborative Dark Star project first released Travelogue in 1994 through Strange Ways Records/Hanseatic. While it is a bit of a shame that this CD re-release on Soleilmoon isn't a complete new album, it does include four new tracks in place of the first edition's last two pieces, and as extra nice a bonus the redone cover art is taken from the cult graphic novel Airtight Garage Of Jerry Cornelius by M�ius. Otherwise the track list is identical, and while much is of a variable quality, some of the songs on here are nothing short of superb.
Reffert used to work as a tour manager for the likes of Skinny Puppy and The Young Gods in Germany and met both Edward Ka-Spel and Technogod as the respective supports acts in that capacity, and invited them to join Dark Star along with his long term friend Gtz Adler. The basic tracks were recorded lergely by Reffert, with the guests adding their unique stylings over a few years in the early Nineties. Unfortunately, this does mean that some songs such as "Opal", "Frantic Upstream" or "Come To" have a slightly dated feel to them, running along fairly standard digital drum machine and keyboard Industrial Dance-ish lines.
There's a lot of programmed rhythms going on there, with some repeated vocal intonations from Yorgos DK on the latter two songs and some quite Funky guitar by Reffert and G-Frex and a load of squelchy/tinkly samples thrown into the groovy mix. They're actually entirely listenable, and drive along with a psychedlic tinge to the electronic post-Hardbeat/Rock mechanistic high-step beat. Likewise, the four new instrumentals have an air of tacked-on placelessness, being constructions by Reffert, Adler and sundry other musicians from the Freiburg area, plus Die Artze's bassist Rodrigo Gonzalez, in '94-'97. They're very much in the same style of trippy noises (the door creaks and pool ball clacks on the two "Solaris" tracks are especially good) combined with effective, complex programming which never fails to keep the drum machine or keyboard bass settings to mind. Still, they are quite engaging workouts with added synths and some comfortably swirling electronics to make the ride pleasant enough, reaching an extended delve into dynamic shifts between ambient and psychedlic noise on "Solaris II" for the conclusion.

Where the real strength lies is in the Legendary Pink Dots collaborations, with Ka-Spel, The Silverman and Ryan Moore bringing their spiked-velvet touch to four tracks – the opening "Eject!" in wistful remembrance of camel trains and faxed goodbyes; "The Slice Of Life", which has that digital rhythm Reffert favours offset by some of his nifty sample stretching and ticking, while Moore brings up the bass to Ka-Spel's existentialist mantra. The results are really quite good, churned up and hesitant as they are. "Go Beyond, But…" is on an LPD/Dark Star instrumental tip, and does similar kinds of things in instrumental form with less impressive results, but with "Don't Look 'Til It's Gone", everything reaches a peak. This is one of Ka-Spel's most stunningly affecting lyrics, with a mournful sense of presaged loss delayed by immersion in enjoyment of what's available in the here and now, and is truly stunning and more than a little emotive. From a man who has provided some of the greatest insights into the chiaroscuro of the human state of being over the last twenty years, "Don't Look…" is absolutely the high point of Travelogue (I or II), helped along by Moore's searingly penetrating guitar klang and Adler's subtle bass. Bleedin' marvellous.
-Antron S. Meister-
Day And Taxi – Less And More
Label: Unit Format: CD
Saxophone, double bass and drums. Does the rise and fall in silence and force in each respective instrument reflect three musicians working together – or is it a mirror of each individual urge? How much interplay occurs of itself, without ego or conniving? There is a tenderness in the interplay here, a tentative courtship – or so it seems – because there is a great gap between meaning and communication of meaning, q.v. It is the music, however, of many late-night drives through the city, sodium lamps reflective in windows as the spectacle of the skyline is taken in, taken down.
And the pieces blend into each other, without harshness or grates, a long alley of sound that hides from the sun passing overhead. There is a casualness to it, as the tones shrug and turn away, being as they are, to themselves. Day and Taxi-ride? A late-night feel pervades, and as there may be a thousand stories in the naked city (with or without John Zorn), there are a thousand notes that make up this story – but what is it called? How is it called? Another chapter in a long line of Jazz legacy? Or something unto itself? The taxi passes a fight, a street scene, a juggling of times and incidences. The window is rolled down to catch these instruments in the throes of a struggle that is barely heard as the movement continues and the energy dopplers past.
There are moments threading through a trip that one might see in these pieces. Waiting for flowers, getting out and stretching of the legs, the curving grin of a sexual phantasy on moving, thinking of someone that the door reminded you of. Musical cues are ever-present in daily life; one tone from a half-heard piece – as it travels past in a taxi, say – can trigger and whole slate and spate of emotions and words and scents and gasoline. This is why every recording finds its audience. This is why sounds live forever.
-David Cotner-
Day Is Over/Mike Koskinen – 458 R.T./60 Winslow
Label: S�h�Jazz Puu Format: 12″
Jazz Puu continue their programme of re-releasing Finnish Jazz from the Seventies with this split 12″, which boasts some fine 1971-vintage collage cover art from Kirmo Mikkola to set the tone to perfection. The A-side comes form the Finno-Danish group Day is Over, and "458 R.T" swings like a swung thing and then some – and they recorded it in Stockholm to keep things multi-Scandinavian too. With some frenetic fall-down-the-stairs and enjoy it drumming from Esko Rosnell, a stunningly groovy bass solo from the terrifically-named Niels-Henning �sted-Pedersen, there's brightly coloured sax by Eero Koivistonen and equally tripping trumpet from Allan Botschinsky too. The tune rollicks along, driving up the walls, round the corner and straight through the freeway into pure Jazzzzzzzz moves of quite delerious nature.
Heikki "Mike" Koskinen studied trumpet in Boston and brought his expertise back to Finland for his quintet to produce the Sunwebs LP in 1976. "60 Winslow" is taken from that album, and builds strong a Fusion base for the trumpet, Pekka P�ry's sax and flutes, and Vladimir Shfranov's ecstatically stabbing and running electric piano to footle around. With Heikki Virtanen slapping the bass in staccato pulses which resemble nothing so much as wet cardboard being thumped on occasion, and frantically all over the place drumming on the part of Reino Laine, "60 Winslow" lurches from clangourous drama to emotive runs up, down and around the scale like their instruments have got itching poweder inthem. With a handclapping interlude of all things to spice up the propulsive motion into grooviness and beyond, it's a blast and half which just goes to show how much Jazz can really kick off into goatee-stroking mania when it wants to and still somehow come up smelling of roses in the right hands.
-Linus Tossio-
Dead Kennedys – The Early Years Live
Label: Decay/Target Video Format: DVD,VHS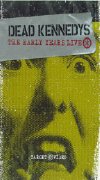 Originally released on VHS in 1987, this collection of the Dead Kennedys live in concert and the studio finds them in fine Punk Rock form. As is to be expected, the sound quality of the gig footage (mostly recorded at Mabuhay Gardens 1979-80) is less than optimal, but at least it's in stereo and captures the band's tightly-whipped performances in the lo-fi essentials. One simple expedient to improve the viewing experience is of course to turn up the volume. As far as DVD extras go, they're minimal – song selection, concise biographies for each band member after they called it a day in 1986, and the amusing addition of singalong subtitles for each song. DKs karaoke anyone?
Each track is intercut with short sections of handgun headshots, Ronald Reagan slapping Nancy upside the head and other jibes at the Eighties establishment. Best of all is Jello Biafra's interview on San Francisco local TV on the occasion of his mayoral candidacy, and includes his attempt to clean up a rich Nob Hill neighbourhood with a vacuum cleaner. As he observes "it is no more of a joke and no less of a joke than anyone else they care to name" standing for election, promising to "solve all of San Francisco's problems whether it likes it or not". Tongue in cheek or not, Biafra's sensible policies for a sensible city didn't get him much more than a cheeky piece of publicity at that time, but it spices up an already charismatic and energetic stage presence on the videos. As the band bursts out from the intial red lit glare of the scathing "California �er Alles" in 1979, it's strange to note from the perspective of twenty-three years just how easy it was (and unfortunately stiill is) to get a bunch of dissafected kids Seig Heiling, however ironically, at the end.
As the set proceeds through the 1980 gig, the crowd are soon moshing and stage diving as Biafra twists and rolls in a bath of reedy feedback. The band are on top form through a rapid-fire "The Man With The Dogs" and a celebratory "Let's Lynch The Landlord", while "Insight" is delivered in a clattery rush which both band and crowd seem to enjoy hugely. Two tracks were recorded with the Dead Kennedy's performing live in Target Studios for the shoot: "Bleed For Me" finds Jello leaping, miming and cavorting in a horrid pink shirt and green gloves while the band give the song their best breakneck rendition; from the same session, "Holiday in Cambodia" opens with the obligatory Huey landing shot to that most horripilatingly great of Punk intros to a blistering ride through the classic. Intercut with TV footage of burned babies, explosions and warfare in general, East Bay Ray gives the guitar a good shivery reworking as the napalm rains down. As the credits roll through a tinny "Viva Las Vegas" straight out of Berkeley, there's a sneaking temptation to hit the rewind button for "holiday In Cambodia" just once more…
-Antron S. Meister-
Dead Voices On Air – Dead Voices On Air Live
Label: Invisible Format: CD

"It's like a garden party, isn't it?"
The sounds speed up, playing and re viewing, tiny spiders that build up an empire for Our Mark and whatever spirit and feeling he brings with him on the road. The shivering traps of the drum and / or bass plays occasionally opposite the bent circuits and horn of Niels van. The head nods in windwashed assent, the pants shake in terror of the bass pulses at occasionally emerge from the speaker-eater. One wonders if an alternate project ("Live Voices on Air: Dead") will emanate from the coffin as it is lowered into the ground.
"…it was actually "Sweet Home Alabama"…"
Singing in a low way couples with strings and fading static. The anthemic strains of that chord progression come through the fog, and are there certain chord progressions, or strings of notes, that most people respond favourably to? The goosebumpery of the situation makes itself manifest as those notes occur, just then, and gone again.
The sunburst of cacophony interrupts, erupting and riding its own chaotic wave for a while, until the Voice comes back into the proceedings. And the drums return, collapsing beat and all. Then, after the panic of the nighttime passes, very slow tapping and breathing, a runner at the break of day, passing through this way because it is so peaceful. It changes again, the runner now chased by an angry Doberman, through the otherwise quiet streets opening into the morning air
-David Cotner-
Deep Structure – Comics Vol. 3
Label: V Records Format: CD
Kornelia Bruggmann has a voice that switches between that of the banshee, a whisperer of gnomic utterances and a purely human contrast to the electronics, otherwise known as the 'imagineering portable set', which Knut Remond uses to create shifting, alien backdrops. The brief texts are supplied by Jenny Holzer and feature one-liners such as 'Expiring for love is beautiful but stupid' or 'When someone beats you with a flashlight you make light shine in all directions'. The sort of graffiti someone ought to daub on the walls of concrete underpasses and crumbling flyovers.
Together these three ingredients make a compelling, if discomforting combination. It is a glimpse into a distorted mirror where the images are all unsettled, where unhappy accidents occur and implore you to release them. But all you can do is listen to a thickening drizzle of electricity through which the soprano is forced to navigate an increasingly uncertain path. On some tracks she breaks down a phrase and intones its fractured components over a sparse collection of noises, as in the final piece "War Is A". Apart from Holzer's words there is a poem by Valaisan lyric writer, Bernadette Lerjen-Sarbach, in which the voice is processed so that it and electronics are almost totally integrated in a sombre mass of melancholic sound.
When Remond has the track to himself without a voice the aural terrain is even more bleak, but again, it is one into which you find yourself being drawn. "Shaking Black" is a suitable example of a zone devoid of light but full of barely moving entities whose shape and purpose you can never quite identify. This may not be recommended for listeners whose phobias include being cocooned in a thin glass ball on which it is constantly snowing iron filings. But in a dark room, being of only slightly nervous disposition, it can throw light on nether corners of a world too thoroughly mapped.
-Paul Donnelly-
Delerium – Archives Volumes 1 & 2
Label: Nettwerk Format: 2CD

Prior to signing with Nettwerk, Vancouver based Delerium recorded roughly an album a year for seven years. Now that the rights to these albums have reverted back to the band they have released an extended compilation: 2 volumes with 2 CDs apiece. The music is soundtrack and World Music-influenced ambience, but in a dark and distinctly digital form. So here we've got 4 CDs worth of big big sounding Ambient anthems – structured and melodic rather than experimental drones.
I must say that the name Delerium is new one to me. The people behind the name, Bill Leeb and Rhys Fulber, are not though. I remember them from the Industrial Techno outfit Front Line Assembly. So I was a little surprised to see their vast backlog of Ambient works … that is until I listened to the CDs. With the wonderful gift of hindsight the connections were immediately formed. Front Line Assembly were pretty bombastic – Delerium are hardly that, but the music is constructed in the same way: precise, highly sequenced, a fine example of what you can squeeze out of a bank of digital synths.
-ap-
D�ire – Diaspora
Label: Synaesthesia Format: CD

Constructed by D�ire in the most part from the sounds generated by playing computer games, Diaspora immerses the listener immediately into a virtual worlds of crunching footsteps, hissing doors, sliding puzzles, rhythmic task-reward modulations, droning timbres and rapid jump-cuts of gloopy electronics. The source game sounds are not those of typical console fodder – instead, there are intricate, post-Tron 3D wireframe abstract universes being explored, as demonstrated on two the fasinatingly layered videos which accompany the eleven anonymous audio tracks.
The frentetic slithering and missed-heartbeat tension of gaming in an alternate reality is not merely represented but quite literally captured and processed; In particular, the two videos showcase an very different perspective on the way a game should look, play and above all sound. The majority of the audio content seems to be purely electronic, bearing more symbolic than mimetic relationship to the events apparently being played out in the game world. By stripping away the interactive aspect and putting the sounds in a new context as linear CD pieces, D�ire has heightened the observer status of looking over the player's shoulder at the screen – the particpatory soundtrack has become fixed into something bearing a relationship closer to that of the cinematic score.
Theory aside – and there is much to provoke thought about the production process of Diaspora – the album exists in its own right as an electroacoustic ride through a juddering arcade where jump-cut leaps switchback from avant-pinball clack to digital waterfall scurries with abandon. The whole wriggles with artificial videogame life and the sound of ghosts in the games machine set loose in a virtual laboratory like some new species of bacilli; Musique Concr� sourced from the interplay of gigabits of light-sourced polygons and the filtered directions of their human demiurge controllers.
-Linus Tossio-
Delphium – Self Vs. Self EP (Basslines Of Death Vol. 3)
Label: Disaster Area Format: 10″
Now here's an odd thing – the label says 33 (don't forget the third…) RPM; but playing this disc at that speed sounds a little slow for Drum & Bass. Maybe that's the point, as it's darker than the back of a sweaty fag-stained club, and dismal as the last drop of beer spilt on the floor.
"Delphium Is Dead" drones, splats out the analogue synth moves in a way that owes a lot to Jungle, except the Funk has been dried up and shrivelled. Instead, there's clattery breaks, sneering bass, and not a lot to groove to. It does the head in, and putting it on 45rpm just makes the tinniness even more apparent. The Children Of Asmodeus remix takes things into faster, nastier territory, with brutalist spasms rocking the track into a spiteful clatter of grinding noise. Much better, and surprisingly, some semblance of fucked-over melody (mal)ingers under all the dirt.
"Take Me Home" does something ambient, something abstract, and those beats and breaks are just as arrhythmic as can be among the ominous sussurus of keyboards. When the main rhythms does make an appearance, it's nicely lateral, and the injections of filtered piano string stabs (or whatever the sample might once have been) does nasty things to the guts and spine. This is not for dancing, but for spasmodic jerking, twisting, tripping over badly in the gloom.
Mind the step… oops, and it's "Ambient Dead", which is where things are once again on the verge of getting more pleasantly groovy, but don't. Refried HipHop beats meet meandering bass and rush-fresh shivery bits of sound; the motion is propulsive, but murky, and the mood unwholesome. Horrorcore Drum and Bass to while away the daylight hours until twilight.
-Linus Tossio-
Depeche Mode – Exciter
Label: Mute Format: CD

OH MY GOD! Another one! Another piece of music named after that Devon town popularised by Bob Marley in that number about "Movement of Jah people".
Sorry, what was that? Oh, I see!
I'll start again, shall I?
OH MY GOD! Another one! Another album by Depeche Mode! And just when we thought the smack/Gospel/Rawk nexus had done for them! But no! They're back! And back they certainly are- great though Songs of Faith & Devotion may have been, I don't think it could have stood up for more than an album or so, and the same goes for the Big Rock Grunge & Dave Gahan Comedy Facial Hair stage, so it's kind of nice to hear them re-embracing those nice bubbly, vaguely menacing synth noises again. Only this time, they've brought back some of the other influences with them, which prevents the whole thing sinking into some hideous kitsch-80s-revivalist post-modern bollocks and allows them paradoxically to hang onto that kind of sleazy na�et�they were always so good at. (I feel compelled to point out here that I'm not my usual objective self here- and that's a fucking laugh in itself- as Depeche Mode are probably the band I've like consistently for the longest. About- ooh, getting on for twenty years now? So don't expect savage scathing criticism, or any of that fair journalism shit. okay?)
On the subject of sleaze (as I believe we were before that hugely distended parenthetical aside- oh fuck, I'm doing it again, aren't I?), Dave Gahan still somehow manages to make the DM SM/swinging thang sound kind of glamorous and a little dangerous, whereas at his age it should, by rights, just sound downright grubby and a little sad. Opener "Dream On" you know, it having been their first single in, ooh, ages, and (as you know) there's more than a little of Underworld's Dubnobasswithmyheadman to it, but then, seeing as how that album always reminded me of Ver Mode anyway, I guess that's not a problem. We've got all the usual DM trademarks- those cool bassy synth noises, those gorgeous harmonies, those (as always) Martin Gore (sorry, Martin L Gore… I think it may be important)-penned twisted love ballads- but just when you think they've decided to inhabit mellow-land for ever (which wouldn't necessarily be a disaster- their best album, Black Celebration, was hardly a balls-out Rock monstrosity), they kick in with instant Slimelight classic "The Dead of Night", a stomping Electro-Goth beast that takes the blueprint of "Personal Jesus" round to Marilyn Manson's house and laughs at all his KISS albums (and then laughs about it in the pub afterwards. In rubber trousers) while delivering a rant about "the zombie room", and how "We're twilight's parasites/With self-inflicted wounds". Christ, yes, I know they're old enough to know better, but I'm kind of glad they don't on this showing.
Gahan's still got That Voice, of course, and nowhere is this more evident than on the chorus to "Breathe", where you're reminded strangely of fellow radio-friendly-chronicler-of-the-sordid Marc Almond , as we get a kind of Synth-Pop torch song evolving from a charmingly simplistic verse. Yeah, and maybe "Goodnight Lovers" is slightly too sincere to close with, but hey, it's still a good song, and after such a top album, who's counting?
Excellent. Now… BRING IN THE HUMAN LEAGUE!
-Deuteronemu 90210 wearing fluorescent socks & a sweatband-
Desert – I See The Light
Label: Future Groove Format: 12″
"I See The Light" is Desert's follow up to last years release "Lettin' Ya Mind Go" and comes with a fist full of remixes and accapella tracks. It's a heady and hypnotic House belter fuelled with Rap lines bounced this way and that through the echo box. D. Ramirez and Eddie Amador produce the remixes and add two solid slabs of epic Funk to this release. The bassline award has to go to Desert's own "Red" mix, though. It's relentless, minimal, and Funky all in one long extended hit. And if you fancy a bit of D.I.Y. there's always the accapella and string tracks – something we don't see enough of in my opinion. Desert are long standing Cream DJ Paul Kane and Paul Pringle. In 1997 they formed Glow records and are currently working on their debut LP. Future Groove have released a few tracks with "light" in the title recently – the other being P.I.M.P.'s "The Light". There are no signs of Hank Williams on the horizon, as far as I can see.
-K Diamond-
Désormais – Climate Variations
Label: Intr_version Format: CD
Désormais is a joint project by Mitchell Akiyama from Montreal and Cincinnati resident Joshua Treble, constructing their material by FTP, mailed CDRs and phone in what has become a 21st century paradigm of distance collaboration.
The moods of Climate Variations follow pretty much that mode, changing with the seasons as much as musically. Footsteps and moulded pulses of harsh distortion interact with drones and fuzzy Post(al)-Rock soundscapes, textured with the moises and presences of the environment and the studio. Scuttling droplets ride beside the scraped and pared-down fragments of what could be a million sample sources. or just a few made over in software – it really doesn't matter, somehow. There are "real" sound sources to be identified in the judder and flex of glitches which compose a wash of virtual electronic shores and the equally variant cultures processed out of and through cyberspace hallways, plains and echoboxes on this record, and the very sound of music is implicit in the emergent hissing and dripping.
As the album flits with fractal organic logic between states of grace and energetic discharge, it shifts from slowly heaving beat structure into a full-spectrum sussurus, crackle and swarm slipped dubspace echoes and cascades of Ambient texture. Storms and showers of electrical activity surround and drift apart from clouds of radioactive static to the rising rhythm of drones, almost sculptural waves of delay and feedback, while hearbeat bass throbs though and under the miasma to its own circadian rhythm. There is a certain inevitability to Climate Variations which suits its title entirely, spanning seemingly continental distances where soundscapes on the scale of weather patterns interact, and with similarly distant feelings of both beautiful grandeur and ineffable estrangement as evoked by a long haul flight across America.
-Antron S. Meister –
Destroyer 666 – Phoenix Rising
Label: Renegade Format: CD

Oh, my goodness! I had to turn up the volume of my stereo when I first put this on because I was straining to figure out what the low-growly voice at the disc's beginning was saying, and I almost ended up blowing my speakers out when the actual music started up! Let this be a warning to potential purchasers of this CD – this thing gets loud! I wish I had a lyric sheet for the record, as otherwise, most of the lyrics seem to be comprised of one-to-three word shouted phrases that sound like "Greed!" "Smoking!" "Peace!" "Tungsten Wrath!" and so forth in no apparent order, which just doesn't make sense, so yes, a lyric sheet would be handy here.
Despite the very chaotic nature of this Death/Dark Metal quartet, the band is very tight and obviously very talented musically, which is a rarity in the genre and perhaps even accidental here. Even I, the Lounge-act-loving teetotaler, found myself tapping my toes, shaking my head vigorously, and blurting out "Bank Account!" "Suicide!" and "Garbage Truck!" right along with the music. Rock on, indeed!
-Holly Day-
Detroit Improv Duo – Intuitive Tesseract
Label: Futurerecords USA Format: CD

Somewhat unimpressive group of electronic Jazz songs that sound as though much of the recordings are preprogrammed keyboard and percussion fills accompanied by a live guitarist that seems more intent on playing scales very quickly up and down the neck of his guitar than actually playing along with the music he's supposed to be accompanying. It's funny, but all these songs start out sounding promising, but quickly degenerate into what I've just described, with perhaps the speed of the accompanying guitarist varying on different songs. I think perhaps the problem is that these are, I think, supposed to be Improv pieces-however, in order to make Improv really work for me, you have to be willing to really take chances, fiddle with structure and technique, instead of just timidly staying within the confines of scale and tempo.
-Holly Day-
DFA – Work In Progress Live
Label: MoonJune Format: CD
All told I received three requests to review this and another album from the same label. One editor, not the Freq Meister, asked if I wanted to review 'some dreadful Italian Prog Rock'. Naturally I said 'Yes'. I grew up with King Crimson, Genesis and others too numerous, or embarrassing, to mention. So a little musical bombast and noodling is nothing strange to me. It does amuse me though to think that 30 years on this music is still called 'progressive'.
DFA hail from Verona and this is their second release. It has all the trademarks of the genre; layers of keyboards, solid bass, string-busting guitar licks and lots of time changes. It also suffers from the curse of the genre. I can't recall many Prog bands that weren't somewhat under-resourced in the vocal area and DFA are no exception. The voices are a weakness and maybe they should have stayed as an instrumental outfit. "Pantera" is a typical example of what they do best. It features tight unison playing and some Emerson-esque organ from Alberto Bonomi. They veer more towards the Jazzy end of the spectrum, again due to Bonomi's piano and the rhythms set up by drummer Alberto De Grandis and guitarist Silvio Minella. There are shades of Dave Sinclair and one of the incarnations of Caravan.
"La Via", their longest piece at around 15 minutes, is also fairly representative of what they are about. It starts with keyboards rising and falling, adds rippling guitar and gradually builds up to a climax through a few changes of time signature. Guitar and keyboard do most of the solo work as the piece moves through its tempo and atmosphere changes. It does suffer slightly from the Prog tendency to dwell too long on an idea in places but then it springs back to life and takes off into a sprint through choppy rhythms and mercurial soloing. The vocal sections, again, don't add much. There are four more tracks that follow similar patterns of tightly written sections with room to improvise. When all's said I doubt this will win many new converts to the fold. Still, you never know. The audience were certainly appreciative and can't all have been 40-somethings. So, DFA coming to a rockfest near you in 2002. Time to start working out on the air guitar.
-Paul Donnelly-
Ernesto Diaz-Infante And Chris Forsyth – Left & Right
Label: Bottom Feeder/Pax Recordings Format: CD
Recorded transcontinentally by the duo, with Diaz-Infante having passed on tapes of him playing prepared acoustic guitar to Forsyth at the Big Sur Experimental Music Festival in the summer of 1999, Left & Right builds a series of virtual machine duets from the source material. Notionally organised as twelve pieces, the collision and collusion in the studio space of the two improvisors becomes a semi-continuous flow of the possibilities of a pair of instrumenalists separated in their joint composition only by distance and time.
Infante's acoustic, having being used to provide the basic structure of the pieces, appears in guises linear and otherwise, with Forsyth scratching, sqealing and stretching his electric (and its jackplug) as appropriate into the niches left by the original material. The joins and seams of the studio process remain transparent throughout – if it wasn't mentioned in the sleeve notes, it would be largely a matter of nitpicking to have determined where live and manipulated sections interact – though the occasional reversed section aids that evaluation.
Overall, Left & Right sits well in the canon of improvisation, while deliberately stepping beyond its more puritanical exponents' boundaries in its use of studio overdubs and processing. At times abstract, even (seemingly) spontaneously lateral, the album snaps synapses more than it encourages visceral reaction, though on occasion (most notably on Tracks 6 and 10) the acoustic stimuli engender minor frenzies of twitching nerves as well as guitar strings. Thanks to the more considered paramaters of its construction, there is more room for manouvre in conjunction with consideration; the possibility of retakes and thoughtful alignments (whether actually used or not) helps streamline the resulting music in a way that is not usually possible with live improv. Neither better nor worse for this (the two methods each have their own benefits and demerits) Left & Right works well in its own rights as a soundtrack to the a-melodic; sharper than Ambiences and far more astringent.
-Antron S. Meister-
Ernesto Diaz-Infante & Chris Forsyth – Wires And Wooden Boxes
: Label: Evolving Ear/Pax Recordings Format: CD

A combination of electric/acoustic guitars, piano, voice and percussion provide the materials for this set of improvisations. "NYC Journal Excerpt 2000" has some delicate piano chords pitched against the scrape and hum created by touching the power cord to the input jack of the electric guitar. A strange contrast. "Sound Is Good All The Time" features more scrapings and attacking strings, both on guitar, piano and the piano soundboard. The results may be partly predicted but there must be an element of chance to the outcome and, to me, that is the justification for such explorations. Each time they improvise within a given framework, with a certain number of preconceived guidelines, the outcome is going to be different.
"Straight To It" features spiky, jagged piano and electric guitar in a dense, furious improvisation that shows how much empathy there must be between two such musicians. This is shown further on a series of acoustic/electric guitar duets where some discussion took place beforehand but the major component is the use of more spontaneous improvisation. And such playing does not have to preclude the use of melody, as is demonstrated by the opening of "Passing One Another". On other duets they utilise the percussive possibilities of the guitar and alternative tunings. Diaz-Infante produces alligator clips, screwdrivers and assorted found objects while his partner resorts to the electric hardware, such as the volume pedal and distortion box.
It is no doubt a clich�to say that free improvisation involves taking risks, some of which will work while others may need to be re-thought and shaped. That is the arena these players are working in and, in the main, it is worth investigating.
-Paul Donnelly-
Dif Juz – Soundpool
Label: 4AD Format: CD
Mid-'80s effusive journalism alert! I mean, for fuck's sake, they're on 4AD, the tracks range from '81 to '85, and one of them ("No Motion") is produced with the aid of Robin Guthrie, creator of the "swirling sonic cathedrals" (see what I mean?) The Cocteau Twins hung out in being all elegant and ethereal and giving it some with the "Frou-Frou Foxes". It has to be ethereal (see, it's that word again; I did warn you…). Not a matter for conjecture.
Okay, so the guitars are, in a kind of Cocteaus/Cure sort of way, but there's something a great deal Dubbier going on with the bassist, and the drummer does his best Steven Morris (Joy Division stuttery pounding) impression but a bit slower, and the effects – well, okay, you know what kind of effects they've got. "Mi" even has an air of that constant-rhythm-with-endless-amount-of-echo-on-brief-touches-of-guitar vibe that was the only time the Dead Kennedys even sounded remotely like Bauhaus ("Holiday In Cambodia" and "Bela Lugosi's Dead" being the otherwise totally dissimilar tracks in question) and was all the rage back then. Only a bit Dubbier. "Mixed signals", I think, is the phrase. But it all makes a weird kind of sense, as these instrumentals (for that, my friends, is what these tracks unfashionably for the time are) build and you find yourself thinking "Why didn't all 4AD bands try this stuff out?"- a question to which, obviously, the answer is "Because they were all trying their own different stuff out and were probably a bit busy being massive and influential and meant for better things while the likes of Dif Juz were cruelly underrated and passed over due to their lack of vocal hooks". "CS" in particular is a lost (or rather, forgotten in the mists of time and the Cocteaus) classic, a persistent tweak of the treble string providing the horribly infectious backbone to a slow-building, fast-moving cyclone of sonic weather and candyfloss with machine-gun guitar bursts riding on the storm (as they would have said back when this kind of music was The Done Thing). More storms and floating than bluebells and pixies, it has to be said, but none the less charming (and ever so slightly spookier) for it.
Dumb name and hideously poncey track titles aside, Dif Juz – well, they don't rock, exactly, but they are (or were) fucking good. Check it out and see what you missed while you were being all fey in Blue Bell Knoll.
-Deuteronemu 90210 And His Amazing Animal Band-
Digi-Dub – The Golems Of…
Label: Digi Dub Format: CD
The first and best label and/or artists to tackle the melding of Techno and Dub with the right degree of integration and innovation, Digi-Dub are here remixed by the collective's friends and admirers in appropraite late-Nineties style. As is to be expected, the meeting of eclectic sources on the basis of Reggae and House derived forms that Digi Dub specialised in lends itself particularly to Trance interpretation, but with a twist – or more to the point, as many twists and turns as is possible. Typically, this even includes getting Parisian radio DJ Laurent Diouf (Wreck This Mess) to write the sleevenotes in French – with no translation supplied either.
Not many straightforward floorfillers then, but a selection of pulsing, spluttering Concrét-flavoured dubs on the sources – remember this is the label whose L.S. Diezel and Launch DAT used a Routemaster bus engine as the source for one memorable track of the same name. Mashed's "5 Bars" ) gets a hallucinatory makeover by American DJ S.P.A.Z., while "Mystry" is up for a low-key Electronica moulding by N(onplace).U(rban).F(ield). & Egon Zo. There do seem to be perennial Digi Dub favourites among the remixers – "Mystry" also appears in a knee-pumping Trance exploration by Styward, which features a very nice melodica line. Likewise, the two versions of "Beware Of Your Enemies" take Levi Roots' heartfelt old-school chant and process the track into the Dub & Bass Mudskipper mix and Sound-Proof's more militantly stepping neo-Rockers version, which dubs out half way into a warm bath of bass, echo and dropped vocal fragments.
"Donkey Rider" appears twice too, with Hedonastik emphasising the low-end possibilities in intricate Digital Roots style with an energising, Trancey analogue motif, while The Resonator's more interested in the Electro-Ragga possibilites. It's not Dancehall that anyone's likely to get the batty riders out for though (as the self-depecating vocal sample always indicated) – more loping synth-Ska with whistling. "Conquering Lion" is taken by The Moody Boyz through some reasonable if uninspired hoops, while Dodo turns "Zin Zo" into a relaxed, reverberating shimmer, and the guitary 12″ cut of "Puple Boy" by Shimmon + Woolfson is present too. It's this song and the highly energetic clatter of Marc Em's remodelled "Nepturanus" which really mark the tempo up a few notches, both paying considerable attention to structure and breadth of focus, shifting form on the basis of the source material as all good Golems should. As remix albums go, this one adds further permutations to the gloriously convoluted multiple identities which characterise this most plastic and fluid of labels.
-Freq1C-
Digi-Dub – Purple Boyz/Purpl-ized
Label: Digi Dub Format: 12″
Presented in the Smart Alec And Clever Cloggs guise, "Purple Boy" was one of Digi Dub's outstanding early-Nineties releases, combining groundbreaking breakbeat and bass rhythms with a haunting, tinkling melody and lyrics reflecting on a life of meths abuse. An unusual combination of the sad and the melancholic with a jaunty undercurrent, the original is presented along with three new versions.
Shimmon & Woolfson's "Purple Beat Mix" places the emphasis on the guitar feedback and bulked-out break, treating the source with both enough respect and sufficient Trancey phased swirls to make their extended effort more than worthwhile. The All-Seeing I are an outfit who've obviously studied the Digi Dub method themselves, and return the favour with an interpretation which opts for a high-stepping rhythmic groove and a cut and paste approach to sampling from the vocals, making for a justifiably protracted stomping cruise around the song's foundations. As for the Kyogen remix, it's the most dubbed-out version of the four, adding echoing trails to and subtracting beats from the basics before fading to a halt.
-Freq1C-
Stefan Dill Trio – Run For Heaven
Label: Fal�ta-Galia Format: CD
With Stefan Dill on guitars, Dave Nielsen on bass, and Dave Wayne on drums. Exceptionally well-recorded, and gripping at points, but oh, maan – that packaging. Well, not so much the packaging, because the liner notes are informative and it's nice to actually see photographs of people working in the group (so much of experimental and improvisational music biographical information ranges from the hazy to the occluded). But it's that Raygun Syndrome again – where the text is repeated and rephrased until it's almost unreadable. Are we to believe that there is an invisible solar entity over one's shoulder, making shadows lengthen from the titles of the pieces to some previously undefined perspective point in the background? Oh dear.
It's all exceptionally energetic playing and it's entirely possible that this was all recorded in 72+ minutes, in one take, with no overdubs, etc. Some extended guitar scree abounds. "Fire Garden" puts the trio in a more contemplative series of sounds, yet still with that frenetic energy, much like a moth flitting about the room that refuses to be swatted. Bells and scratching and chimes and resonance now. The tones of the guitar rise like spectral waves of heat on the two-lane blacktop, and the engine revs and races across the humid stretch of time.
"Morning River" is more of the mellow still left unharshed (acoustic guitar and drum brush division), crepuscular bass reaching out from the gathering twilight, and "Run for Heaven" spins the trio out as if the alarm had gone off and there was a bus to Heaven that had to be caught; smiling victorious as it's just barely caught before driving away.
-David Cotner-

The Dillinger Escape Plan –Ire Works
Label: Relapse Format: CD/LP

The Dillinger Escape Plan are a reviewer's nightmare, somewhat akin to Akron/Family – not that the two bands sound in any way similar (except when they do), more that both have an alarming tendency to jump from genre to genre like Sonic The Hedgehog after a crystal meth enema. I mean, Ire Works starts off straightforward enough, with the two opening tracks being fairly categorisably angry, shouty, angry hardcore, somewhere between Melvins and Meshuggah, maybe, with a touch of the jazzier end of the Rollins Band. We know where we are. Okay, there's something slightly odd going on with a piano in the second track, "Lurch", but so far, all is well. We know where we are, and all is well.
Then "Black Bubblegum" kicks in, and we're all like WHAT THE FUCK??? It's like Faith No More at their poppiest and most soulful, with a nice chunky chorus which could have fitted on The Real Thing, and… well, it's got "accessible" written all over it, largely due to that insanely catchy chorus. This has all got a bit weird, and quite frankly, we no longer know where we are. Pretty sure all is still well, though. In fact, the Faith No More reference is probably important, as a love of all things Mike Patton (who has, of course, played with The Dillinger Escape Plan on Irony Is A Dead Scene) is about the only uniting feature of much of the stuff here, though perhaps Mr Bungle's eclecticism would be a better reference point that FNM.
"Sick On Sunday" somehow manages to weld the chunky guitars and falsetto vocals of "Black Bubblegum" with an Angelo Badalementi spooky lounge kind of vibe, before "When Acting As A Particle" does… well, some weird shit. Basically, it's all over the place, in the best way possible. A bit of Tool here, a bit more Faith No More here, then – from out of nowhere, some more of the shouty hardcore. See, the thing that makes it all work is that they're so bloody good at all of it. It's not like they're a shouty hardcore band who decide to get a bit jazzy for novelty value and end up making a yak's bollocks of the whole thing. No, the cross-genre shifts and interludes are all inherent to each song, rather than being in any way gimmicky. There's some pretty nifty shit going on with the production as well, giving the impression this must have taken an absolute aeon to record. Not only that, but the tunes are never far from the surface, no matter which direction a track is moving in at any particular time. By the end, you feel like you've just come back from being transported into the head of a child with ADHD, a random collection of CDs, and the babysitter tied up in the basement.
As I say, it's hard to review, but a joy to listen to. Never frightened to experiment, but neither falling into the trap of thinking experimentalism must be unlistenable or in any way difficult, this is, quite simply, a work of noisy, shouty, jazzy, poppy, rockin', erm, add a couple more adjectives here and bung the word "genius" on the end, and you'll be about there.
-Deuteronemu 90210 in a prog metal… thing…-
Dimetrodon Collective – Volume One
Label: Schmememtone Format: CD
Hiss and ululating guitars mirror the shaking language of fire. It is a mystery as to what instruments could approximate such natural events – and is it a natural event, to try to pin the sounds down to one source? Another call for order in the court? As suddenly as a fire extinguishes – so do the sounds evaporate – and how sudden can an ending truly be? How many effects are left behind? One raft of trees floats by as the lowing of a machine urges speed on, on, onward into a gravel-field of moving stones and whatever else rhymes with drones. Flayed by the flange, the sizzling fades and again, and again. Now into a fuckworthy soundscape. When will come the CD to exude scents while it's playing? Subetage indicates that the long-term olfactory memory cannot be erased, and they should know. Ding ding of bells, measuredly, and synthsounds. Drumming. Four four. The final piece wends into the distance – not stopping, but staring to consider the blur of earth as it slides gradually past…
-David Cotner-
The Dinner Is Ruined – Ray Charles Kinda Party
Label: Sonic Unyon Format: CD
People who don't get press kits with CDs are lucky. For some stupid reason, I always end up reading the things, and end up utterly confused, trying to find meaning and substance in things that really, honestly, are just not there. A good example of this is this album, which, to a listener who hasn't read the press kit, sounds a lot like The Frogs trying to be a noisy, feedback-filled Rolling Stones-meets-Shockabilly-type bar band. However, after reading a press kit claiming the band is actually covering songs by "Torontian Kyp Harness and Blues legend Ma Rainey" with "tales of death, corruption, and lust", I found myself straining to catch the lyrics to "Shave 'em Dry Blues" and "Fertilizer," trying to find the tragic link to the epic the album is supposed to tell. It's not here! Or I'm too stupid to get "it," which is highly possible.
-Holly Day-
The Dingees – Sundown To Midnight
Label: BEC Recordings Format: CD
Apart from a healthy wish to emulate The Specials on occasion (they fail), and a fair conviction of the validity of their own post-Ramones riffology welded onto bouncy Ska rhythms, there's not that much to be said in favour of Sundown to Midnight – though not that much against either. It's pretty archetypal American teen College Radio material – punchy, melodic, tight turn-on-a-quarter hooks and half-ranted, half-declaimed lyrics about the state of being a kid in the USA today. Check the titles – "Can't Trust No Man", "Votes And Violence", "Leave The Kids Alone"…
Still, the aforementioned Ska influence is an improvement on the Rocknology by a long shot. Sort of in the mode of The Selecter, or The Beat even, with sub-Rico horn sections to hand too. It's no doubt very good to pogo down the club of a Friday nite, slamming even, and has all the energy necessary for its target audience. Skaters will probably love it, and it's way more fun than most Hardcore bands' attempts to re-invent the Minutemen.
-John Palukha-
Disciplin A Kitschme – Heavy Bass B lues
Label: Babaroga Format: CD
What probably seemed like a good idea at the time – a Rock and Drum & Bass sound collision overseen by Skip McDonald (TackHead, Little Axe) – ends up here as being more of an unfotunate splicing of Hard Rock clichés with a Garage House backbeat. It's too much like a higher-tech Skunk Anansie, all swagger and cod-Blues emoting, with a desperately urge to capture the wired zeitgeist with tracks such as "Bedroom Muzik" or "Mouse In Your Hand." Inane titles of the calibre of "New Song" reveal a paucity of imagination which is developed by would-be stadium anthems "Noize In Fashion" and title track "Heavy Bass Blues," which come across as tediously obvious. As for the rendition of "Tobacco Road", the less said the better – in all, this record proves that not all cross-genre fertilisation results in anything more than the sum of its already monotone parts.
They'll probably go far…..
-John Palukha-
Distori – Noah – Artificial Memory Trace Vol. 9
Label: Sonoris Format: CD
A slight sound – easily confused with the hum of my refrigerator. A base? A jumping-off point? High-pitched. Sound like that of singing glasses and bowls, washed by curves of static. There is the ongoing impression of circular motion. The faroff roar of a jet engine, and is there truly nowhere in the world where one cannot hear the sound of a motor? The roar subsumes into a watery ebbing – and the tracks are indexed, something which seems comparatively rare these days.
A pattern of clangour (one two three, one two three) emerges. Just like that! Now – frogs and trains and the felling of a forest… it is as if the sounds were heard from very far away, and the attempt was made to record the echoes, instead of the original sound source. A din, a bell, a watery shiver…are there some sounds or chords or tones that one responds to innately, instantly, and will pursue over an entire lifetime to be near? The unexpected shatter of a noise-storm weathers the landscape, now – and is that what is travelling through those speakers? A triptych?
A gentle rhythm recedes – idling of the machine? A little tune comes up from behind. Unexpected. More of the initial high-pitched tone, and some rustling. A winding up of the high-pitch – faster and faster – and a slight chittering that comes up, flying here and there. "Are we higher to get silk?" (a backwardmask Rohrschach test). There are some radio broadcasts, muted thunderclaps, and the occasional chirp of birds…
A remarkable recording – if only for the fact that its remarks are so gentle.
Available from Sonoris, 28, rue du Parlement St-Catherine, F-33000 Bordeaux, France.
-David Cotner-
Dna Le Draw D Kee –
Label: Terminal Kaleidoscope/Soleilmoon Format: CD

Originally released in 1996 on Korm Plastics and long deleted, Dna Le Draw D Kee is an attempt by various members of The Legendary Pink Dots (more specifically Edward Ka-Spel and Elke Skelter – check for anagrammatics) to produce ambient music which went beyond mere background and into the realms of enjoyability. The CD re-release's vinyl heritage results in two side-long pieces of about twenty minutes each, and the first, "Decay", is the more introspective.
Bearing a passing relationship to some of the pieces on the (originally) ultra-limited Four Days LPD release as well as the individual band members' own atmospherica, "Decay" trundles and pulses its way through bass cycles and something electronic resembling a steam-press ticking over in a secluded corner, while the Various Ghosts of the credits murmur slight, sinister nothings to themselves. Little chimes, musical boxes and more zoological samples make drifting segues with the occasional urgent moment of sussurus and quietly untoward radio noise, while the emergent percussion takes everything off into more frenetic (though still reclined) rhythmic hypnosis.
"DNA" has an appropriately spirally feel, with the keyboards Mellotroning out into those sliding orchestral or glutinously recombinantly liquid synthesizer sounds which signify Ambient taken into the microscopic layers of the dust in the carpet, or whatever sounds fibrous static might produce alongside the dolphinate magnifications of the small-talk of mites, listening in to the sqeaks of young Calyxx. Dna Le Draw D Kee finished on a flurry of reverb, and vanishes off into its own little cosmic wormhole, dreaming softly but busily.
-Antron S. Meister-
Dntel – Anywhere Anyone
Label: Plug Research Format: 12″
"Anywhere Anyone" finds Dntel (AKA Jimmy Tamborello)collaborating with vocalist Mai Doi Todd coasts easily at first on gurgling drones and vocal fragments, before settling into a pervasive aural hum and whirr while a very slow drum loop stutters into occasional life among the muted strings samples. The emotional content of the words seem self-reflective and personal, passing through like listening on somone's thoughts. When the melody and rhythm pick up into some kind of awakening, improved mood, the song becomes one of straightforward, simple affection and love.
Nobody remixes "Anywhere Anyone" into a hazy form of Electronica, where dissonant melodies scrape and hiss around the lugubrious beats, all submerged in a wash of dense static and echo fallout. Todd's vocals are buried deeper in the mix, fulfilling a role as texture more often than lyrics per se. The lumbering rhythms and loops are fractured and obtuse, lurching rather than rolling; the groove is disjointed, fuzzy, like taking too much cough medicine to cure a bad cold and going for a walk in a shopping centre with a malfuntioning personal stereo that picks up radio frequency bleeds from the aether. Lastly, "This Is How It Will Be All Over" turns out to be a shuffling switchback ride over extracted melodic fragments, weaving in drones and hiss among the easily-distracted breakbeats and a rethought acoustic guitar motif . Somewhere between glitch and synthetic string mood music, it's a micro-tuned meander through half-tunes and edgy harmony.
-Linus Tossio-
Doctor Nerve With The Sirius String Quartet – Ereia
Label: Cuneiform Records Format: CD
If I hadn't read that the name of this album had been 'spewed out' from the Doctor Nerve website I would have assumed that it was the name of a malign deity craving some kind of sonic sacrifice. Such is the demonic energy generated by these musicians throughout the three movements that make up this composition. And what a composition it is; partly written by conventional means, partly computer generated and then mixed with "conducted improvisation". It is the band's most ambitious project, as far as I am aware.
To aid and abet them the regular seven piece Doctor Nerve line-up has enlisted the musical services of The Sirius String Quartet, two different incarnations of it in fact. The Nerve band are no strangers to collaboration: see their previous CD, Every Screaming Ear (Rune 88), for other examples. This time, however, the whole of the first movement of the composition is given over to the string quartet, apart from some hand-claps from Nerve's composer and guitarist, Nick Didkovsky, on the first section. The strings offer a wide range of textures and moods, from the slightly out-of-kilter peasant dance plundered from some nether region and re-constructed by the idiosyncratic musical vision of Didkovsky, some dark, melancholic solo viola, and a section of tightly interlocking staccato lines where all four members career, dervish-like and whip up a tornado of severe sonic fury. Sorry, I got a bit carried away there !
Nevertheless, this all sets the scene for the second movement which is 20 minutes of conducted improvisation bringing together all the musicians in a wild, ritualistic soundscape where ensemble work mixes with plaintive bass clarinet or ululating soprano sax. It is a "live" performance and displays the balance between freedom and adherence to a structure that makes this band's sound so distinctive. There are elements of Free Jazz and Modern Classical music mixed with some unclassifiable moments. It never descends into mere sound and fury but remains visceral and passionate, allowing moments of tenderness and reflection to surface and have an equal say. My only regret is that Didkovsky's guitar doesn't get a look in. Perhaps his focus was purely on composition and directing the ensemble but his playing is an integral part of the Nerve sound and I would have liked more of it. Be that as it may, with the third movement we are returned to the studio and an uneasy sense of calm.
Strings and horns set up a droning, meditative swathe of sound rising in intensity and propelled by drummer Leo Ciesa. The movement develops these moods into what is, for me, one of the highlights of the set, "The Thorn Piercing His Coat". Trumpet and violin state the theme over a steady drum beat, Rob Henke, controlling his trumpet before becoming more raucous. At times they sound like Henry Cow, especially when Michael Lytle solos on bass clarinet, almost as Lindsay Cooper did on bassoon during the "Cow's Ruins" on Unrest. And, at last, Didkovsky kicks in with some screaming, swooping guitar adding the 'Rock' element to the Nerve sound.
Ereia manages to combine all that's most exciting and challenging about the Nerve band with newer forays into augmentation. It builds upon their past achievements and looks forward to further explorations, mixing and transcending genres. Play it loud and, I'm sure that, like me, you will find yourself immediately re-playing it.
-Paul Donnelly-
Dodo – The Android's Dream
Label: Sideburn Format: CD
With a background in avant-synthesis and closely connected to the ever-eclectic Digi Dub crew, it`s not surprising that Dodo mixes a form of highly skilled (and elegantly warped) programming with modern bass manoevres, spicing the cocktail with a selection of Lounge and Bossanova moves which would get the most hackneyed composers of the kitschly vacant pre-programmed demos tunes built into keyboards crying into their flash-ROM burners. Add in Theremin and the occasional wry sample, and The Android`s Dream is a technological big-band swing machine all by itself.
This is the music the writers of Skiffy magazines such as Amazing or Astounding Science Fiction probably imagined would be soundtracking the end of the century in their early Sixties fantasies of a brightly lit future, as titles like "Sunlight On Mars" confirm. That it's not quite turned out that way hasn't prevented a resurgence in transformed futurism, with the benefit of thirty years' worth of improvements and additions to the scope of electronic music. As the album progresses, hints of the present decade's signature tunes creep into the MIDI soundscape, as timestretched frills take over "Iridium," as evolving Trance arpeggiations and sequenced analogue burbles melt through the initially Jarre-ish Ambience of "Cleopatra's Needle" or in the slow-throbbing bass underlying the Latin rhytms of the Esquivel-esque "Rancheroes"
As the layers of Electronic technique accrete, The Android's Dream revels in an all-suffusing glow of pleasant warmth, tinkling undertows and the cleanly-produced sound of synthesis allowed to work with its own kind. Digital and analogue are just about equal partners, and the cleverness of the programming doesn't obscure the basic effectiveness of tracks like the unwinding "Cool Lava" or "Mock Abalone," with its lateral swing and Easy groove. Music with such self-awareness backed up by a high level of competence is often too full of itself for much enjoyment for the listener, but Dodo keeps the balance between technological noodling and infectious enthusiam just about right. Now the soundtrack's ready, where's the space station lounge to play it in?
-Freq1C-
Dome – Yclept
Label: WMO Format: CD

"Virtual Sweden"! There's a track called "Virtual Sweden"! How good is that? Fuck, that's cool. Graham Lewis and Bruce Gilbert from Wire return with their first release in fifteen years. In actuality, Yclept is more in the way of a compilation, having been recorded over a period of about sixteen.
Unlike Wire, who mutated from an angular experimental Punk band into an avant-garde guitar rock outfit, Dome focus much more on electronics, from the rhythmic Industrial noise of tracks like the aforementioned "Virtual Sweden" (part of a trilogy of sorts, the other parts being "Vertical Seeding" and "Virtuous Speed") to the almost, but not quite, self-explanatory "Plosive Pluck" (more plosive than pluck actually, but what's in a name?) There's also the stripped-down The The meets Coil white Funk of "Because We Must" (yes, it does make sense when you hear it) – presented here in two versions, the funkier first contrasting with the almost New Order-like tone of the second. Live track "Making A Meeting," recorded in 1983 when everyone else was growing mullets and wearing flourescent socks, finds Dome drifting into almost Sylvian-esque
territory – think "Steel Cathederals" or "Words With The Shaman" and bung in a bit of Homotopy To Marie-style Nurse With Wound and you'll get a vague idea.
Yclept makes much more sense when you think that Bruce Gilbert did a piece entitled "Shed" to be performed, well, in a shed – a wonderful cacophony of Metal Machine Music-style grinding and shrieking, which kind of prefigured the more atonal end of the Digital Hardcore scene. Anybody who saw Gilbert perform this piece as support to alleged Nazi poster-boy Non a few years back just has to admire the guy's sense of the absurd! Overall, this remains an album of clunks and whirrs, like being stuck in a very big machine, with an emphasis more on the sounds themselves than on anything as lowbrow and un-avant-garde as tunes you can hum. So, while the dumb, the intellectual, the overly deep and the generally shallow may describe this (and be telling the literal truth) as an exercise in monotony, lemme tell you, tedious it ain't. It's an album for those who understand the distinction, but aren`t gonna bore the fuck out of you by explaining it.
-Deuteronemu 90210, King Of Kings (Look upon my works ye mighty, and despair)-
Domotic – Bye Bye
Label: Active Suspension Format: CD
The startling sonority of the human voice: "The other day, when the sun was shining into the classroom, I took out my mirror and shone it on the wall. "Who is shining a mirror on the wall?", asked our teacher. "Come out here and shine it for all of us. Now take another look at yourself in the mirror, and then sit down again." I was ashamed of myself because all the children were laughing at me." A dulcet series of bell tones, and then a motorik little melody emerges along the spiral roadways of the compact disc.
The tones are rather reminiscent of opening of presents when very young – they have a crystalline and antiquated quality to them, even as the modern oddly-timed crackles parade across the tunes. It's a childlike quality, essentially – these songs, the opening spoken words, the title – despite the irony of the press notes tarting up the "So, is Domotic music made by robot-humans, or music made for human-robots, or…". It's an innocent gentle exploration of various simple melodies again and again, sometimes interrupted by the onset of slightly more digital and "adult" computer jiggery-pokery. All in all, rather exceptional, this fucking album…
-David Cotner-
Chris Dooks – To Look North
Label: Isis Arts Format: CD
Film maker and musician Chris Dooks, the man behind Bovine Life, is back again with To Look North. This the soundtrack – along with ample QuickTime movies on the CD – to his film compiled from the archives of the Northern Region Film and Television Archive. The result is a predominantly spoken word demix of the thousands of hours of film, awash with glitches and sample noise.
Unsurprisingly, Chris Dooks wanted to avoid the usual Northern stereotypes: the heavy industry, the strikes, the unemployment, the empty shipyards. He wanted to portray an alternative picture to the reduction/simplification of the North to a bleak landscape. An image all to frequently used by the UK media. This was personal, as much as anything else. As a boy growing up in Cleveland in the '80s this image seemed to be the extent of the North – and of course he couldn't wait to escape – we all know that feeling. What better place to give a fuller picture than an archive with thousands of hours of film? The picture he paints is eclectic, humorous, and human. Stories and small glimpses of life emerge, often only after a great struggle, from the underlying texture of clicking loops and digital noise.
-SnowG3-
Dorgon Y Su Grupo – Dorgon Y Su Grupo
Label: Jumbo Format: CD
SSoundings. As if reeling in some spirit lost off the Long Island Sound. That saxophone, this accordion. Pooling about in the waters, seeking the anchor? From one piece that falls to one that seems to creep all the way back up, the sounds mass in the achingly slow act of congealment, meant for something – but what, exactly? A wound closes up and the scar brings either the cops or the ladies. The vibes – shivering in the unexpected – lure everyone. A panic of clarinet and accordion, guitar and a wobbling tone wind up the action – the end…?
-David Cotner-
Mr. Dorgon & Laura Cromwell – Providence
Label: Gutbrain Format: CD
"We moved recently – so, we're going to do some songs about moving."
Drums and saxophone and the happy couple rides Rhode Island to a terrible edge. How many of these sorts of Improv noise encounters are improvised, and how much orchestrated? A flailing autistic is still an autistic. Will we arrive at a point of dividing the definition of improvised and orchestrated music into minutes, seconds, moments? They seem to be a happy couple, judging from the inter play and photo graph on the cover; between the lines. One wonders if they look at each other while playing. There is a certain level of build to the proceedings, creeping through the leaves like a jungle creature, snaking in and out and finally, slowly eaten by the Mokele-Mbebe.
Whistle like kettle overboiling and the cymbal hisses in methodical assent with the sustained prying for attention. They march in measured steps, a "Runaway Train" gathering speed – but is it the journey, and not the destination that's important, in this case? Now on to "Stethoscope", and the playing is suitably muted and reverent, lest one scream into the instrument in question. A gathering up of thoughts, through the instruments themselves? An animalistic lowing and keening, as though duly protesting the trip into the frying pan, as played by Laura Cromwell's cymbals. Walking out of the room, then hurriedly back in – the soul of "Wad Tad Scrod Cod" sings like a buzzsaw cutting another buzzsaw, and not in half, but in quarters. Alert the media. Now comes the plod of the pad on the drum-machine, bells and mbira that is "Turtles".
8-string bass lowers the boom with "4WW", grinding a fine mist of schmutz across the proceedings, threatening to leak out of the surface of the disc itself. Moving.
-David Cotner-
Dragon Bass – Cocaine Sex
Label: Le Coq Musique Format: CDS,12″
Former member of Renegade Soundwave, Gary Asquith re-emerges on his own label with a reworking of a track from those progenitors of the Big Beat sound. As such, "Cocaine Sex" is a pretty blokish affair, and so very very urbanite. It rocks and rolls with a propulsive Nineties beat, outlining flatly the joys and pitfalls of such practices, tweaked and tuned for the pre-Millenial decade.
The instrumental version is pretty much as expected, with added keyboard chords, drops and bleeps, while "Gary's Garage Dub" does what it says in the title in sprightly, scratchy, E'd up fashion. "Kamikaze Sniff" is yet another instrumental, with extended quiet patches to allow the (presumed) rush to accumulate over that same phased chug. "Are You Crazy" continues the versioning with stronger emphasis on the guitar and selected vocal samples, at least allowing plenty of listener or DJ choice when it comes to hearing the song. The best is saved for last, though, with "Lo-Fi Sub-Machine Gun Loop," stripping the beat and sequences to bare essentials of loop and snares.
-Freq1C-
Drowsy – Harmless
Label: Fat-Cat Format: 7″
Sounding like it was recorded in a big echoey room with an old piano (it possibly was), "Harmless" thunks through a soulful paean to being not very happy indeed. Drowsy's one-man outfit mainman Mauri H is from Finland, so there's at least 6 months of winter to explain the dismal outlook, but once he gets going with brushed drumkits, swerving electronic sussuri and a chorus-heavy guitar, he joins the ranks of leftfield Pop crooners who followed on from Syd Barrett's wastrel template.
-Antron S. Meister-
Dry & Heavy – Dawn Is Breaking
Label: Beat Records Format: 7″
Further to their ongoing recreation – lovingly done, it has to be said – of Seventies Jamaican Reggae, Japan's Dry & Heavy crew have now released this track as a 7″ disco plate, complete with plain dust sleeve and enlarged jukebox disc centre. A-side "Dawn Is Breaking" once again features the singular vocal talents of Likkle Mai, and rides once more on their deply resonant groundswell of righteously stoned drum and bass moves.
There's also enough of the Nineties flavour of Dub present alongside the electric rhythms – the squeaking keyboard stabs have much of the UK Digital Roots element showing through, and there's plenty of pleasant associations to be made to both Alpha & Omega and Zion Train here. This is even more evident in the b-side versioning as "Heavy Special" which boosts the phase and flange levels into an outrageous all-prevading whoosh of head-in-bucket reverb and lets the rhythm coast from ear to stomach via the aesophagous.
-Linus Tossio-
Dry & Heavy – One Punch
Label: Green Tea Format: CD
With their other band Audio Active spinning off into increasingly less Rootsy territory, it's a welcome return to those Reggae stylings in Dry And Heavyfrom Shigemoto Nanao (AKA Dry, drums) and Takeshi Akimoto (AKA Heavy, bass) – and with a name taken from a Burning Spear cut how else could it be? (For the record, Audio Active was the title of an album by Dennis Bovell). With Likkle Mai on the occasional vocal for single cuts "Mr Blueflame" (here in its long version") and "Kick The Bong Around", One Punch is a heavyweight production indeed, and once again that eerily accurate reproduction of the sound of Jamaica in the mid-Seventies still retains its essential Japanese distance.
Take Likkle Mai's vocal on "Radical Star" – she sounds very Jamaican, and her command of patois is excellent, as is Ao Inoue's take on the rambling Rasta-style praising of The Herb on the concluding "Herbal Wise", while the band's grasp of the interaction of bass, drums and mixing desk is perfect – but there is still something hard to pin down which marks them out as being from Tokyo, not Kingston. As with the UK-based steppers and sound systems, something of the other culture(s) bleeds in and cross-fertilizes this record, making a whole which is instantly recognizable as being derived from absortion of the whole Reggae culture, but with a crucial distance which makes for a particular flavour. This is of course in no way a bad thing.
One Punch (a Bruce Lee reference?) is in some ways the album Audio Active coulds have continued to make following on from their crystalline debut Tokyo Space Cowboys, though in fact it's far, far more concerned with the essentials of Dub and less with making a bid from super-Psychedelic production over everything else. Everything is in its place, and it all makes deeply bassy, brightly-skanked (and skunked) sense, superbly mixed and played, and generally keeping a good balance between the bouncy Reggae songs and their dubs, and the more apparently original instrumentals. It's not perfect by any means (some guitar and sax parts could have been shorter maybe, and "Say No More" makes a bid for Lovers Rock smoothness), but it shines quite brightly in the firmament of Nineties Dub – there's still plenty of scope for the next decade or two to stretch that global sound.
-Marco Polomint-
Dry And Heavy – Radical Star
Label: Green Tea Format: 12″
Dry & Heavy are another Japanese Reggae outfit with a penchant for the sounds of Jamaica circa 1970, and an ability to duplicate those sounds in their own quite unique style. "Radical Star" (naturally appearing in both vocal and dub versions) is quite the perfect replica of the Rootsy sound, echoing pinos and circling bass rhythms and all, topped off by some quite remarkably authentic-sounding vocals. The dub version is topped off with some rather diverting (and noodling) electric piano riffs too.
"Kick The Bong Along" is a version of an Audio Active track (not surprising considering that several of the latter are also members of Dry & Heavy) from Return Of The Red-I, taking the tempo in a slightly more upbeat direction from the very stoned original, and once again in Seventies style. There's some nice hollowly-echoed vocal effects on "Kick The Dub Along" too, as well a emphasising the vibraphones element for that really wasted sound. Reggae, and more particularly the Dub version, really is becoming (along with HipHop in all its flavours) the global sound of the 21st Century.
-Antron S. Meister-
Dub Atomica – Autonomic
Label: DiN Format: CD

Ian Boddy and Nigel Mullaney come together on Autonomic to create an interesting mix of media-influenced, softscape Dance music. One hears the past, one senses the future, and one feels free and comfortable to move with these rhythms. It's all a little quiet and not very groundbreaking, but still with a nice bit of promisory introduction to the world of Trance and Dub. Released on Boddy's new project-driven label DiN, making promises of its aims to be a platform for, and a promoter of "…new music for the new Millennium…" I don't personally hear anything too new about this music, but neither would I argue against a forum promoting musically diverse artists to come together and produce sounds and scapes that are as interesting to listen to as they are to dance to.
A definite attribute is the lack of mindless repetition on Autonomic which often burdens this genre of music and makes it not very pleasant off a dance floor. To the contrary, this record is wonderful to listen to and be still, if you can be still. Dub Atomica are reaching out to that ever-growing popular trend of sonic minimalism, though I do fear the arrival of some blank CD and heralded as "the future of music" or some such. I don't want to listen to 50-plus minutes of silence; for that I turn the stereo off, which is effective enough without any slick packaging. Hopefully artists like Dub Atomica and labels like DiN will keep this in mind and not reduce music so far down that there isn't anything left to hear. I think Yoko Ono already covered that sort of artistic endeavor years ago.
So, while I do sway around constantly pressing the volume up button, I am grateful that there is something here to listen to. And I'm grateful that it is a nice spirally sound sculpture with hints of a seashore and strong if quiet low beats to justify movement. Perhaps the message here is that the future might be more gentle than the past. Perhaps Mr.Boddy sees himself developing soundtracks for cinematic strokes of genius. Perhaps DiN just want us all to be quiet and dance, slowly. Of course, having said all that, by track 3 ("Rhodeo"), I'm hearing a lot of the past; i.e. slowed down Kraftwerk, revamped Tangerine Dream, digitized King Tubby. O, nothing is original is it? Especially not the slow sigh creeping across me now.
-Lilly2000-
Dub Syndicate – Acres Of Space
Label: Lion & Roots Format: CD, LP+7″

There are few Dub bands with the pedigree of Dub Syndicate, seeing as how Style Scott has been at the helm since he and Adrian Sherwood formed the group as a studio project in 1982. Times have moved on a great deal since the early Eighties, and so has the Dub Syndicate sound. With vocalists and Deejays like Jah Youth, Capleton, Jah Bless and Little David bringing their individual voices to the Sherwood/Scott signature mixdown style, Acres Of Space follows 1998's pair Fear Of A Green Planet and Mellow And Collie deeper into Roots territory.
Where those two albums struggled to maintain a consistent level of excellence, Acres Of Space fares far better. The blend of dub versions, vocal tracks and chants is leavened with Scott and Sherwood's sampling and mix tricknology; and some of the words and voices shine through, like Luciano's "One In A Billion" and Capleton's gruffly didactic "Time". Best of all though is Little David's blissed-out, blessed-up "Yes Is Bless", all three showing that the Rasta spirit is as strong in the yards of Kingston as ever it was, and that politics and spirituality still combine. This is eveident too in Jah Bless' strangely melodic and upbeat "Guns And Cocaine Crime" where some of those lovely choral samples the On-U crew have deployed since the days of African Head Charge add an uplifting thrill to the extended proceedings, accompanied by Alan Glen's harmonica and a stuttering sample groove. Big Youth's "Togetherness" is more reflective but no less skanksome in the bass and drum rhythm and subtle accompanying violins as Mr Buchanan instructs on the need for peace and love like he means it; this is more than just the herb talking.
It probably helps that old Dub Syndicate and/or /Roots Radics hands like Carlton Ogilvie and Earl "Chinna" Smith are back at the keyboards and guitar respectively, but Franklin Waul(keyboards), Christopher Meredith (bass) and Danny & Lloyd Denton (AKA Obyah, piano) make excellent contributions too. Acres Of Space still falls into those long stretched-out spacious instrumentals between the songs which characterised the Dub Syndicate of old, becoming mellow in the extreme. Thanks to the guest vocalists and attention to detail from both Sherwood and Scott though, there is plenty of variety on the album, and all together they make it work rather well.
Note: The two versioned tracks, "One In A Billion" and "Time", appear on the CD edition and as a 7″ to accompany the LP release.
-Antron S. Meister-
Dub Syndicate
– Mellow & Collie
–Fear Of A Green Planet
Label: Lion and Roots Format: CD, LP
Style Scott's first outing as Dub Syndicate since the On-U Sound era (last represented by Ital Breakfast in 1996), Mellow & Collie finds only the core drums and bass of Scott and Errol "Flabba" Holt remaining. Scott has taken on Adrian Sherwood's production role too, with mixdown by Scientist, leaving little time for radical experimentation and more for a return to a Roots-based sound, contributed to by the chat-style vocal talents of Junior Reid, Big Youth or U Brown.
Hwever, what results is pretty good in its own terms, blending sufficient dubwise nous with the occasional flourish such as Nicky Skopeletis' electric sitar in "Jah Rasta" or the tablas found on "Sound Clash" to maintian interest in what is ultimately more of a pleasant than impressive album. Rounded as the sound may be, Mellow & Collie leaves the impression of an outfit coasting rather than innovating as they once did, and generally sticking to an admittedly agreeable formula.
Pretty much the same could be said of the second Dub Syndicate release of the year, though Fear Of A Green Planet benefits from Scott's reunion with Sherwood on mixing duties, as well as guest bass from one Bill Laswell. In fact, quite why this wasn't released as one double CD isn't readily apparent; perhaps it's that the mix of the tracks here is subtly different in Sherwood's application of effects and filters, and the feel of the album is more in the style of the On-U days as a result. This is especially evident on "Dubbing Is A Must" with its backing vocals from Skip McDonald, and in the almost Electro keyboard stabs of "Wake Up", while "Higher Than High" is a particularly commendable effort in the use of samples, reverb and echo. Big Youth and Little David's vocals are both extended into long "Jaaaahh Rastafari's" over the two opening tracks too, which, along with the extensive use of violin, set the scene nicely for what is overall the more contemplative and satisfying of the two releases.
-Antron S. Meister-
Dub Syndicate – One Way System
Label: On-U Sound/EFA Format: CD
Back in the days when Dub Syndicate was a genuine mixing-desk project, Adrian Sherwood would mix up the individual tracks into versions of songs by the various guises of the On-U Sound collective of musicians. Unlike the latterday band which formed around the nucleus of Style Scott's drums, the tunes here almost fizz with the urgent energy which came from the need to pump out product to both keep the label floating and feed the hunger for more quirky dubplates which On-U had inspired.
So One Way System was born as the second Syndicate album in 1983 from versions of songs by Reggae DJs and singers like Bim Sherman and Congo Ashanti Roy, and the in-house groups New Age Steppers and the original On-U Sound outlet Creation Rebel, and then promptly licensed to ROIR in America, only ever to appear on cassette until this release. And what a welcome return in remastered form to it's home label this CD is – perhaps not nearly as experimental as some of the African Head Charge and <>BMissing Brazilians releases were to be in later years, but given that Reggae was in a bit of a interim phase around the time it originally came out, it was unuusal and different enough to be given the ultimate accolade by the Dub cogniscenti of that era; they ignored it.
Which just goes to show that prophets are rarely given a welcome in their own genre, yet alone land, given that Sherwood & Co. were a London-based outfit struggling for recognition in a scene still dominated by the Kingston studios and the dissipation of the Bob Marley international phenomenon. One Way System may not have the still-shocking impact of Missing Brazillians' bass-bin rattler Warzone, and remembering the melodic origins of the tracks it comes as no great surprise that the basic material is pleasant and sprightly Reggae music of a deeply-stepping kind. It's what Sherwood does with the echo box and faders which is where the Dub magic lies, and the reversed-tapes, dropped and panned keyboards, rhtyms which finish up somewhere else other than where they started which really make this record stand out. Above all, it's a reminder of why On-U Sound were such a breath of fresh (if smokey) air in what was a scene still awaiting to burst out and really start spreading the Dub virus across the globe with not only the arrival of Dancehall but also the fractal working of bass, drums and desk into every aspect of electronic music. So respect really is due, but above all for the feel and groove of One Way System's insistent rhythms and headwise production, not just for its place in history or its previous rarity value.
-Linus Tossio-
Dummy Run
– Ice Cream Headache
–Pink Pocket
Label: Hot Air Format: CD

I am unabashed and ecstatic when I say that these two recordings are now among my favourite records ever. Well, up to this point, at least. Of course, there was the 7″ of tracks from Pink Pocket (possibly not its actual title but a smasher anyway by proxy) – a money-grab of sorts, but happily residing in the collection of 7″s. Another album on another label is promised – where is this one?

And why are they favourites of mine? They remind me of not only being a big goof but also not caring what anyone thinks – just spouting out odd bits (like the R2D2 sample on Pink Pocket) and onomatopoeia and non sequiters and feeling no sting when others stare at you so strangely. They remind me of the way I think – things leading into ideas segueing into free associations merging into other times which remind me of something else, something else, something that wends its way to another idea I had about that last time keeps on slipping into the fuschia and it is not for nothing that a celebrity gets Parkinson's because he got a certain frank ratio of soft drink for the rest of his life. I can listen to these recordings for hours, and I have, and I do. I hear something new each time I listen to them. Jesus fuck. I like them more and more. They grow on me like the mange.
-David Cotner-
John Duncan – Tap Internal
Label: Touch Format: CD

One track, forty-seven minutes long of buzzing, circling drone music, Tap Internal shows John Duncan at the height and depths of his mesmeric obsession, nagging at the psyche with the sound of a mindscape going awkwardly awry. Far from monotonous, this work takes as its starting sound the running, rumbling sound of a mid-range tone and shovels it though effects and interlocking pitches to varying degrees of unsettlement, then shifts the listener off into quite disturbingly unwanted tangents at moment of least expectation. Look at the chest X-ray on the cover – is that where the sound will affect the most?
Low level strata dredge the mulch at the bottom end; higher tones loop back on themselves at the least pleasant, most skin-writhing of frequencies. It is not Ambient; Tap Internal is insiduous, testing. This is not to discount the warmth of some of the bass sounds, but the breath-holding and -taking stretches of nearly infra-sound or the single-minded circling of glaciers squaring up for a withheld confrontation on a seemingly geological time scale is intimidating more often than enveloping in comfortable familiarity.
Ominous pulse-beath throbs give way to chainsaw/skull interfaces of dental agony; it is by no means an easy ride, this CD. It fucking hurts, sometimes, but sometimes pain can equal pleasure when it's overcome and endured. That which does not kill you might just might make you deafer though. Massive tectonic shifts make way for drifting reaches of rising, drilling, spiralling tones. Time is taken with the development of this piece, in several senses. The quiet parts are the most deceptive, encouraging a tweak to the volume control… and subsequent surprises. Take care.
-Antron S. Meister-
Duplo Remote Vs. Com.A – Split
Label: FatCat Format: 12″
Com.A is the noisy alter-ego of Age Yoshida, now of Japan and once of Surrey, one of FatCat's new signings showcased on their No Watches. No Maps compilation of demos sent to the label. The three tracks in this EP buzz with sampled enrgy, heaving with asthmatic breathing on "Raider", throbbing in the breakbeat-battery department on "Intelligent Deceitful Man" and whizzing up a babel of voices from the aether among the spits and spats of more linear beats on "Radio Squelch Crush Land".
There's a tinkly feel to these tracks, the high end being visited with particular glee by Yoshida, but it more than passes muster in the scatterbrained stakes, pumping out skewed rhythms to test the most dexterous of Twister enthusiasts, with more than a little hint of the Autechres and Aphex Twins apparent.
Duplo Remote features on the same compilation as Com.A, and has a similar raft of influences going on (plus the benefit of a past in Amiga-based sampling), but Myles Haughton likes to tweak the controls even more to eleven and beyond. The five tracks are short but packed – runs of beats bulge under the cross-echo and waves of distortion rush into halting shuffles and cracks for that Tartrazine feeling.
There's plenty of bubbles around on tracks like "Furry Bicycle" and "Beatbox Blagger" to keep the fizzy drink motif going – imbibe enough of this stuff and the world starts eructating spontaneously. Delerious and overloaded, there's plenty of rewind and reverbed action going on over and above the squeaks and clicks of rapid-fire post-Hardcore Techno energy. Accelerated and enervated, there one minute and over the road another, most of Duplo Remote's music never sits still long enough to grasp properly, making it the ideal sound to fit in with the urban clamour. When it does for the wind-down of "Cusp", once again it's Messers Booth and Brown who pop to mind immediately, though Autechre aren't usually this clearly-defined.
-Freq1C-
David Duriez –The Warm Up
Label: Filth Records Format: 12″
Some types of House are houses you just wouldn`t move into. This is one of them. It's not a giant handbag or a sickly saccharine slab of cheddar, nothing like that. You wouldn`t want to move into this House for all the right reasons. David Duriez from North France has produced the house from hell. Through out Sneaker`s Trax there's this Housey vox+piano sample: "…said it feels so good…". This probably came from a really nice tune, but its had the treatment done to it here. The result sounds like David`s taken a pair of scissors to a piece of vinyl – never a bad thing. The bass drum punches out rhythm like Grant Mitchell, and add on top of that fucked-up synthy/samply/scratchy noises I like lots – this house sounds structurally unstable.
"The Warm Up" itself is more orthodox instrumental Deep House … generally less of an aberration. Lots of bassy beats and rising synths. I like it up to the point where the trumpet like samples arrive. (It`s a personal thing, I don`t think trumpety samples do anything for a tune.) None the less, its ok. Not as good as the first side, which is House thats had something imperceptibly nasty done to it. Incidentally, "The Warm Up" is featured on the cover disk to Magic Feet magazine, along with interviews with the man Jeff Mills – and Joey Beltram and the Surgeon also feature on the CD. Could you ask more for your £1.95 cover price?
-Alaric Pether-
The Durutti Column – Sex And Death
Label: Factory Too Format: CD

Now this is… it's too incredible for words. Vini Reilly and his Durutti Column have been making the best, most unassailable, revelatory and incandescent fuck music since forever, reaching an apogee and a zenith with their The Guitar and Other Machines. This one has impeccably recorded acoustic guitars, the googolplex of the echoplex, Peter Hook on bass at one point, the post-coital kissing bliss of "Believe In Me", and much arpeggiating. Arpeggiating makes for great fuck music. Put this on, and Kind of Blue by Miles Davis, and Senzuri Power-Up! by The Gerogerigegege… hey, wait, where are you going? Wait, come back!
A stratospheric firework of an album that refuses to go out. It's irresolutely beautiful. I think I just crashed the yogurt truck into my copy. Hoo-yah!
-David Cotner-
Dykehouse – Dynamicobsolescence
Label: Planet µ Format: CD

Some albums need several hearings before they really click into place. Dynamicobsolescence isn't one of them. I put it in my CD player and this really wonderful Electro came pouring out of my speakers. I knew right there and then. Dykehouse hails from Detroit, the birthplace of Techno. Add the spazzed glitches of Aphex Twin or Squarepusher to the Detroit sound. In the hands of Dykehouse it's a winning combination. I could rant and rave for hours. There's that wonderful precise Motor City Electro sound, there's the odd Jungle tweak that surfaces from time to time, and there's even the '70s cop show synthtracks of "Record Store Track". I could rant and rave for hours …
And finally … yes … Mike Dykehouse is his real name. He's of Dutch descent, if that sheds any light on things.
-s5000-