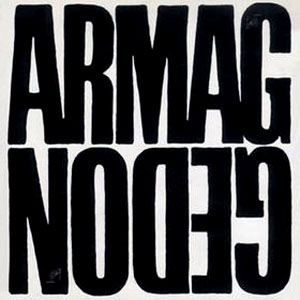 Armaggedon (sic) have an interesting place in the fecund story of German music in the late Sixties and early Seventies. as guitarist Frank Diez tells it in the sleeve notes for this re-release, he was recruited over the phone and flown from Berlin to Munich to record the album over the space of six days with a bunch of musicians he'd never met before for the small independent label Kuckuck. Then that was pretty much it – the album was released in 1970 to no particular great reception, the band played a few gigs, and shortly thereafter split for other pastures (including an album Diez recorded with legendary Klaus Kinski), and disappeared quietly into record-collecting obscurity.
Listening to the record four decades later, it's perhaps understandable why Armaggedon didn't really make much of a splash on a scene heaving with a glut of genre-warping, game-changing bands. The brand of heavy blues rock the quartet played was pretty radical in its own right, maybe… but not nearly as far out as the mind-melting psychedelic space rock which
Amon Düül II
were thrashing out under the liquid lights as they attempted to do to music what the occasional transient guests at the commune from the Baader-Meninhof group were doing to the German state. Juxtapose
Armaggedon
with the following year's release of
Faust
's début album or ADII's contemporary disc
Yeti
and it's clear that
while this particular group were part of a movement whose tectonic reverberations would eventually shake the face of rock music, their part in it was a small one
. There's plenty to like about
Armaggedon
though; their musicianship is excellent, and the sounds they deploy are very much of the era: hard rocking blues riffs weave their way around some blistering guitar licks from Diez, and the Manfred Galatik's keyboards ripple and vibe up the grooves. Just as
Black Sabbath
were ramping up the blues into heavy metal in Birmingham, there's something of the same roots and influences being re-imagined here too.
Tracks like "Open" and "Oh Man" are very much of their era, and come from the same mindset (and drug intake, perhaps) as ADII
, while the blistering version of of
Spooky Tooth
's "Better By You, Better By Me" also prompts reflection that across the other side of the world groups like
Flower Travellin' Band
in Japan were remodelling the Anglo-American rock axis in their own ways through the medium of the cover song, each in their own quirkily-accented English.
Ultimately Armaggedon were a shortlived studio project who mark a transitional moment from a band who would happily cover the Jeff Beck Group's "Rice Pudding"(very heavily indeed, as it happens) as they lacked enough original material to fill an album and the more far-reachingly radical underground sounds of Berlin, Düsseldorf and Munich which exploded (alongside German society) as the Seventies took a last charge at rewiring the behemoth of rock music. Unlike their more long-lived brethren, Armaggedon may not ever have influenced anyone notably, or changed the face of music forever; but their sole testament is a solid, well-crafted piece of work which deserves its place in music history, and to be heard and appreciated again.
-Richard Fontenoy-