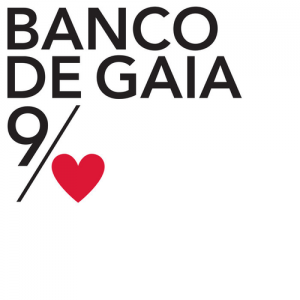 After some wonderful reissues of classic albums with a plethora of extras, here is Banco de Gaia's long -awaited new album; and typically the sound of this album moves off into different directions that Toby Marks may have only touched upon before.
Opener "Nine Hearts" has a big bass synth wash and lush-sounding strings that bring to mind mid-seventies progressive rock. Piano and soft vocals are augmented with swirling Moog-style lead, blissful and wonderful. "Burn The Witch" starts with the sampled sound of a baying crowd underneath rolling percussive slabs that
build up tension until the beat kicks in proper, which again borrows more from prog rock than a typical dance rhythm
. In fact, strangely, the track kind of reminds me of
Moving Pictures
-era
Rush
, and a sample from the 1971 documentary
Power Of The Witch
 happens over big keyboard chords that add punch to the track.
Ambient sounds bring in "Warp And Weft" to play with some beautiful electronics and a slight hint at mid-period Pink Floyd, and the wafting female vocals are quite astounding and haunting. Middle Eastern beats introduce "Le Foucauld", a track that takes me back to the souk markets in Egypt with their noisy, bustling lanes. This is the most instant dance track on the album so far and one that I would imagine becoming a live favourite.
"No Hablo Italiano" has the kind of sound that wouldn't be out of place on a
Vangelis
album. The vibe again hits up on a steadier dance beat that you can imagine people grooving to on a beach on a balmy summer's evening. Its chant
vocals and rolling bass bring a warmth into a winter's living room on a cold, grey day
. The sounds of the sea and someone walking on a beach herald in "Is-is Loves Ankh-An-Atum". A drone sets the mood, as again some rather magical female vocals give a very Middle Eastern
Ofra Haza
-style chant. Sweltering keyboards rise and fall, giving you a feel of a journey down the Nile on a
felucca
.
Melancholy piano and synth pads create a atmosphere for "And So We Dream Of Futures Lost" that touches slightly on Dead Can Dance. It's a restful and wonderful piece of music — there are hints of Brian Eno's ambient work that collides with world music, a truly majestic track. "91" starts with what sounds like a sample from a rave and carries the sound through into its basic bass rhythm motif. Here, Marks seems to be journeying back to the beginnings of his recording career as this is pure dance music.
"The Princess And The Sky Goat" is another lush-sounding piece that seems to take you through the jungles of some strange place. Its chirping noises and full keyboard sound reminds of some of
Michael Stearnes
's work. "My Midnight Sun" is another moving piece of carefully crafted electronics merged with a vocal that
sounds like it could have been sung in the middle of an ancient pagan temple at dawn
. Soft piano chords start "This Heart", and beneath this runs an almost white noise synth sound. The atmosphere here is one of solitude, similar in feel to some of
Harold Budd
's ambient works.
9th Of Nine Hearts is some of Marks's finest music and certainly ranks up there with what are known as Banco de Gaia's classic albums. My only criticism is that I wish the cover was more enticing, especially now with the return of vinyl I could quite easily see this astounding album housed in a beautiful sleeve that reflects the music within. But this is only a small quibble. Get a copy and immerse yourself in a different kind of world for an hour.
-Gary Parsons-