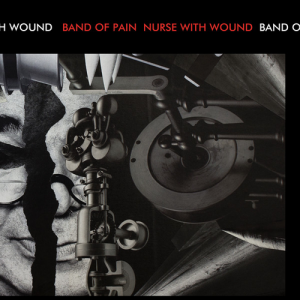 "Noinge" / "Gloakid With Phendrabites"
Dirter Promotions
The first side is the sound of the playful Band Of Pain remixing Nurse With Wound's A Sucked Orange in a game of arrant right-angles and ink-splattered goodness where the original source material is utterly fucked over in malfunctioning attention deficits that splutter like a cyborg cat with a data hairball.
On the flipside, the Nurse With Wound collective transforms various Band Of Pain pieces into
a cankerous cornucopia of chiselled pneumatics and fisted scudder
.  All musical matrimony rendered obsolete, spasm-choked in stubby abstractions. Vocals are credited on the liner notes, but you'd be hard pushed to find any discernible words in all this, maybe a bit of stuttering 
Max Headroom
here and there, vowels rendered as percussive nightmare. Then there's the raucous shifts in volume that rip on through, that psychically haunt the entertainment in troubling anomalies.
A classic bit of head-scratching brilliance.
Dark Fat
United Dirter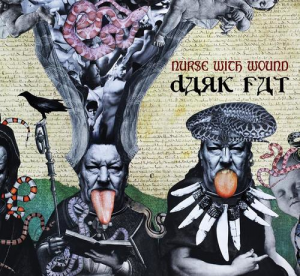 The Wound collective follow this mysterious 10-inch EP with a magus opus of reconstituted live material, two CDs worth culled from over ten years of live Nursery action. As you can imagine, it's a star-studded affair, the vocal list alone is extensive and instrumentally it's equally massive. Steven Stapleton and Matt Waldron helm in a load of goodness, unleashing plenty of ear-worthy vermin, aghast in halfglimpsed, ill-tampered, darkly woven humour.
Unlike most live albums though,
they've opted to fickle-finger the fuck out of the time-space continuum
and montage the daylights out of everything. A cheeky take on the whole genre, wormholing  plenty of still-wet futures, tickled pink in off-stage shenanigans, covertly recorded conflabs and much more chucked into the mincer, ground-up and spat out in bent-up psychedelics and twirling spaghetti. The first disc breathes a familiar spooked-out ambience, a soured sonic tapestry of sine subsidence with gutsy propellants that we've all come to love from this lot. Ertswhile and trippy scoopings that feather-fly into a freaky wing fest. Co-co-oohhh(ing) onto a
Nina Simone
-esque vocal supplied by
Lyn Jackson
, her sultry neon spattering delivery  giving the blues a much needed resuscitation. A flavoursome
Huffin' Rag
lounge bespeckled in creepiness, with zoologicals sliding down some lush, vaguely
Faust
ian guitarscapes. Sweet additions working their many tendrils in sardonic seduction –
each listen revealing a host of unheard pleasures that I swear weren't there on previous sittings
. Those sporadic outbursts of rehearsal goo letting fly into screamy dreams and floating saxophonic smears and little midges of sound mulling the ordure until some
Brando
-type bemoans the liner notes on
Soliloquy For Lilith
.
"I gaze into the deep still water and that stillness will be in me", goes a deep ashtray voice over. "Your dreams are also my dreams… I will show you the shape changing and you will become the animals", this sinister farmyard taking musical hold, flying out in rioting shapes and noisy fallouts, withering on behind the scene antics to jump quickly into a rashy eruptus of fevered auctioneer babble. Forty-five(ish) minutes that whip past you far too quickly, leaving the second disc to unleash a further 72 minutes on your senses.
Now this disc is my fav. Not only does that soulful diva of first instalment return with renewed vigour, but everything seems more focused in its wrongness, frothing topsy turvy with jarring angles; a 
Disraeli Gear
slip of the highest order. There's also this great re-dux of "Rock'n'Roll Station" on the fourth track that literally coughs'n'splutters into action with blinding brilliance. The taut bassline and wipersnapped recoils milked by vocal nonsensicals.
Jacques Berrocal
is credited on vocals, but sounds more like
Jean-Hervé Péron
spearing the leviathan in Francophone mumble and wavering cicada before the puppet strings are cut in favour of 22 minutes of tip-top sonic effrontery that is "The Machinery Of Hearing", a breathtakingly broken track that riffles erratically through an rather extensive toolbox, taciturned inward on nocturnes of Spanish guitar. Lumber-punching the laundry-mart service washes, it bubbles up on
blasts of acidic weirdness and hauntingly executed musique concrète
— vibes that will take months to unravel.
Nice spacey moments follow to clear the way for that groaning foghorn of the Surveillance Lounge slowly wiped away on screams and slowed conversation, false starts and boxing shadowed pile-ups. Then booom!!!  The hidden track hits – giving the package that must-have status. A "Rock'n'Roll Station" deluxe that wipes the previous version clean away. This may be from  The Forum in London a few years back (an I was there moment that glows fondly in my memory), Stapleton's voice given a nice echoing multitude as Mr Liles' wah passions slide all over it, plenty of sonic garbage leaking the edges too. Tickety-booing down the corridor to a cool beer, but not before blitzkrieg(ing) the place  in some heavenly noise.
-Michael Rodham-Heaps-