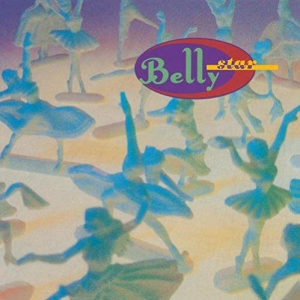 Now lushily re-duxed on girly marbled vinyl, Belly's first LP Star was/is a bright young thing, a glass-refracted dream stirring up a Brothers Grimm-like syntax. Tanya Donelly's bewitching delivery, swimming in our head, deceptively sweet with a sting of crazy paved darkness bleeding  on through. Driven out on the feel-good adrenalin of immaculate guitar work with pools of teasing melody, Star is a super-assured vision, with some songs purposely under-baked and mulled over in witchy contrast to the radiant beams of the more radio-friendly bedazzle; its fifty minutes just fly by.
Back in the day,
Star
was an instant hit with the media machine, at odds with the usual chemistry that was donkey-pinned for success. I remember Radio 1's happy-go-lucky
Simon Mayo
 — or was it
Bates
? (how forgettable is all that shit) — recoiling somewhat on realisation that the bouncy tempo(ed) pop of "Feed the Tree" was about death; a rare moment to savour. The singles "Gepetto" and "Slow Dog" were a welcome change from the usual chart diet too. Perfect for letting the sunshine in,
tracks that hit the spot completely in out-loud singability
. "Gepetto"'s catch-catcher-can brims clip-winged in sparkling medolics, the guitar chop-flooding over a skipping rope of beats, a real hip-swinger that even the most stoic couldn't resist. The chord Jenga of "Slow Dog" too,
hungry for your attention in clouds of kicked dirt
.  A twang of country barn dancing its heady spirals, the kinetic heights pulling a heap of interesting swoon-a-genics.
This was all meant to be for the second Breeders album, before Kim Deal got sister Kelly involved and fired off like a Cannonball elsewheres. The tracks here certainly seem to be graduating from Pod's sultry settings – empty rooms filled with chairs, river-moving angels and see-through dogs, the soak of murmuring otherness especially captured in the twirl of "Every Word" and its sinking sand of repeated refrain.
"Low Red Moon", its  "tiny horses held kindly" to a dirge like organ and peppered percussive trailing darkly, the
focus stripped to a stark tightrope
, Tanya in the centre shining brightly in the glint of knives before building back to a moon-cast procession once more. The endless strum of untogether dangling out on a carrot of could-have-beens  and sliding steel. This is bloody gorgeous. Part autobiographic, part fairytale and a crisscross of indecipherable betweens,
Star
will no doubt continue to snag the unsuspecting with its allure for years to come.
-Michael Rodham-Heaps-