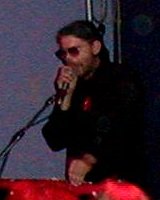 93 Feet East, London
9 July 2001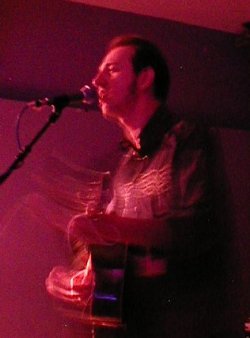 "Bosses, They're all cunts, pricks wankers and shits – does anyone here like their boss?" Well, those were similar words to the ones I muttered when Simon Breed nearly trampled me in his stampede to the bar pre-showtime. He was allegedly referring to his boss, or bosses in general. The same song also proclaimed him to sound like Bruce Springsteen, make what you will of that. The sound system is crap, there was a bug on the wall, and the bar on which I am trying to write is shifting constantly with a serious threat to collapsing. Not a good start really, but I will calm down and give it a chance.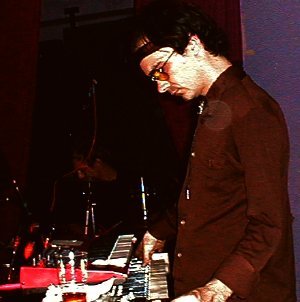 I am here at 93 Feet East to see Black Heart Procession, and this is one of two support groups, the first one of which I missed most of but I find myself wishing the play order had been a bit different. I am falling short of understanding this fascination for sounding like old Texas roadside honky tonk regulars. Dirty lyrics sung o-so-meaningful, Lyle Lovett guitar sliding and bass swindle cover the most trod on ground, but it must be that there is a market out there, for the crowd here is unperturbed. Unfortunately the bar is only about 20 feet from the stage and the punters keep talking louder to hear each other over the music. The place is lit up like an organic supermarket so at least I can see what I am writing. I am too negative and not fond of this band, but to be fair, there is a respectable quantity of people pressing the stage. It simply escapes me, and rather than slag them off further, I am retreating to the courtyard bar and some fresh night air.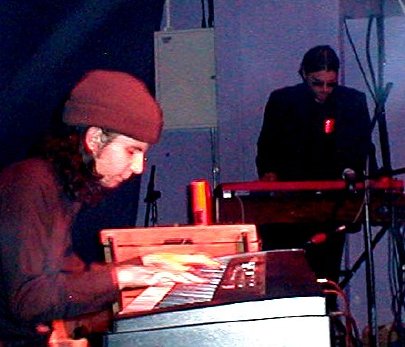 Finally we have Black Heart Procession. I have found myself a quiet uncrowded corner a bit away from the crush. Mario the stage/sound/engineer type guy seems unbothered by my perching behind the DJ decks. The band takes ages to get all their cigarettes prepped and their ducks in rows. So not (yet) rockstar- front man Pall Jenkins with his brilliant singing saw only remembers to put his dark glasses on at the last second. His saw sounds like a tragic Mellotron. That discarded, he sings into some sort of game-show host type microphone. Bass player Tobias Nathaniel switches to electric piano, beautifully, I might add. Loads of stormy synth effects; this is all so deliciously gloomy!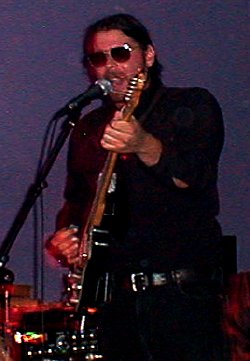 The first familiar sing along, "Guess I'll Forget You" comes on and I can see mouths wording it all across the room. I have to say I really like it that all this darkness has come up from my own sunny Southern California. And I like this man's piano playing a lot. This band is so infectious. All the rhythms beat familiar against such a mundane cross-section of people. I find it hard to imagine Black Heart Procession appealing to this mainstream, but their professionalism and absolute togetherness have created a charisma that the crowd is responsive to. I can't really write down my random thoughts on things for the next half hour or so of play because I am too swept away in the music. Sad melodies and voracious Rocking out combine to make a general hyptnotism which is truly enjoyable. When Mario signals last song, the band call up a friend/guest on big bass and wind into the longest rolling last song of all time. The show is far too short, as they always are when they are that good. Crowds are left wanting more. Black Heart Procession get to go back to San Diego knowing they have wooed another bunch of Londoners.
-Lilly Novak-