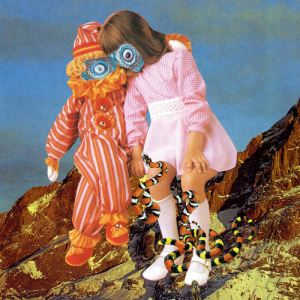 Most new bands were previously other less new bands, and so songwriters behind Bloom (Megan and Emily) used to be part of The Beautiful Word, who were Brighton-based indie-ish breezes sharing borders with whimsy and twee but (mercifully) never fully occupying those territories. The Beautiful Word were great, but they're not here any more and (ahem) from that seed grew Bloom. (Sorry). There's a bit of a backstory behind Megan's voice taking a bit of a knock along the way but the tl;dr version is that her and Emily's harmonies are, basically, amazing and getting to that point was a struggle.
It's a smidge disingenuous to compare The Beautiful Word with Bloom, in that there's a few years and atrophied members between the last of the former and Bloom's debut; but where the former was poppish indie with touches of light-heartedness, Bloom is closer to a full-blooded pop group. Pop's obviously an slippery beast and one of the things that rarely gets done right is terse lyrics; Bloom's lyrical prowess is in
keeping just enough lyric to get the sentiment while eliding detail enough to be opaque
. A trick rarely done right, arguably. Change the arrangement for "Nothing" from bright and spare jangles to grinding dirge and you'd have the sort of parity that wee
Mikey Gira
traded in back in the day — "There's nothing left" [repeat lotsly]. Bloom are a lot less battering ram with their lyrics, probably more precision scalpel to emotional sores. It's a record almost entirely lacking in flack. But pop music, right? Not always a place where arrangements jump out a lot. Which is where something in the backgrounds of Emily and Megan do some funny things. Not sure if it's over-subscribing things from your writer's perspective, but knowing that Emily's got an
mbira
background, Africanisms start popping up for me — "Not Enough" has this clean, spritely and sparse guitar figure nudging soukous playing without ever quite going rhumba. "Snow", a mini-epic of lushness, has these lovely shuffly syncopations between guitar/ bass/ keys with the two-part vocal line holding down the melody. "Tiny", probably my favourite track, fits in a surprising amount of weave and turn for a just-north-of three-minute pop song — superficially
doing some indie pop tricks, but intricately mixed in with some electronic fad-gadgetery
of a
Björk
-type dimension (that dimension can be spatial or space-ial, depending on the reader's cosmic preference). Placing Bloom into a context is a bit of a bollock. On a few levels, it's not entirey dissimilar to a lot of pop groups, particularly those doing the rounds in the mid-'80s. It's more dour than (say)
Bananarama
, less shiny than (for instance)
Strawberry Switchblade
, but that's not getting you any closer. There's a distinct sense that it sounds a lot like
something
but I'm not quite able to pin it down. Choruses the size of planets, but never overbearingly smug. I keep coming back to the term "terse" because there's just nothing wasted on here, but there's enough colour and varied arrangement to mean that
it's well worth spending a bit of alone time with the headphones on and maybe having a little cry
. There's shots of light, but mostly the songs aren't entirely cheerful; but it's never quite morose, more wistful… something like a pop soundtrack to mid-20s breakups, shit landlords or 4am walks for rollups, rather than thee teenage hormonal idiocy of a lot of efforts towards pop.
Oh, I entirely forgot to do the shit journalism thing of saying "Bloomin' marvellous", but you can imagine I did and then everyone's happy. Great record.
-Kev Nickells-