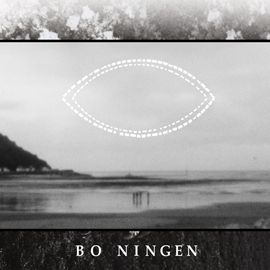 If you're thinking of buying one Japanese cross-dressing psych rock freakout album this year, I would suggest you shed out your hard earned cash to get this one.
The opening track  "4 Seconds To Ascension"  is a statement of intent. It's fast and powerful and kicks you in the gut like High Rise playing Black Sabbath on speed and falling into a factory that makes Stooges bootlegs. "Yura Yura Kaeru" is a little more sedate with the guitars slightly lighter in the mix and pulled back, and the vocals sounding almost soulful. "Koroshitai Kimochi" is similar to the mix that was used for the EP of the same name; as there were only 200 vinyl copies made of the EP a lot of people will not have any version of this track so its inclusion here is well worth it. The track opens with a riff that would not have seemed out of place on the Flower Travelling Band's Satori album, before the song collapses in to a garage rock cataclysm of guitars and drums and squealing vocals.
"Gasmask Rabbit" is slower and more ponderous, its gentle guitars harking back to a west coast psychedelic sound that strangely feels at times to conjure the same atmosphere as Sabbath's "Planet Caravan" or Masaki Batoh's early Ghost albums. Assault rifle guitar introduce "Kage" and it beats you in to submission before heading into the song proper. Discordant wah wah guitars powerhouse to a quiet middle eight section before the big riff takes off again into psychedelic mayhem. Of all the tracks this reminded me most of Up Tight's album The Beginning of the End as it has a similar sonic structure to their track "Our Own Portrait."
"Post Yokai" brings us away from the gritty "Kage"and lifts us floating through the air on beautifully tuneful guitars that sonically ascend towards the heavens like the best acid-soaked early Pink Fairies tracks used to do. Again, the lead solos are played with enough aplomb that I'm sure Paul Rudolph would be jealous of their execution. The ending is a sublime lifting set of chords that chime into the stratosphere. "Maguro" is another EP track mixed a bit differently than the original; we are back to high energy Bo Ningen in psych out combative mode with storming heavy metal chords and shouting vocals. Seeing as the track's title appears to have several different meanings including "Tuna" and"people who don't give any reaction while having sex," I can imagine what meaning the band are aiming for here.
Lighter, and dare I say it almost poppy, is the opening to "Yuruyakana Ao," its spiralling chords floating up through the hemispheres where the echoed lead drags them further out into the cosmos. The vocals lift the song higher into its multi-coloured reverbed soaked middle eight. Like "Post Yokai" this is an album highlight. The final track "Triangle" starts with a sombre bass and guitar line. This slowly begins to build as the drums begin to get faster and fill around the kit until it breaks into the big Budgie-sounding central riff that could have almost been lifted straight from any heavy rock album of the early 70s, but Bo Ningen make it their own. Its chaotic lead guitar takes it more into space rock territory as it whirls around over the central riff in a drugged-out noise that begins to collapse within itself. The ending is a pure psychedelic mush of instruments as they head into coming down mode before the final wail from outer space. Then at the end you sit there and catch your breath…….
-Gary Parsons-