London
8 November 2014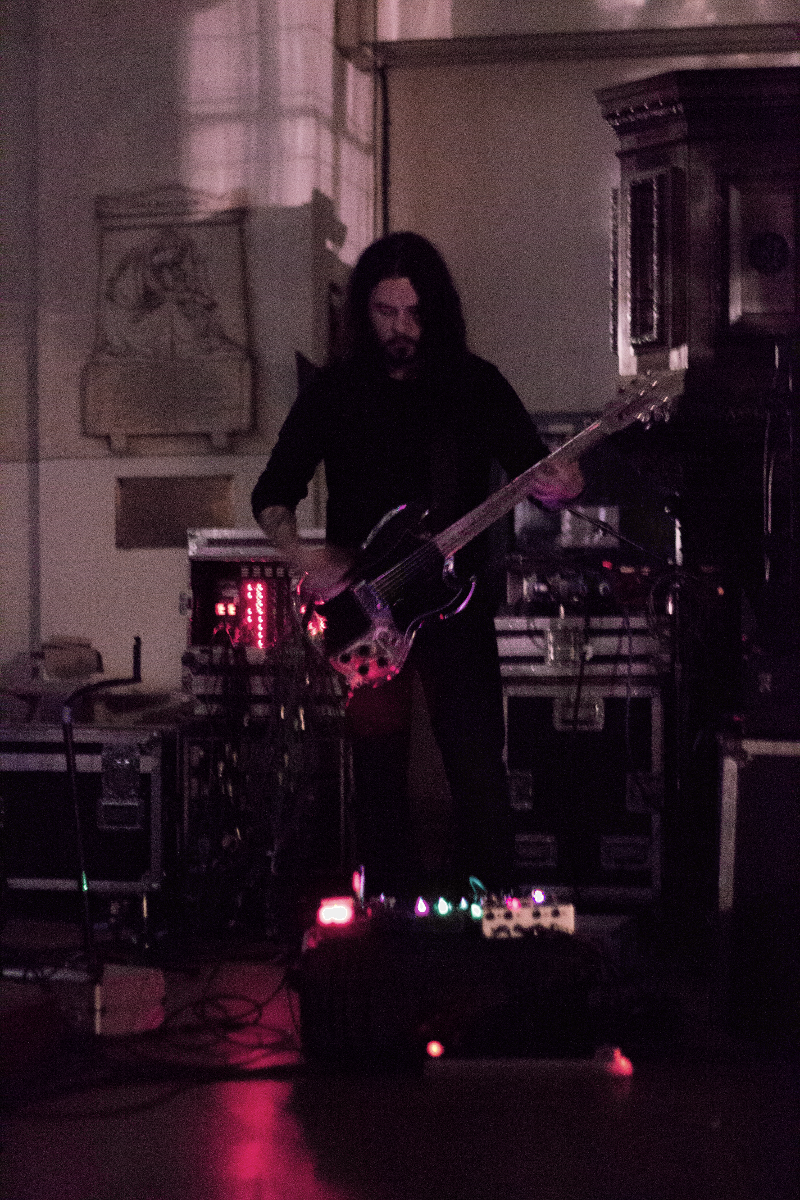 It's almost as if they planned it. It's pissing it down. Absolutely fucking pissing it down.
Exactly the sort of weather that makes you want drone doom. Which is just as well, because doom legend
Stephen O'Malley
's playing tonight, and he's supporting doom jazz maestros
Bohren & Der Club Of Gore
. The line of bedraggled amplifier worshippers stretches back from the church almost to Hackney Central, and the beleaguered door staff are doing a sterling job of cramming everyone in as quickly as possible. We take our seats and wait for the
Sunn O)))
dude to come out and breathe some life into the impressive collection of amps that are lined up near the altar.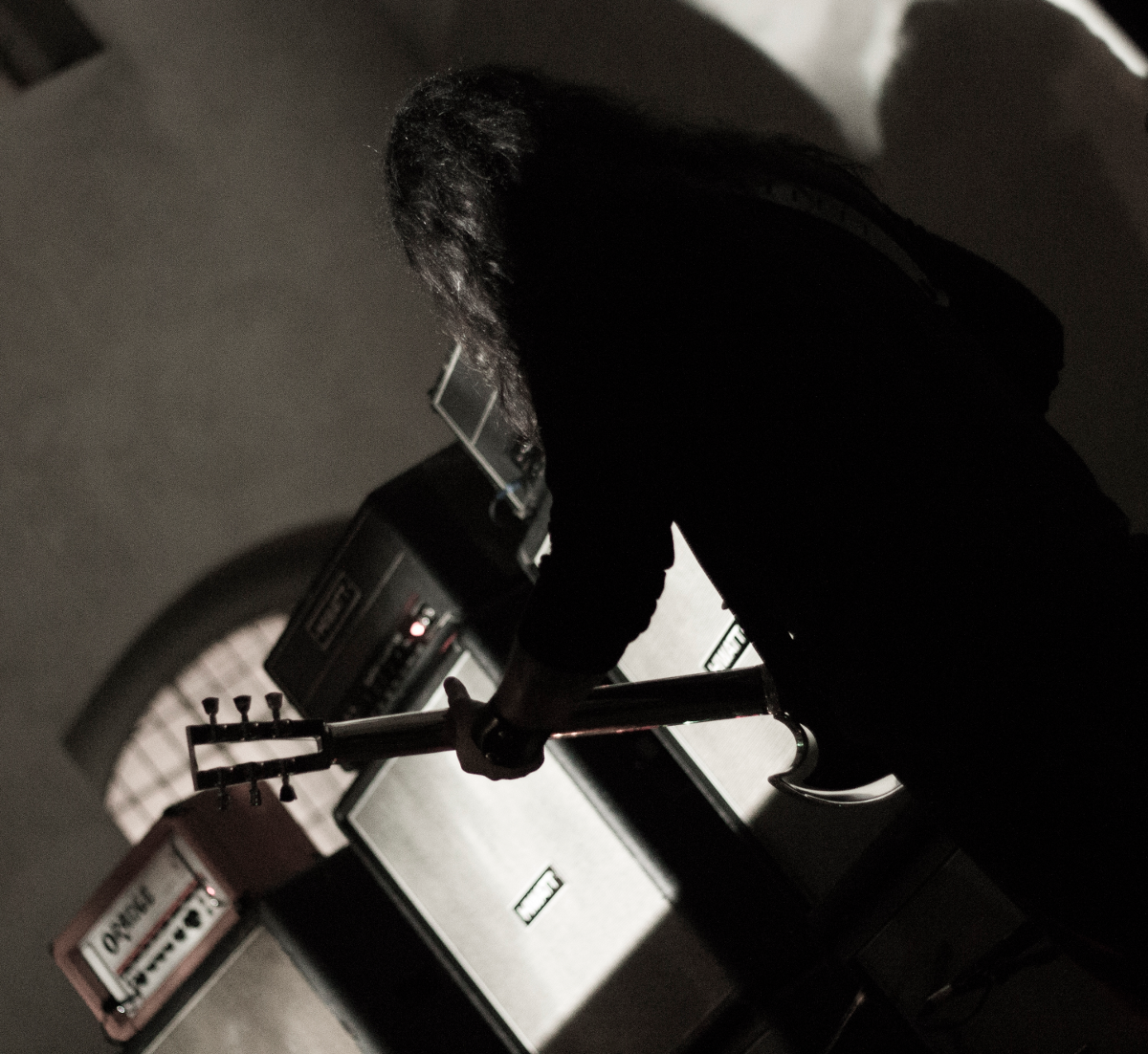 And the lights go down. Properly down. O'Malley is a literally shadowy presence, standing at the end of this little Amphenge, hunched over his instrument like a particularly hirsute monk. While he's not wearing his cloak, his metal dude hair combined with the lighting does the job just as well. And here comes the noise, a deep, bassy rumble that, even several rows back, is actually physical in its intensity. Above his head are projections of melting glaciers, water seeming to run down the back wall of the church, and it's almost as if the roof has gone and the terribly portentous London weather has made its way inside. Fittingly, given the setting, the whole thing has a near-religious feel, O'Malley merely the conduit for the blessed volume, lurking at the side of the stage in order to let the real stars of the show strain and throb in response to the sounds he's putting through them.
And then it kicks in. That wasn't the real volume. That was just
John the Baptist
prophesying the coming of the real volume. And this time it really IS physical, like wind blowing in your face. Every now and then he wanders across to tweak a setting, though what he's really doing, of course, is praying to the amps. And
they hear his prayers and reward him with feedback and ever greater rumbles
.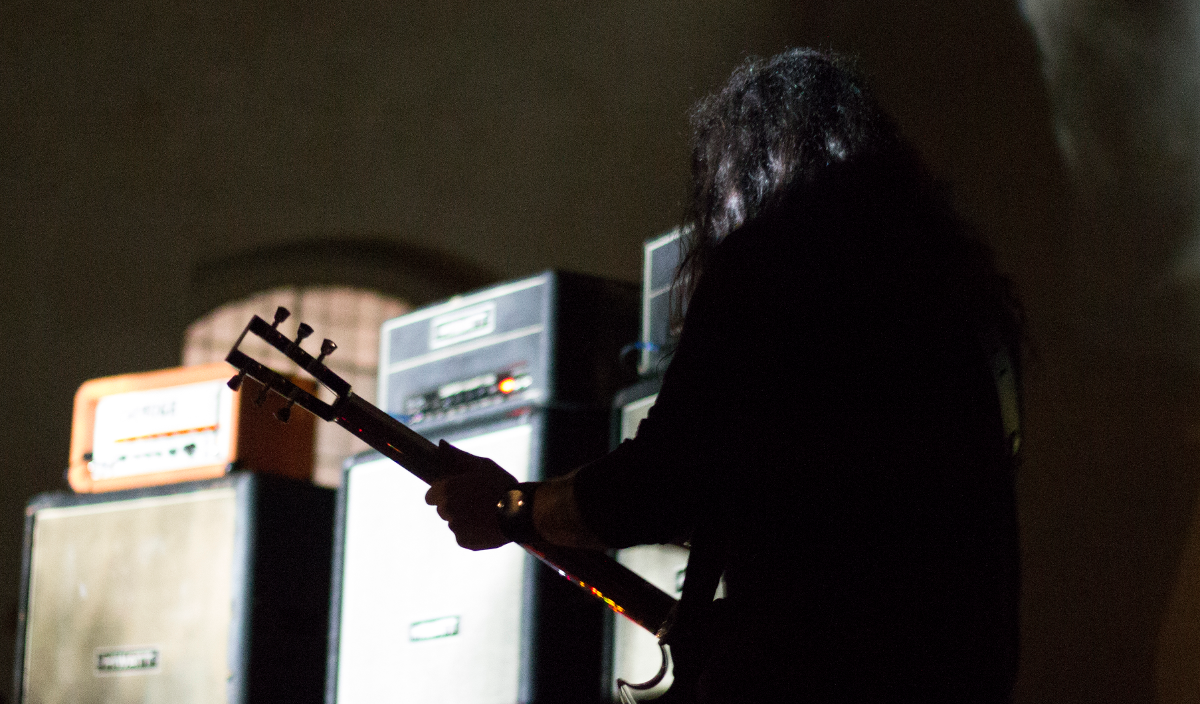 And then it kicks in
again
, and this time your head's rocked back. Surely this, THIS must be the real sound. It's all-pervasive, the ecclesiastical acoustics meaning it could be coming from everywhere and nowhere at once. But mostly from everywhere, including inside your own head. And then — surely not — it kicks in AGAIN, and now
our eyes can finally see the glory of the coming of the Noise
as we're enveloped in a warm cocoon of sheer volume, and it's almost as if everyone's seats slide back a couple of feet. It's face-melting, in the same way opening the Ark of the Covenant was to those Nazis in that documentary I saw once.
And then it's over. It was stunning. We are stunned.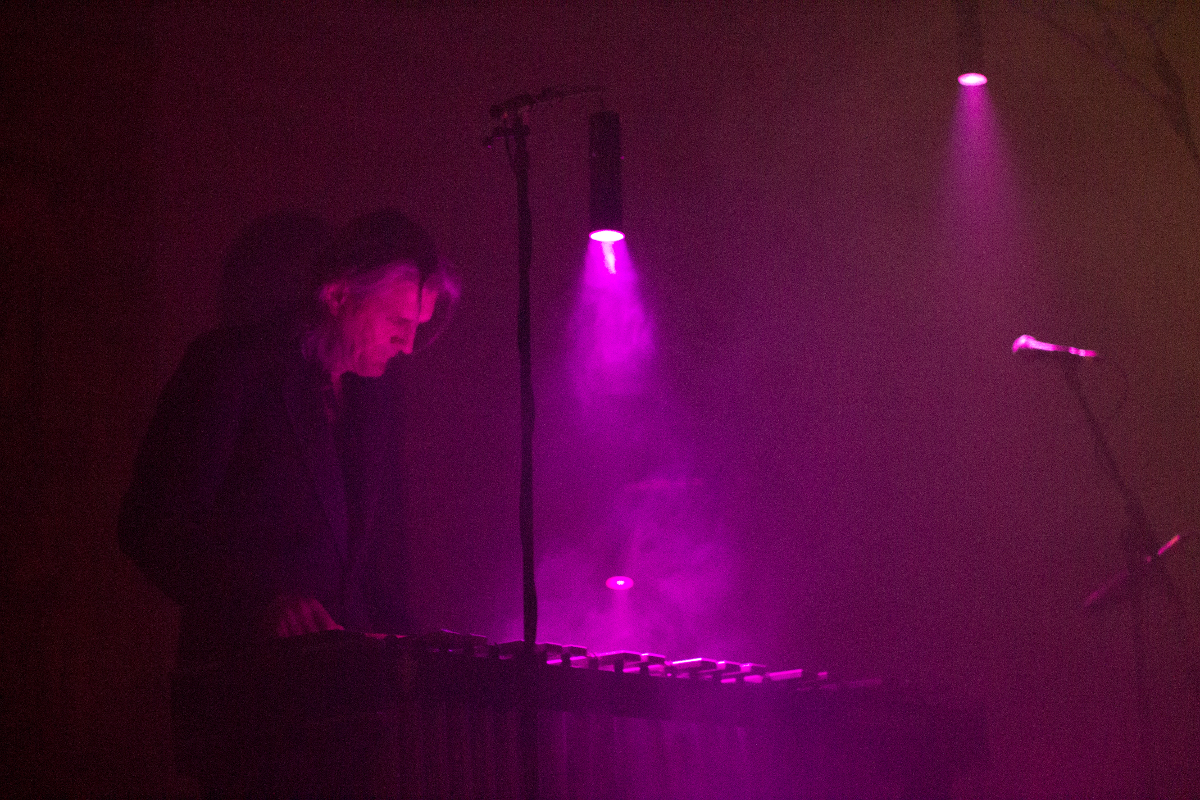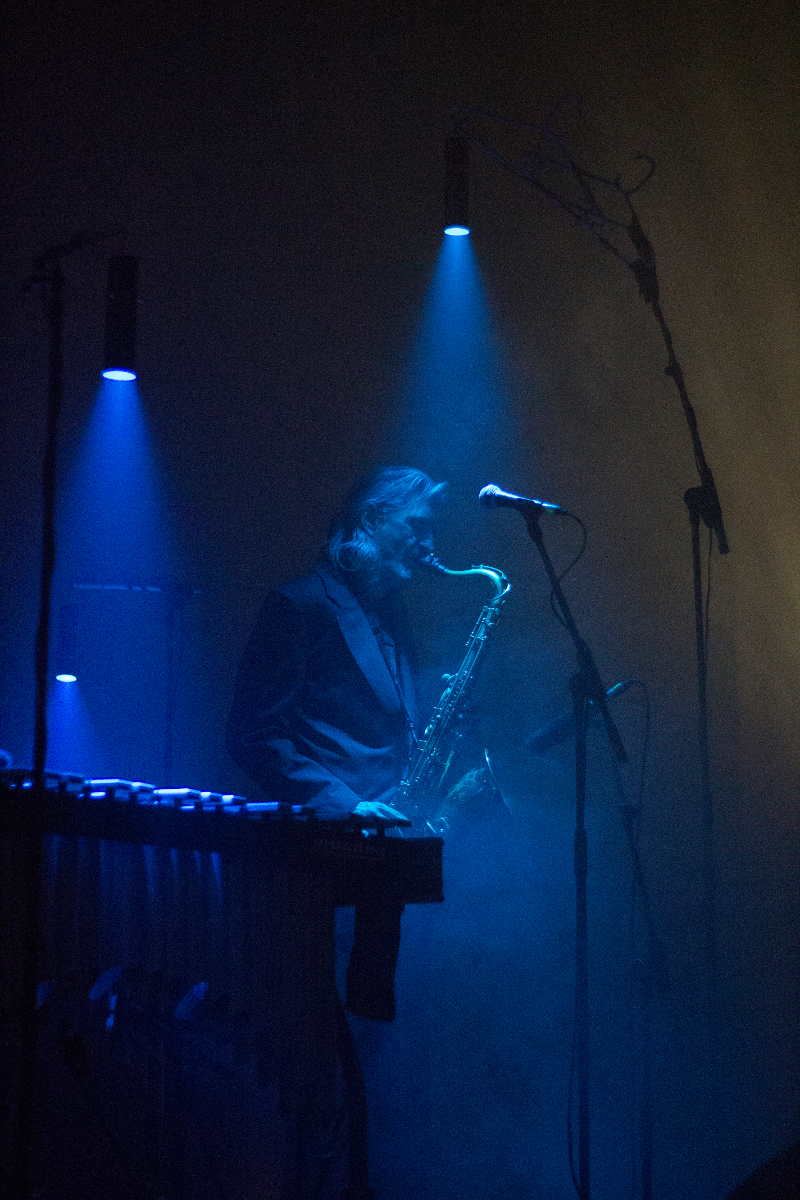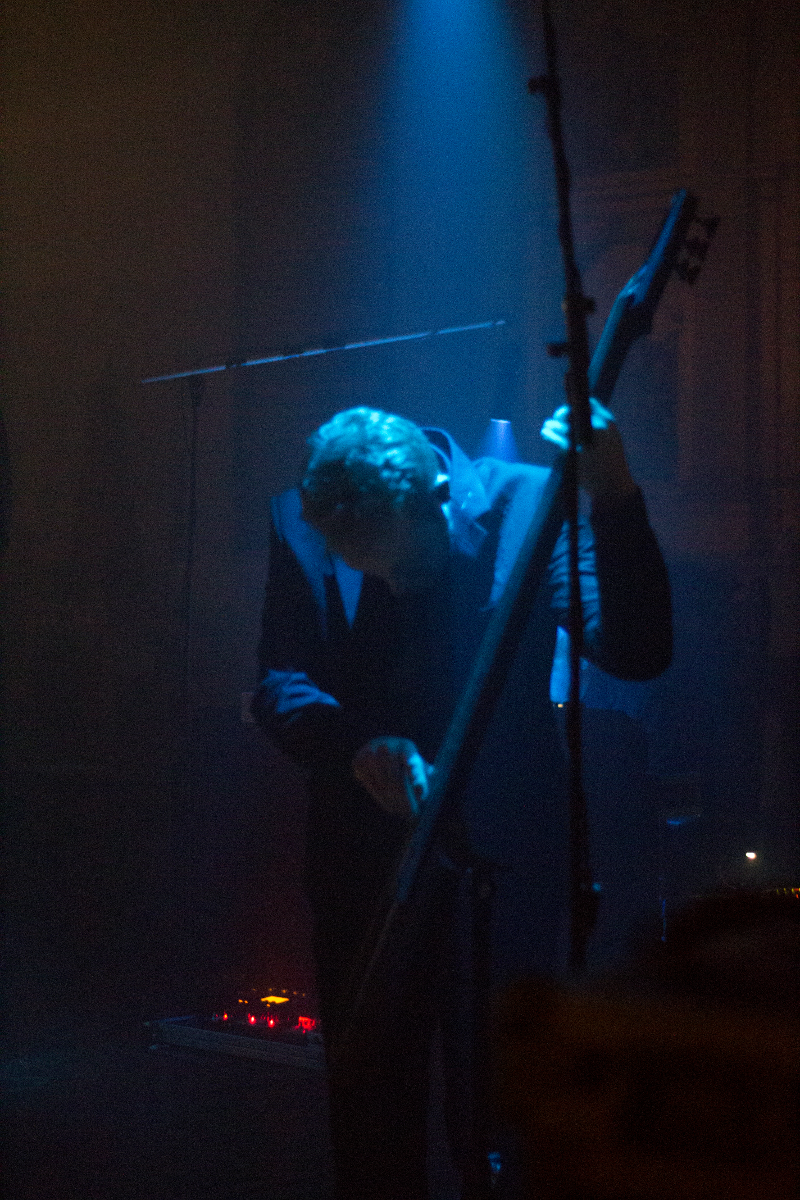 As Bohren & Der Club Of Gore take the stage, the lights go down even further. No projections break the gloom, just a set of tiny, tiny lights that almost illuminate each member of the band, but even these seem to be more for their benefit than ours.
"We are invited to bring you back on Earth after this guitar inferno" says a voice from out of the darkness even between tracks. "We are cool guys". And cool they most definitely are. If
Miles Davis
was the Birth Of The Cool, and the '90s was where cool went to die, Bohren & Der Club Of Gore are the Wake Of The Cool.
It's languorous, it's smooth, and most of all it's slow
. It's very, very slow indeed.
Nothing is hurried, everything plays out glacially to its resolution. A tinkly piano motif, a mournful sax, everything takes exactly as long as it needs to take. And it's spooky as all hell. Spooky, and seductive at the same time, like trying to pull at a funeral (or have sex in a graveyard, as I believe is quite common in Hackney). It's dangerous music, calm and tranquil but shot through with menace. And OH GOD I CAN'T KEEP IT UP ANY MORE I WAS SO CLOSE BUT NOW I'M GOING TO HAVE TO SAY IT BECAUSE THERE'S NO BETTER WORD it's, yes, incredibly Lynchian. Ultra-Badalamenti. Which is good, because Bohren are all we have to tide us over until new Twin Peaks in 2016. Which should give them time for another couple of bars.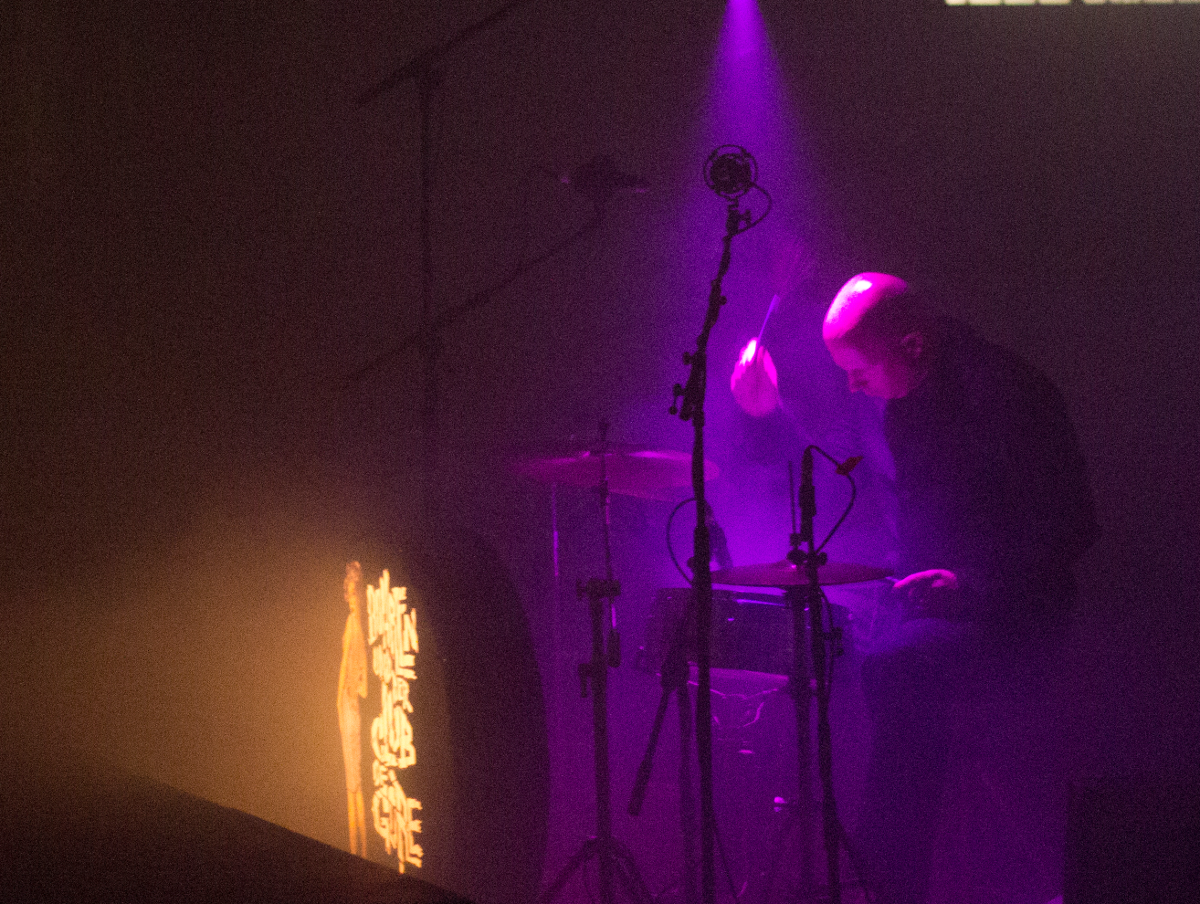 It feels later than it is. It feels a lot more like a sleazy club than it is.
It even feels darker than it is
.
And then we're done.
Outside, it's stopped raining. It's almost as if they planned it.
-Words: Justin Farrington-
-Pictures: Dave Pettit-