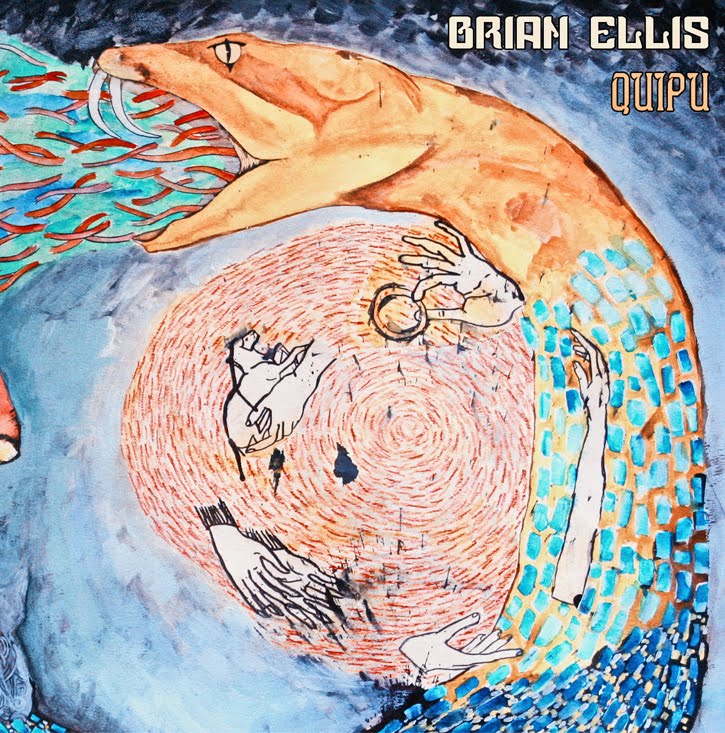 Brian Ellis is the guitar player with the band Astra, whose album The Weirding was one of the best of a batch of progressive rock revival albums released last year. It swept majestically over musical fields covered by Yes, early Genesis and King Crimson. On what appears to be his sixth solo release, Quipu, Ellis touches upon and expands on all these elements to make an interesting album.
"Birth" starts off in a jazzy ambient style mode that strays onto territory covered by
Rain Tree Crow
's set of improvisational pieces that made up their sole album. Horns squelch away over
Bruford
-esque drum patterns while keyboards pad out layers of sound beneath.
About halfway through the track changes into a heavy metal take on a Magma workout, guitars power ahead and wrestle with rhythm in a hard edge Christian Vander-style percussive bleed that sets the tone for the album
. "Canyon Star" has melodic symphonic guitar that touches upon certain tonal passages of
Steve Howe
's work on "The Remembering" from 
Tales From Topographic Oceans
. Here Ellis seems to play the "Relayer" chorus over the top of an interesting keyboard passage before the song breaks down into a jaunty
Van der Graaf Generator
sax and guitar battle for its final half. After a fairly ambient opening "Count To Ten" becomes a far more standard blues/jazz piece that takes onboard
Bitches Brew
-era
Miles Davis
atonal keyboard pulses while the guitar soars and sax heads off with a vigorous screeching solo before bringing the track back down to earth for its ending. "Funeral March" begins with a considered riff that tracks the guitar and organ to a slow build up before the sax takes over the melody and the guitar is left to fill the space. The track plays over this riff until it seems to fall away exhausted, and this was the first time I started to question what Ellis was trying to say with these instrumental pieces as I felt here that this sounded somewhat laboured compared to the preceding tracks.
"Gossamer" begins with sloppy laid-back jazz drum rhythm that slides into a Mahavishnu Orchestra section before swirling synths and straight-ahead guitar clatter into a section that sounds somewhat like early Hawkwind holding back. This odd amalgam works in the track's favour, especially during the closing segment that drifts like a cosmic wind to its fade out. "Psaw" has psychedelic guitar playing over late sixties free jazz elements that wouldn't seem out of place on a Sun Ra Arkestra album of this era. The music sounds largely improvised and is probably closer in tone to some of Acid Mothers Temple's work rather than, say, Miles Davis. Deep bass synth introduces "Walomendem" and a lead synth ramble's a half forgotten melody before the track packs its Magma punch. Klaus Blasquiz-style vocalising resonates over Jannick Top bass booms while piano plays atonal scattering around over its downward riff. This track could have easily been an extra track on Mekanik Destruktiw Kommandoh – it is Ellis doing a homage to Magma, plain and simple as that. This is not deriding the piece in anyway as it certainly packs a punch and gives a genuine ferocity some of the other tracks lack.
What Ellis has created here is a hybrid prog meets free jazz album that sits at times uncomfortably on the fence. It works best when it steams full a head in its Magma-style vein as its passion and power then comes to the fore. It just feels, at times, though like it staggers drunkenly into areas it seems unsure of and then backs away. Its triumphant last track shows where maybe some of the rest of the album could have touched more which would have made the whole thing a
tour-de-force
. Ellis has made a brave record and doing so he may well have alienated some of his listeners before they can swallow the album as whole and appreciate the varied vistas he has painted with his broad brush. It's certainly well worth a listen even if you only venture as far as "Walomendem's" firey brilliance.
-Gary Parsons-