Trinity Community Arts, Bristol
8 July 2017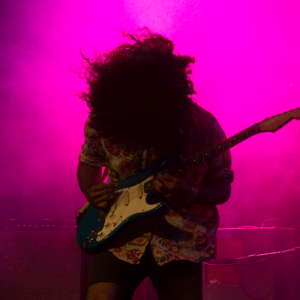 On a roasting Saturday, a beautiful day in July, the wonderful Trinity Arts community centre hosted the juggernaut that was the fourth Bristol Psych Fest. Squeezing two dozen bands into one day on two stages was quite a feat to attempt, but seemed to go incredibly smoothly.
The idea of Psych Fest is great; piles of bands, some from abroad, most local, all very loosely under the psychedelic banner are invited to play at a one-day indoor festival. Everybody has about half an hour and the way it is supposed to run is that as one band sets up, the other is playing on the other stage and this is pretty much how it worked.
We arrived a little late for
The Brackish
, which was a shame. Their post-jazz/rock workouts are quite a sight to behold and it would have been great to see in which direction they have sprung recently. Instead, we headed up into the humidity of the first floor and were greeted by the sight of
Yama Warashi
, playing a blend of Sixties psych crossed with Japanese music. The male drummer and sax player were styling in coolie hats whereas the two women, one on violin and one on keys, had clearly decided that it was far too hot for that kind of thing. Instead, they were
seducing us into drifting away on a tatami mat
into the tranquility of an oriental tea garden.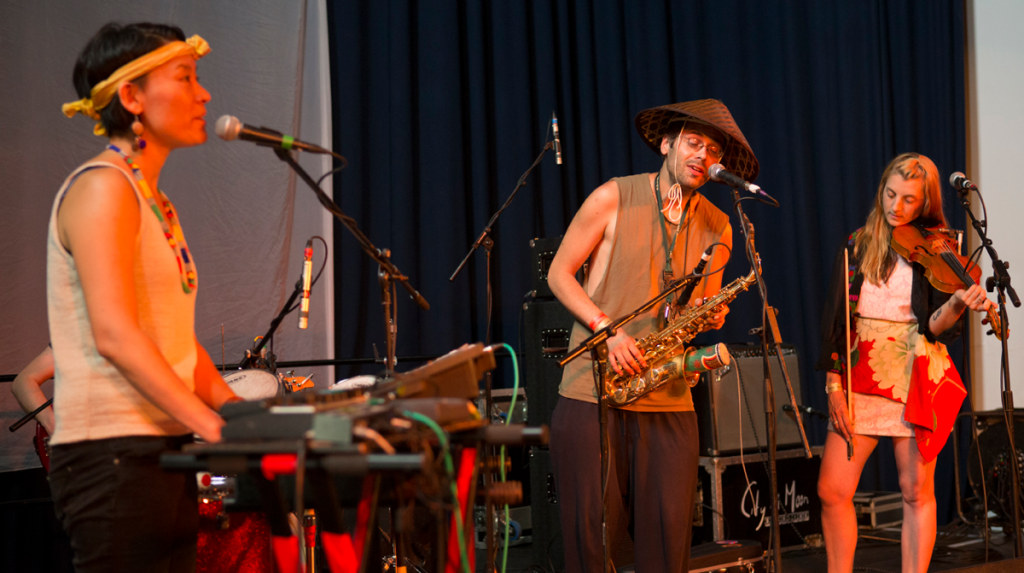 Woodblock rhythms and glockenspiel sounds joined forces with honeyed voices, wrapping us up and gently settling us in some '60s art film setting.
Agathe Max
's violin was a real treat and it was impressive how much they could
conjure up a transcendent experience with fairly disparate elements
. One track with its simple keyboard repetition brought to mind
Pram
as they have a similar way of capturing an esoteric mood.
Final track "Blue And Gold" evoked a little more melancholia, that of a summer sunset over golden fields, using plucked violin and deep vibrant bass. Singer Yoshino Shigihara led us in swaying dance as the violin and sax gently ushered us out. This was a delightful set and found me rushing downstairs for a copy of the album, on gold vinyl no less.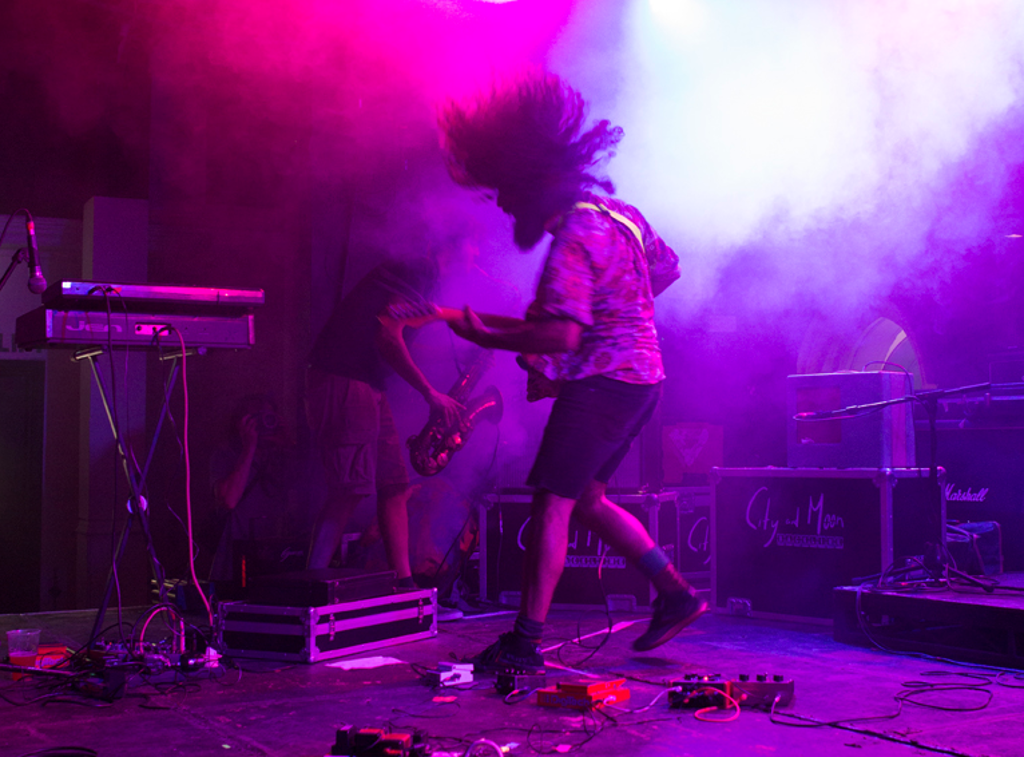 Heading downstairs brought us into contact with the vibrant Bristol quartet
The
Evil Usses
. This four-piece on guitar, bass, drums and sax jab you straight in the face with their anarchic, manic, free-form jazzy workouts. It was hard not to miss guitarist
Conrad Singh
 in his flowered shirt and shorts, hair so wild he looked as though he was being mugged by one of those Portuguese water dogs, but as a whole they tore up the rules, spaces opened and closed, pressure dropped and then things reignited as each member urged on the others.
The rhythm section in particular were hard as nails as tempos and directions changed at will and swung like a drunken Tarzan crashing through the trees. When the drummer convinced them to play nice, they could really groove and at times I was reminded of the Cardiacs if they were commissioned to write a theme for Tom And Jerry. The only track I caught the title of was "Gambino", from their latest LP, played like some oriental switchback, swaying and veering around. On the whole they perfectly captured the willingness to swamp us with texture but also the urge to dance like a loon. This prompted another trip to the merch stall.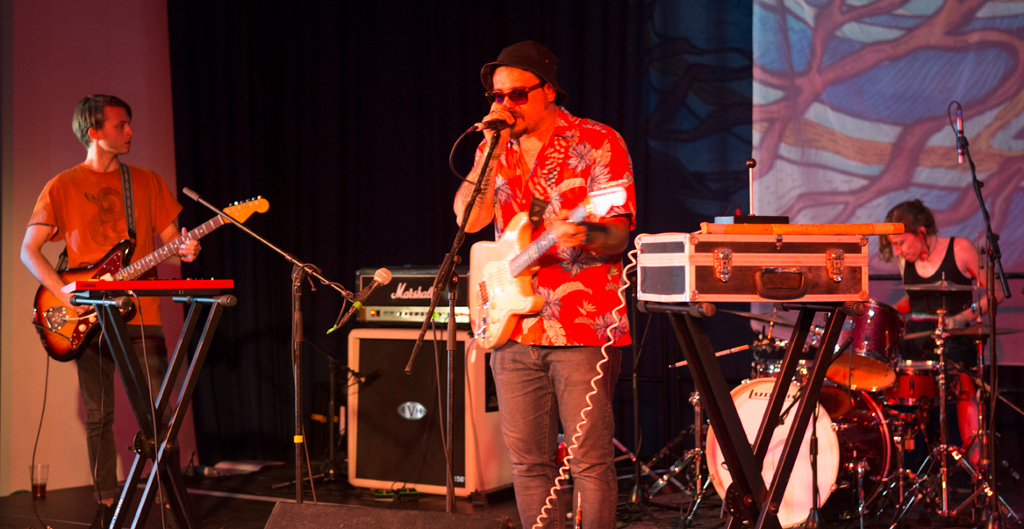 Back upstairs into the swamp for
Dead Coast
, the main man looking like
Huey Morgan
from
Fun Lovin' Criminals
, resplendent in Hawaiian shirt and shades, led this fourpiece through what I would consider the first Sixties psychedelia-influenced band with a touch of the desert. They were a purposeful group, the two guitars sitting at odds, the main man's incredibly shrill and tremolo-y but with
a Mexican twang to the sound that brought to mind hot cantinas and dusty side roads
, the tiny woman drummer really impressive in the sound that she could summon.
The vocals were deep and weary sounding and on one track they managed somehow to send the guitars out of phase, and that was a really strange feeling. The closer, which had a Theremin intro and organ swirls, felt like some Mexabilly take on an overblown Honolulu "Albatross" and was a great finale.
Downstairs again for local band Yo No Se. The crowd loved this power trio and they were incredibly tight. There were moustaches involved and some great playing, but to me it was too much like a Nirvana tribute band having a go at some AC/DC numbers. At times they were slow and heavy and then excitable headbanging overtook them. We nipped off for a little break.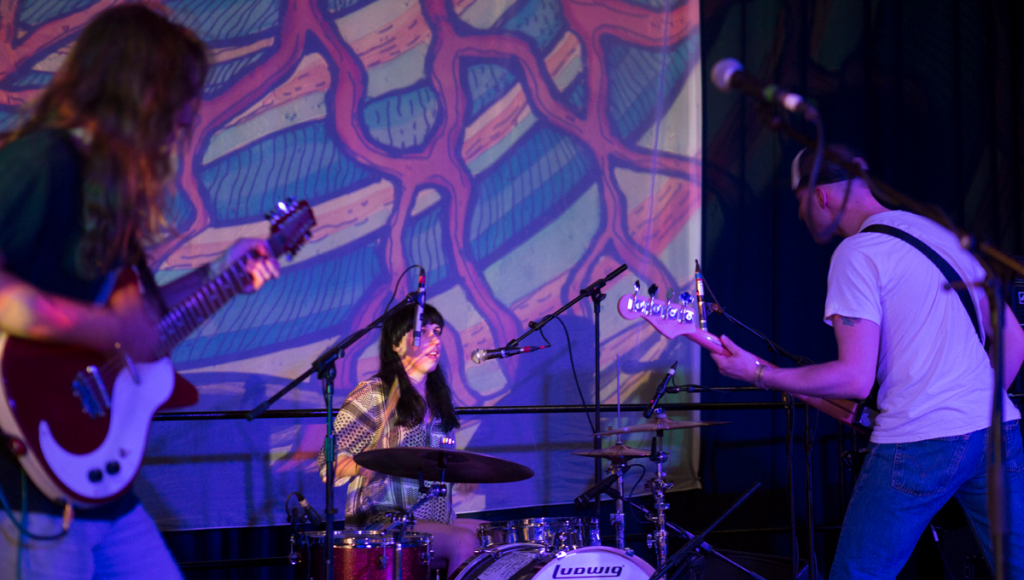 Upstairs for another trio, 
Table Scraps
, the vocalist looking a lot like
Evan Dando
and playing a 12- string, which was the first of the day. They plied a more bubblegum psych sound with the bass extra fuzzy and
the 12-string so trebley it sounded like sheets of glass being tipped onto the pavement
in front of you. Drummer
Poppy Twist
added tough vocals to the hyper sound, but it was also metronomic and they could really blow away the cobwebs when they wanted to, Twist grinning as the songs blasted over our heads.
At times, the 12-string was so shrill it almost shrieked as they beat you over the head with feedback scrawls and rhythmic cudgels. The mood changed for "Bad Feeling"; the sound was grey and dreary, the vocals ragged and resonant — but it was time to head downstairs again.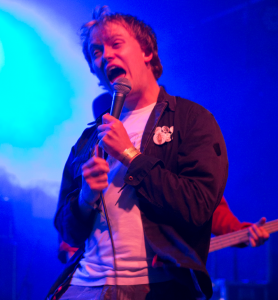 Lice were next up, another local band numbering four and taking to the stage like a reanimated Birthday Party, the bassist in particular all cowboy hat swagger and Tracey Pew moustache. Their intro brought to mind Fields Of The Nephilim's "Harmonica Man", but with more screaming, a western vibe but stretched, lumpy and awkward.
When the main vocalist arrived, I have to say he looked so unlikely to be producing the kind of offhand stream of consciousness lyrics that were pouring out of him. In fact, when he stared down the audience, there was something slightly unsettling about him, not helped by the fact that the rest of the band seemed slightly unhinged.
At times, it was like a teenager doing an impression of
Run DMC
while a Birthday Party slug trail attempted to derail the whole thing. The guitarist was trying to slice our ears off in best
Rowland S Howard
style as he and
the band stumbled around the stage, filling it with mayhem
. A touch of free trumpet was thrown into the cacophony as everything else was swamped with feedback, blood-curdling vocalisations and the whole jagged thing fitted together perfectly. At one point,
Mic
turned to me, smiling, and said, "This is a glorious mess"; and that goes some way to explaining the sensation.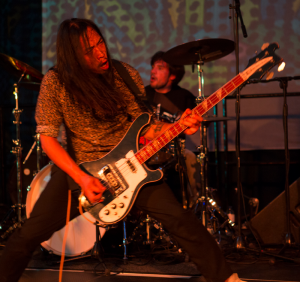 Swedish Death Candy were awaiting us upstairs, a harmonising '60s surf-influenced psych four-piece with the craziest bassist, pulling shapes like it was a karate workout video. There was a touch of overblown power-pop to the sound, but they really knew how to hit a groove with some long, shimmering phased guitarscapes that were quick as lightning and tight as a drum. In fact, there was the faintest touch of the Ramones to their breakneck speed. It was almost as if they were trying to destroy any memories we had of what had preceded them.
The songs veered from heads-down power to
Pink Floyd
-y drifting imperceptibly; and to be honest, there was so much reverb and echo, we could have surfed those crazy waves of fuzz all night long.
Downstairs, the indomitable Sex Swing were preparing to debase the audience with their unique bass-heavy sonic thuggery. The churning intro using electronics with bass chords and the phlegm of a bass saxophone stumbled into a funereal rhythm, vocalist Dan Chandler wandered frustratedly around the stage. The vocals were brutal, as if ripped still dripping from the inner recesses of a haunted man.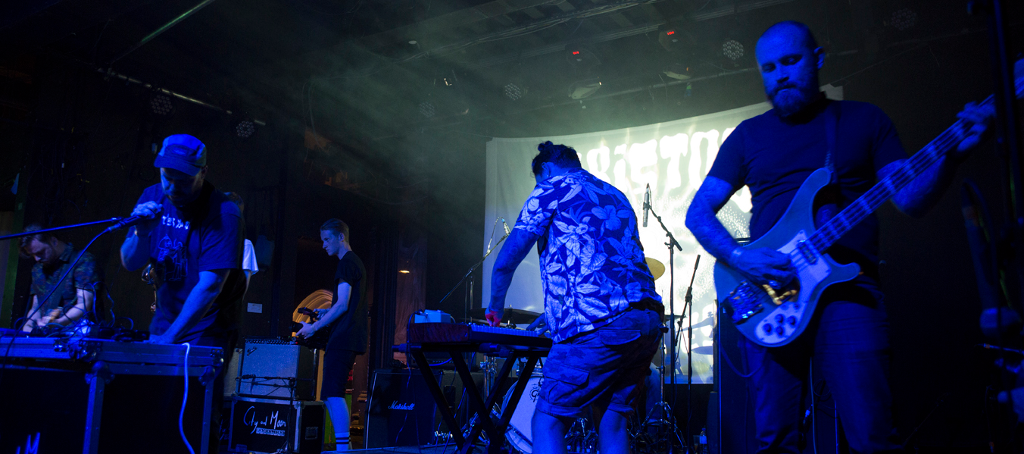 The air resonated as
Colin Webster
's earth-stirring sax merged with the electronic barrage. The bass sax was such a fantastic weapon in this growling atmosphere; the
solos scalding in their disregard for convention
and
Jason Stoll
's clean but immense Rickenbacker bass was like a bludgeon to the back of the head.
There was an aura of concealed violence and Jodie Cox's blunt guitar sounded like a hammer insistently beating onto wood. Through all this, Chandler howled and wandered like a man waiting to be released from prison as the primal music whirled around him, almost existing outside of music. I was reminded of that description of Beirut Slump as "like a slug with a thorn in its side and a chip on its shoulder" and this most unhealthy sonic stew was incredibly satisfying.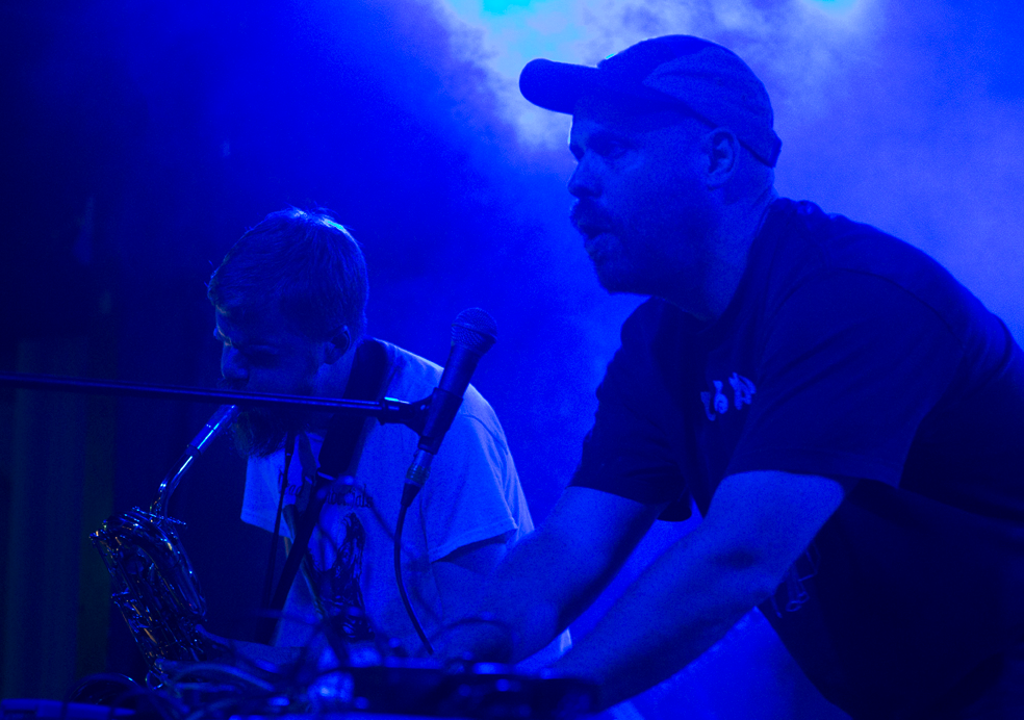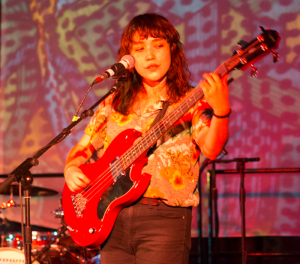 Upstairs again for
Abjects
, the fastest band thus far. Three women from unknown countries looking like the coolest gang you will ever not meet, because they are too cool for you, buddy. The lead singer and guitarist was playing a Vox Starstreamer, which upped the cool quotient another 100%.
They blasted out sweet, sweet power punk pop and make the Dum Dum Girls sound like Earth. Their lovely harmonies were layered over shimmering melodies flooded with walls of fuzz and at a tempo to knock your socks off. There were elements of Erase Errata, but with any fat stripped out and chased down the road, the guitar at times sounding like a swarm of angry bees. My final thought was that although this is bubblegum, it would surely break your teeth. Energetic and hip as hell, they were great.
Downstairs, 
Phoenician Drive
were taking their place on the stage; a six-piece with three guitarists, a bassist plus a guy playing some sort of electric bouzouki, so we knew we were in for a noise-filled treat. They hail from Brussels and the intro found one guitar, belonging to an 
Orlando Bloom
lookalike, being bowed to produce a sound like a foghorn, as
death march drums and bass as sharp as snapping limbs
gave us a sultry Eastern river vibe, the bouzouki things chasing river shadows at dusk. The disparate elements suddenly flew into an Eastern funk, a tabla blasting out and the band finally setting the most colourful and vibrant atmosphere so far.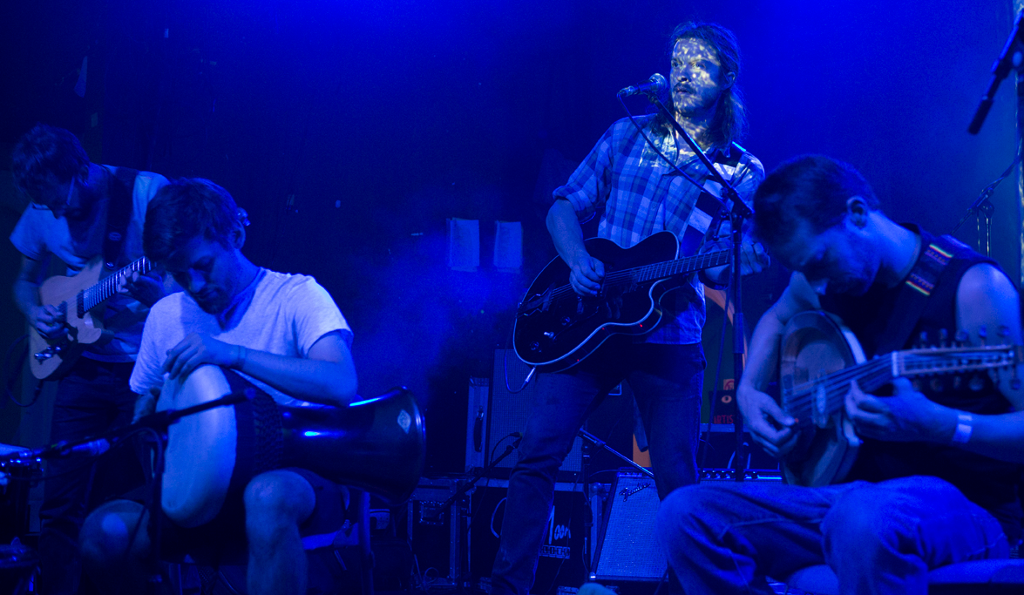 There was plenty of drama onstage and at times I was reminded a little of
Godspeed You! Black Emperor
, but with a beatific smile rather than a tragic grimace. It was the way the guitars spiraled around one another, producing a kind of energy foreign yet familiar; and sometimes, the way that it was effected, the bouzouki sounded like a call to prayer. The whole band sound seemed
to glide aloft on huge silken wings, high above dusty pyramids
; and the tabla, odd rhythms and unusual timings were so transportative that we were almost there. It was quite hard to come down from, so we went for a little stroll and some fresh air.
Unfortunately, due to the timings starting to go astray, the next band upstairs was at the same time as the colossal Hey Colossus, so we stuck around to watch those guys stir up a sensual storm. A three guitars, bass and drums combo with a tall, moustachioed front man, all the guitars seemed to work in absolute harmony, their separate threads easy to pick out as each track would its inexorable way towards us.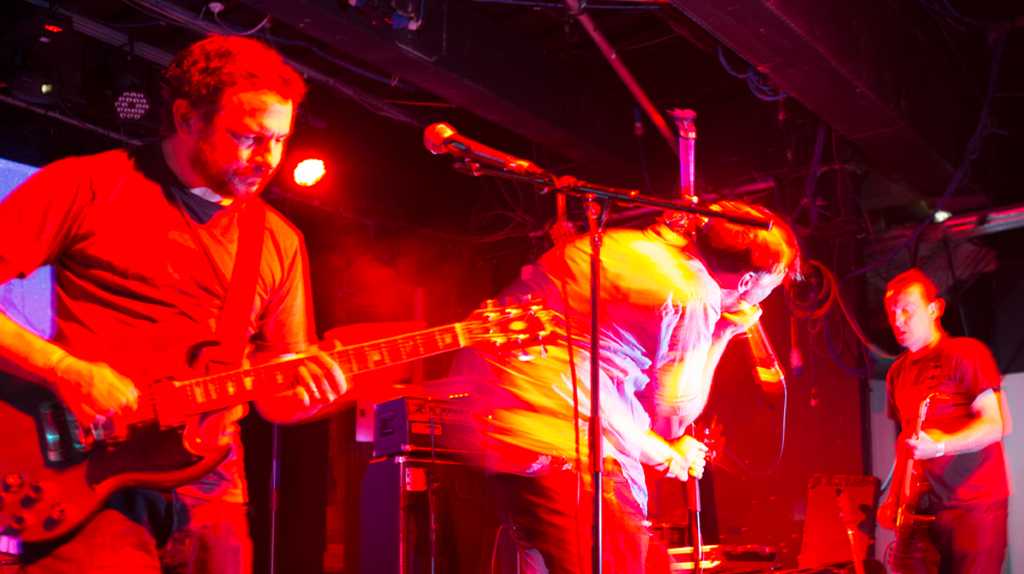 The vocalist was a deep crooner, oddly magnetic, who strode and crashed around the stage, allowing the opening track to slowly unfurl as the
guitars strained at their leashes, anxious to leap into the crowd and have at us
. It was sweaty and propulsive and as track two started, it became quite exciting on stage, the drummer beating nine bells out of his kit.
Tone-wise, the front man reminded me of Carl Puttnam from Cud, but with more seat and bullets, leaning into the audience, yelling into any face that might be brave enough to come within range, the odd Nick Cave bellow of rage as all around guitars seared and bucked, urging one another over the edge. In fact they acted like a pack of animals, each crisp and fierce with their own purpose in mind to try and round up the audience and allow the singer to go in for the kill.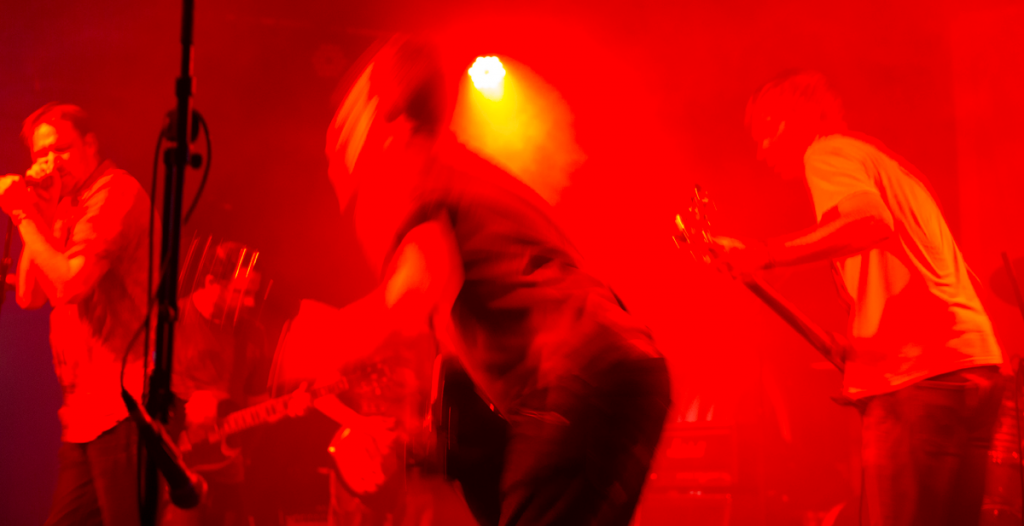 The band seem to take in metal but then turn their back on it and go down a more post-rock route, only to about turn again and trip a little psych fantastic. At times they reminded me of
Mugstar
, but with
an enormous chap hip-thrusting in their midst, dancing like nobody is watching
.
Sabbath
heavy with
Queens Of The Stone Age
hooks, the sound dense and the voice thrust forward, the guitars endlessly patient, jabbing and whirling around us. I was worn out at the end of the set, and due to the general overheating we decided to call it a day.
We will be back next year, hopefully, and I would thoroughly recommend it to anybody who wants their minds expanded. A special shout should go to Stolen Body Records of Bristol. A good proportion of the bands had records out on the label and it was all lovely limited edition stuff — so go and buy that as well.
-Words: Mr Olivetti-
-Pictures: Michael Rodham-Heaps