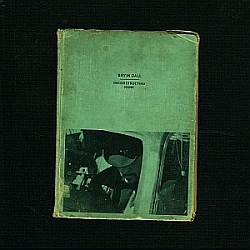 From the moment Bryin Dall starts singing "I Feel So Lonesome I Could Cry," it's evident that this is no ordinary selection of Hank Williams covers. With everyone (and probably their dog) who ever played a guitar seemingly having tackled their own version of the Hank Williams œuvre, Dall's particular take on the subject matter primarily emphasises the pain and anguish of the songs, wringing every last ounce of despair from his voice as he sings, seemingly on the verge of tears at times. So far, so country – but here the strummed guitars of Dall and cohort Derek Rush (usually on bass, sometimes synthetic strings and percussion) are augmented by washes and ripples of noise and sussurating backround sounds brought up in the mix.
The effect is suitably eerie, and it's unsurprising that Dall and Rush have also worked together as dark ambient duo
A Murder of Angels
, and it's worth recalling that Dall is also half of
Thee Majesty
with
Genesis P-Orridge
, though the music here couldn't really be much more different. As "I'm So Tired Of It All" finishes side A (or "Chapter I") of the LP, Dall truly does sound about ready to jack it all in, his voice allowed to hold the song fractionally together as the untreated guitar builds in strength to match the rising passion as
he sings, "Nothing but broken vows and promises," and a gathering swarm of fed-back, ominously eerie sound motes gather
in the undertow.
While Dall's voice is not so gravelly, nor possessed of as much gravitas, there is an obvious affinity with parts of Johnny Cash's American recordings, most of which were covers or retreads. Dall expresses a similar world-weary angst, though without quite the same level of hope which the latter still brought to his equally world-weary twilight recordings. But these are not the musings of a superstar at the end of his life; instead, Dall seems to have a very specific aim, interpreting Hank Williams in what comes across directly in a highly personal way. Furthermore , passing, comparisons might be made with Michael Gira's delivery and the overall mordant outlook Dall engenders; and these renderings fit well thematically and stylistically alongside the re-imagined 19th Century US murder ballads as performed by Bob Frank and John Murry on their World Without End collection in similarly bleak style.
Comparisons to other artists aside, what makes this album so effective is undoubtedly those sinister electronic sounds which insinuate themselves beneath the skin, to horripilating effect, whether as insinuated drones and wails at the verge of the mix, or more oppressively wearing away like audible expressions of the songs' relentlessly dark mood. Which is not to say that some of the electronic backing and the acoustic guitar playing which accompanies it is without any moments of beautiful wallowing in misery. Side B/Chapter II opens with "All The Love I Ever Had," and here eventually the guitar is allowed to electrify and grimace a little too, but subtly, to underpin the story of love gone utterly, desperately sour. "Lost On The River" is
a slice of melancholy so bittersweet as to stop the listener hard in their tracks
when the instrumentation joins Dall's wistful intonation. Equally spellbinding is the brittle strumming on "Cold Cold Heart," where a distorted bass thrums like the pounding of blood in the ears as the emotions putter on the edge of boiling over.
Never straying vocally into outright anger, Deconstructing Hank can be regarded as an album of thoroughly sad country hits, but one which has at its broken heart a cold fury held tightly at bay, ebbing and flowing in the electronic undercurrents which counterpoint the misery with subtly harsher measures. Have pity for the listener who identifies closely with these songs and especially their arrangements here, as their world will undoubtedly have been ripped apart. Those lucky enough to be of a happier state of mind can count themselves fortunate only to be tourists guided by Bryin Dall through Hank Williams' lexicon of universal agonies.
-Linus Tossio-