The Forum, London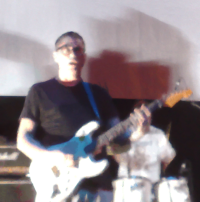 26 July 2008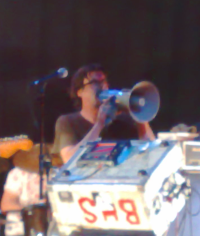 They're certainly not 22 going on 23 any more, but the Butthole Surfers have taken measures to ensure their set goes down in properly deranged psychedelic hardcore style tonight. First, it's the classic late Eighties lineup of Gibby Haynes and Paul Leary at the front and centre, with the rhythm section filled out by Theresa Nervosa and King Coffey, still managing to stand up and drums like being posseessed, and the heavily-bearded, flying-axed bass courtesy of Jeff Pinkus provides a suitably weird backwoods presence, especially as the rest of the band seem to have grown into a look which harks back to their meeting as accountancy students all those decades ago, one which is deceptively, oddly, normal-looking.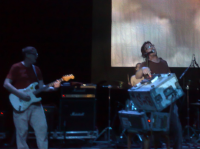 Secondly, the Buttholes have recruited Paul Green's School of Rock as their support act, collaborators and orchestra, and there seem to be an endless stream of teenagers flitting across the stage to fill in on guitar, bass, screaming choruses and anything else appropriate or otherwise (and being teenagers, it's also quite likely many of them will have seen far worse than the not actually that shocking projections of softcore and less so imagery being sprayed across the backdrop at suitable moments. Ok, maybe not the graphic circumcision videos; they're decidedly painful to watch). Thirdly, there's not much from the less satisfying albums which emerged fiftully after  the patchy Electriclarryland being played tonight – instead the selection is fantastic, and consists of what a good proportion of the audience seem to have hoped for; what perversly might be called their greatest hits.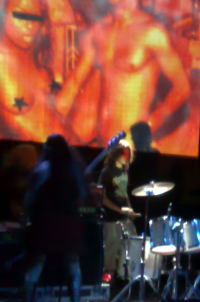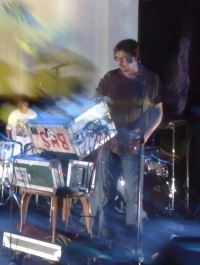 The set itself takes a while to get going, though opening up with "22 Going on 23" was also probably something of a self-deprecating statement. there's plenty of banter with the audience, Gibby trying to get a rise out of the crowd by mocking English accents, but somehow they don't seem like their stage presence is actually quite as crazy as it used to be – no nudity, no wacky costumes and sadly no sousaphones either. But by the time "Sweat Loaf" kicks in, everything goes apeshit and the sweat really hits the fans in the moshpit, with buckets of the stuff seeming to drench the heaving throng who appear determined to lose kilos in weight the rock and roll way; that and to fling themselves headfirst into excess consumption of whatever substances might make some members of the public lurch with alarming regularity towards the floor.
Having a group of girls shrieking their accompaniment to "Tornadoes" adds intensely to the effect of a the piece; joining in with singalongs of "I Saw An X-Ray Of A Girl Passing Gas" or the divinely demented "Moving To Florida" also has to be one of the odder gig experiences, if only for the sheer lysergic sillness of the lyrics – and the fact that a whole crowd would know them well enough to chant along. Perhaps that's the secret of the Butthole's appeal – the combination of outrageous right-brain weirdness with some seriously dedicated psychedelic music underpinning it all. Who else could dive headlong into a twisted skull-scraper of a song like "Cherub", at once sinister and touching, Gibby wheezing and snarling into his megaphone while maximising the electronic distension possibilities of his box of tricks; who else could also pull off the difficult trick of being both the people most parents really wouldn't want to be in charge of their children and still be entrusted with taking a bunch of kids onstage with them for a tour of this degree of musical craziness?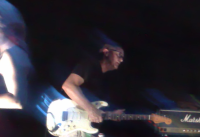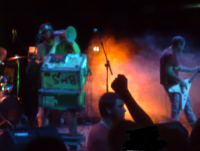 The answer is of course the band who close the show with Gibby congratulate two of the School of Rock's students on their shared sixteenth birthdays, complete with miniature cakes, then leading the crowd in singing "Happy Birthday" before hurling the confectionery to the sweltering masses as Paul Leary lurches viscerally into to a still gut-busting rendition of "The Shah Sleeps In Lee Harvey's Grave" – another vitriol-filled tune to get the audience shouting along with glee to the comprehensively mashed lyrics – complete with a horde of kids who scream through megaphones, wrap themselves in electrical tape, and rock out like they're having serious fun. The only question left  unanswered by the end of the gig is when will the Butthole Surfers be back, if only to play songs like "Pepper" or "Human Cannonball" next time around which didn't make it on to tonight's set list? Because if this show is anything to go by, then it could be well worth coming back for more, and fuelling their pension funds yet further – because they deserve it.
-Richard Fontenoy-