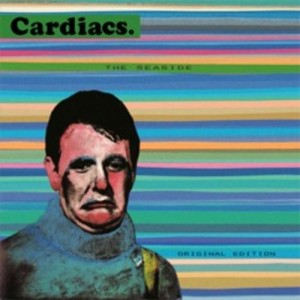 Musically, it's a frantic fairground erupting cosily in your head – an aesthetic matched by the queasiness of Cardiacs' badly made-up faces. I remember their video for "R.E.S." — the turtlenecks, nodding heads and punch'n'judy antics, beamed barmy from the offset. An eensy-weensy bit disturbing too; as your eyes filled with those fixed pearly grins and purple bruises — fffurrrrrrhhh — They were like madness (the band or the condition you ask?); yeah, it's a bit blurred, like a covers band gone gleefully awry, outshining the original, flying the beyond whilst clutching their freshly-inked clown school diplomas.
The suspenseful start of jibber and twitch has you on tender hooks for sure, with slight hints of teasing discordia leaking out. A semi-ambient precursor to the jaunty gymnastics that follow on pantomime hooves and alarm clocks, characteristics that flow all over the rest of this collection with an ill-metered brilliance all of its own.
The Seasid
e is a pleasure to hear again, all digitally enhanced this time around (though I did like the lo-fi ethics of the original), as if everyone involved were being musically chased round the studio by truncheon-wielding jesters, quickly jumbling songs together whilst narrowly missing being clobbered. That loony lance of vox rodeo(ing) the multiple tempos and the Wurlitzer(ing) contours. Those kindergarten structures that drive into intricate cul-de-sacs of noddling complexity before aunt sallying the fool once more with arms full of wobbly jelly.
All rather bizarre, I must say
.
A few escape to mellower climes like "Gina Lollabrigida", which is almost conventional compared to Cardiacs standards, and there's "Is This the Life?" that rides epically through your head, almost Cure-like in its lushness. A phoenix of imagination that had hit stamped all over it in 100-point Helvetica Black (fond memories of the windswept forest vid that accompanied it too).
It's a wheelbarrow of fun, with "Hello Mr Sparrow"'s
comedic weasels shuffling your expectations
in a wooden animata of jerking
Heath Robinson
do-dahs, going bizarrely medieval before sniggering dementedly in the cloisters. The knees up Mother Brown and ska billiards of "A Wooden Fish on Wheels" full of saxophonical funnels and weaving what nots. "Nurses Whispering Verses" (my ultimate album high point along with the aforementioned "R.E.S.") that milks the mental to new heights with its inspired guitar climes and slippery vocal eels.
The Seaside is a blazing bonfire to the mouldy old rockers that still fill our supermarket shelves with their best-of tat. This is hugely amusing, a spectrum tasting joy of many happy returns and cathartic sing-a-long-ability. Five shiny stars to you…
-Michael Rodham-Heaps-