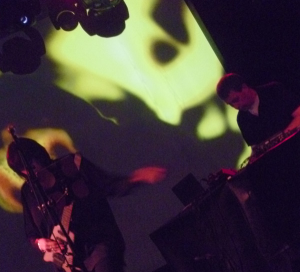 London
19 May 2013
Stuck in traffic, time was slipping away from us like a buttery thing, a total nightmare as impatient idiots decided to forge an extra lane in front, and I'm behind this person in a huge sports car that was probably twice the price of my house! He's busy checking the mirrors – for gazes of envy, no doubt – I feel like making silly faces in response, but Robby Shackleton's E-jack was on the stereo, those wayward charms drifting out through the open windows, doing an ace job of crushing any sort of misconception.
After kerb crawling for what seemed an eternity we reached Battersea power station and an open road, arriving at
Heaven
just in time to check out the final embers of
Mika Vainio
's set, his massive sonic juggernauts slamming into your body in thudding beats or carved you up in jack-knifing statics, flesh wavering on dissipating comet tails, EQ projections behind him like plumbs of lava. The overall sensation is
not dissimilar to being trapped in an aircraft hanger with some experimental jetfighter
, Mika sitting at the helm with an supersized throttle and an exaggerated
Thomas Dolby
gleam in this eye. By the time it's all over I really wished I could have experienced the whole shebang – superb stuff.

In the interval we positioned ourselves closer to the stage and soon enough
Carter Tutti
(playing the music of their alter-egos
Chris and Cosey)
's spinning emblems filled the screen as the duo graced the stage. The crowd went absolutely nuts, as the over-excited atmosphere was quickly torn into by icy percussive stabs and pounding beauty. Mr Carter providing a solid torrent of machine age glisten, that sometimes wispy '80s programming of the past given a full-on noughties walloOOOoop,
Cosey smiting the precision with plenty of glisstronic misuse
, her vocals playing your spine in vapourised spores of insinuation, those cornet smears of haunted gull giving you the heebee -jeebees.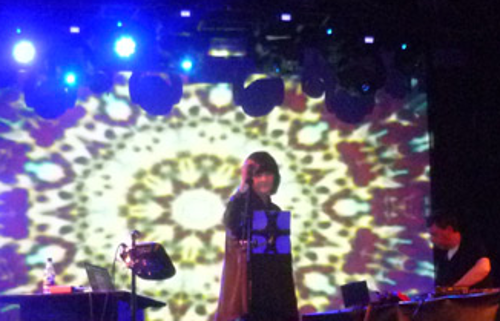 It was a blur of satisfaction: "Driving Blind," "Love Cuts," "Trust," "Beatbeatbeat," "Dancing On Your Grave" and plenty more unfamiliar gems; this was certainly a trailblazing romp through their greatest hits accompanied by an amazing menagerie of visuals. Shapeshifting bogey man in molten ambers and puss flowing yellows, hypotonic patterns and colourful slipstreams with the odd montages of erotic suggestiveness. The dead donkey-laden piano of Un Chien Andalou didn't go unnoticed either, to a catchy industrialised jackboot.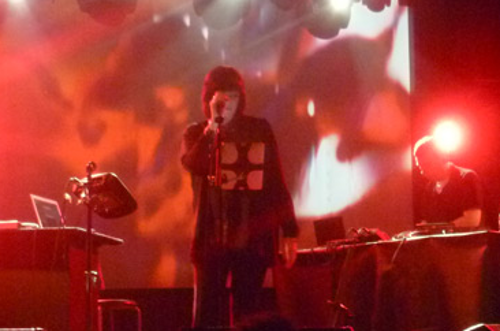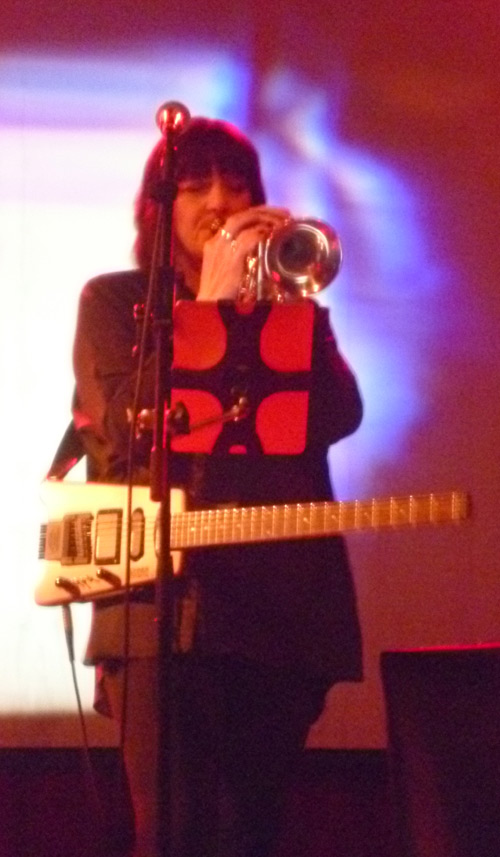 This was brilliant; Cosey's later vocal repeats of "taste the whip/break the stick…lay me on a bed of sin," the tune overrun in a wasp nest of angry guitar fodder, blunt whacks of drum-pad accompanying other tracks with delicious hints of S & M. I look round, seems most of the audience weren't even born when some of these tunes were first cracked open, but age makes little difference, we all bounce around on those electrical hooks regardless.
The energy oozing out of this duo was unreal, grabbed you by the chest and riffled your mind in vast splashes of bassy dynamite, with a slight respite of in the form of "October Love Song" before the airing of the brand new "Coolicon," its addictive qualities definitely showing us that this was more than just a historical trip down memory lane.
-Michael Rodham-Heaps-