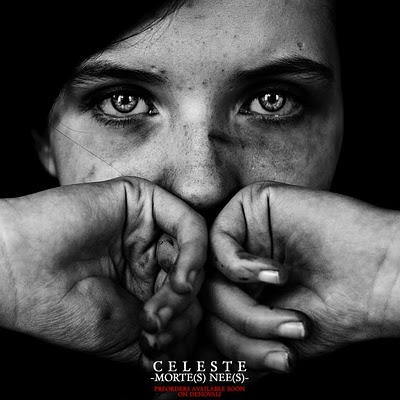 French black metal hardcore act Celeste has realesed an album that is a proper dirty heavy black screaming noisy rotten piece of work that really takes me to some of my darkest places. Not only being dark, they are occasionally so heavy it makes my head want to go down and the rest of my body move underground. Don't get me wrong; they are still a hardcore metal band with a wonderful dirty sound, but at times they have that tremendous heavy beat. Combined with massive symphonic references and attitude, they create an interesting album – which is rare to find these days. Then again, they can be quite rough and noisy in a wonderful chaotic way. Most tracks are heavy symphonic pieces from 4-5 minutes and up to 13 minutes. There is one exception though, the third track is onlytwo minutes. The way the pieces are equally heavy and how they melt together, I found myself all the way into track 4 before I realised this is more than one track.
Overexposed guitars might still drown you, and on occasions the drums seems very far away in the mix. But they never compromise though, staying safely on the hardcore scream road. I guess that the vocals could make some people uneasy, as always with these bands, but to me it brings a comforting mood, and they are staying true to what they want to represent. Although being diverse, ranging from slow heavy doom moods, to the screaming hard core metal of Converge, or at times complex as the now sadly buried Funeral Diner.
What also is remarkable about this release is the way they are pounding away almost without melody, just gushing out minor keys creating their dark moods. So if you are looking for a happy melody, you should stay away from Morte(s) Nee(s). To me the moods and emotions they create really works. As it is in French, I haven't got a clue what they are singing about, but with me it is always the sound first. I will certainly have a more rounds with this album, and eventually I might try and figure out the French language.
-Ronny Wærnes-