Charles Hayward and Thurston Moore – Improvisations
by Freq | 2018-02-04T16:57:14+00:000000001428201802 16:57
Care In The Community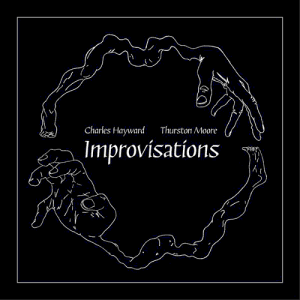 The conversation on Improvisations is first rate, smarting with witty crosswires and argumentative animals. Charles Hayward's percussive verve is more than a match for Thurston Moore's mauling muscle, both parties templeing temptation fluidly, seeding your mind in animated gusto.
The driven overloads of the second track, that schisming skim of the third growling with a Hainosan hunger. Hissy, sibilant, unpredictable, a peppered and pulsating canter to choppy curlicues and scrunched-up energy.
The first track on the flipside dynamically diving into the sweet jar, a lively car chase of swerving lines and smeared lights, those
treacled frets and ratcheting tactiles converging in a precarious union
. A lovely rawness of the next number, all
Arto
-like burn. Those acceleratory accents swimming in a steady crimpling of drum, getting all snake-eyed, dancing to sizzling metallics as that
Renaldo
roasting and pummelling percussion goes gloriously retractive. The third's tumbling shapes are a joy, Hayward patterning the glowing radiance in defibrillating diversions. The map constantly re-writing itself, groping towards a momentary agreement that's buttery with waspy intent. The last offering is more broken, abstractive, with
Hayward injecting a tribal patter across its inflammation
as weird little melodies bluegrass the between, caged by kicky accents and melting cymbals to its tidal end.
-Michael Rodham-Heaps-
Source URL: http://freq.org.uk/reviews/charles-hayward-and-thurston-moore-improvisations/
---