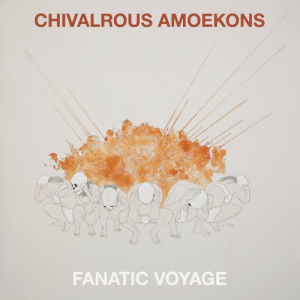 Back in 1978, The Mekons were riding high at the forefront of the emerging post-punk movement, only to seemingly miss their chance and disappear from view like so many others from the scene. Their resurrection with a new line-up in 1984 was as unexpected as the new direction they took. In the thirty odd years since, they have developed a music that sounds terrible in theory — a mix of Americana, world music, punk, trip-hop, reggae, morris dance — allied to surrealist imagery and left wing politics that bizarrely works against all odds.
Since largely relocating to America, these leftist Brits have been unlikely catalysts in the upsurge in homegrown alternative Americana, one notable fan being
Will Oldham
/
Bonnie "Prince" Billy
. When touring in 2012 with
The Cairo Gang
, Oldham and his group took to covering Mekons songs in their set and now they are finally seeing the light of day.
Fanatic Voyage
is supposedly a live album, but you wouldn't know it, all evidence of audience or between song talk having been mixed out. The ten songs here (eleven on the cassette version!) are a mixture of familiar Mekons classics and some more obscure songs — relatively uncelebrated 2002 album
Oooh! (Out of Our Heads)
seems to be a favourite of Oldham's, yielding two of the songs here.
Oldham's group at the time were well suited for the task
, switching lead singers as appropriate, with guest
Angel Olsen
taking on
Sally Timms
' parts and Oldham's own voice possessing a very similar fragility to that of Mekon
Tom Greenhalgh
.
The versions are largely pretty faithful to the originals, despite the absence of accordion and fiddle and the presence of piano. The group stray most on (almost) title track "Fantastic Voyage", where the tempo is slowed right down, the frenetic Bo Diddley beat replaced by a lazy country shuffle. The opposite trick is applied to the de-countrified opener "The Curse", which comes over like a cross between The Faces and The Band — tellingly, two groups who the Mekons have been known to cover.
-Alan Holmes-