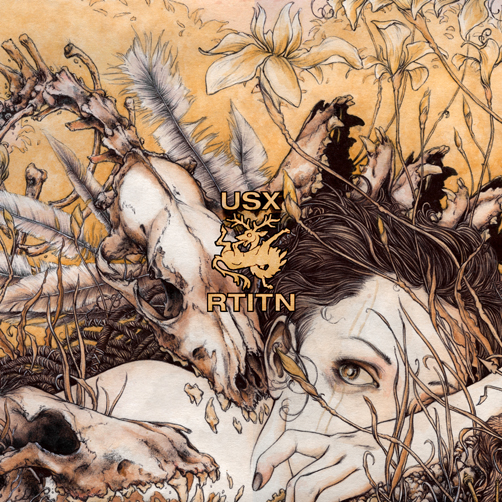 Run Thick in the Night is USX's (as they are sometimes called) fifth album and the first I have heard and I'm really quite impressed…
The album begins with the 13 minute opus "In the Night" witch starts off with a guitar and keyboard drone reminiscent in sound to that of The Doors' "The End" before the track catapults into the main section of big power chord space rock lead guitar and swirling analogue synths (you can tell I'm in heaven at this point). The vocals cry to the heavens and the songs pounds the music of the spheres into oblivion. Space rock synth and big Hawkwind-style chords introduce "Wolf on Anareta" and the song moves with some urgency toward its centre guitar solo while drifting through a tuneful middle eight. It's at this time when USX sound like modern version of Doremi Farsol latido. "Fire is Sleeping" is an acoustic number that conjures up images of the desert and mountain regions of America, it has an odd, almost campfire blues space of its own. Bubbling, gurgling synths herald the begining of" Fonta Flora" which hits a more progressive rock tone and adds a slow drum fill stomp to the battling wah-wah guitars.
"Ephraim in the Stars" is a melancholy blues, hitting the vein of a later Nick Cave song; it starts off feeling whiskey-soaked and down within the belly of the beast, its guitar sound echoing people like Kim Salmon. "The Leonids" is a plaintive acoustic piece that reminds you of a lonely warm summer evening. "Suzerain" is laid back sloppy desert blues that hangs on its chords and steady drum beat before moves into its grandiose chorus. By the time "Maran" has started you realise that the album has changed its feel from the opening couple of tracks and you have slowly been immersed into a blues album where tumbleweeds blow across wide open terrains and a single rider is seen within the distance. "The Queena" takes you a slightly more psychedelic realm and seems like the soundtrack to peyote taking shamans with its heavier bass and drums. This mood is taken up by "Deep Green," whose lilting guitar fugue takes you further into an acid-drenched vision of nature. "Devil's Flower in Mother Winter" is a short ballad that would not have sounded out of place on Tex Perkins' Sad But True album, while "Mirror Glass" is a late night blues that meanders off into nothingness. The final track is "The Moon in Flesh and Bone" and ends the album amid the clear starless skies and a howl from the darkness from the lead vocals. Here again the lead guitar reminds me of Kim Salmon's Beasts of Bourbon work as it lifts up into a psych blues power, all swathed in echo before the track rumbles to its final close.
USX are an odd amalgam of space rock and deep desert blues, but somehow it works. Overall the album plays heavier on its blues elements and at times reminded me of Neil Young's Dead Man soundtrack. It also has the feel of the mountains and the loneliness of nature and the wide open spaces and the feeling of both freedom and dread upon the soul within these environments. When they play in the UK next I will make sure I'm there sat at the bar with a shot of bourbon pondering…
-Gary Parsons-