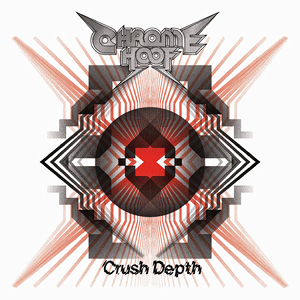 Rules of music journalism, part 479. Don't trust any band, artist or performer who claims to actually be from space. Roky Eriksson? Roky Eriksson was actually NOT from space. He just took long holidays there. Sun Ra? Sun Ra was also NOT from space. Like Captain Kirk, he wasn't FROM space; he just worked there. A cosmic commuter, if you will. (Interestingly, Hawkwind were once OFFERED a job in space, but they smoked a huge bowl and were late for the interview). Zodiac Mindwarp? Also NOT from space. He was from Yorkshire, which is not the same thing. At all.
This rule, like rule 34 of the internet (if it exists, there is porn of it) ALWAYS applies. There are no exceptions. Apart from Chrome Hoof. (Not sure if there's porn of them, but I was actually talking about the rule relating to bands not being from space). Chrome Hoof are, indeed, the exception that proves the rule. Because Chrome Hoof are actually from space. Oh yes they are. Don't believe any of that bullshit about them just being a bunch of people with shiny robes and the key to the funk cabinet. It's all lies. The same people will tell you that an air balloon crashed in Roswell in 1947, that whales are mammals when it's blindingly fucking obvious that they're fish, and that Greedo shot first. These people are liars, or ignorant. Or stupid. Either way, I don't want them at my spacemetalfunk party. Unless they're providing the wasabi Pringles, and even then, I don't want to talk to them any more than basic politeness demands. It's a cover-up of colossal proportions. If The X-Files was still on, Mulder and Scully would be all over it like necrotising fasciitis. Except, if The X-Files was still on, it'd no doubt be irredeemably shit by now, and they'd just spend the whole time shagging. And they're old now. Nobody wants to see that. No. Chrome Hoof are definitely, incontrovertibly, AWESOMELY from space.
All of which begs the question- what the fuck are they doing on Earth, then? Have they come to harvest our resources, enslave our governments and eat our gerbils? No. They've come to rock. And to get funky. And- this is the bit that proves beyond all doubt that they are actually from space, because our musical technology hasn't yet found a way to accomplish this miracle- they manage to rock AND get funky at the same time, without ever descending into the cosmic abyss that is funk rock. Tremble, humanity, for Chrome Hoof have come (from space, in case you haven't been paying attention) and nothing will ever be the same again.
The latest of their cryptic communications FROM SPACE is Crush Depth, which starts where the earlier transmission, Pre-emptive False Rapture, left off, and elaborates on its groove and funkability by going back in time to a time when the future looked very different, and stealing the future from that very past! Yes, I'm talking about the future we were promised by prog rock, but a lot less po-faced. A prog future that knows how to get down and have fun. A prog future from an alternate universe where it was George, not Bill, Clinton who served two terms as President. An alternate universe where we colonised space and turned it into an enormous disco. An alternate universe where everyone remembers the Battle of Canary Wharf (just thought I'd slip that one in there…)
As a result, it feels a little wider, a bit more open. There's more… well, space, I suppose, for the different parts to each do their thang. But you needn't go worrying that they've lost any of that edge. A bit more complex, a bit more varied, but still carving the skies open with a fiery lance of funky doom. As it was foretold; as it shall be.
-Deuteronemu 90210, God-Emperor of Skrangor-