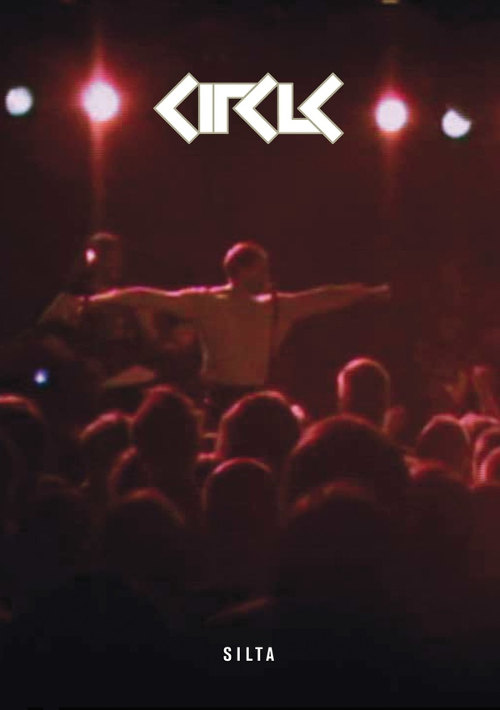 Shot over two nights in February 2011, at the Dynamo in Turku and the next day at YK-Klubi in Helsinki, Silta is one of the few Circle DVDs1 released so far which give the viewer a close approximation of the live experience of this most uncategorisably outré of bands.
The Dynamo footage which forms the first part is filtered in sepia tones and framed within an oval vignette effect which keeps the focus on the band tight and fixed, and captures Circle at their most triumphant, bombastic, even, guitars brandished towards the sky while
Jussi Lehtisalo
and
Julius
and
Pekka Jääskeläinen
toss their shaggy manes with the determined rhythmic intensity of the true metallers that they are. At other times, the
instruments sway and swing as their owners duck and dive in a curious slow-motion ballet
, the guitarists lost in the music, but not enough to forget to put on a show, studded wrist-bands and collars included.
At Dynamo, sometimes the camera will linger on an audience member's ear when their head drifts across a close-up, but such are the limitations of a single-camera viewpoint. There are occasional psychedelic repeats in slow, blurry motion at strategic moments, deployed sparingly rather than slathering the whole concert footage in so many effects to the probable detriment of the final result. By contrast, the YK-Klubi section  — which has the same setlist — is presented more conventionally, and perhaps thus distracting less from the main business of the DVD: getting a sense, as well as presenting a record of, what Circle are like onstage — and demonstrating what their reputation is all about, giving at least some kind of hint at just how superb a live band they are.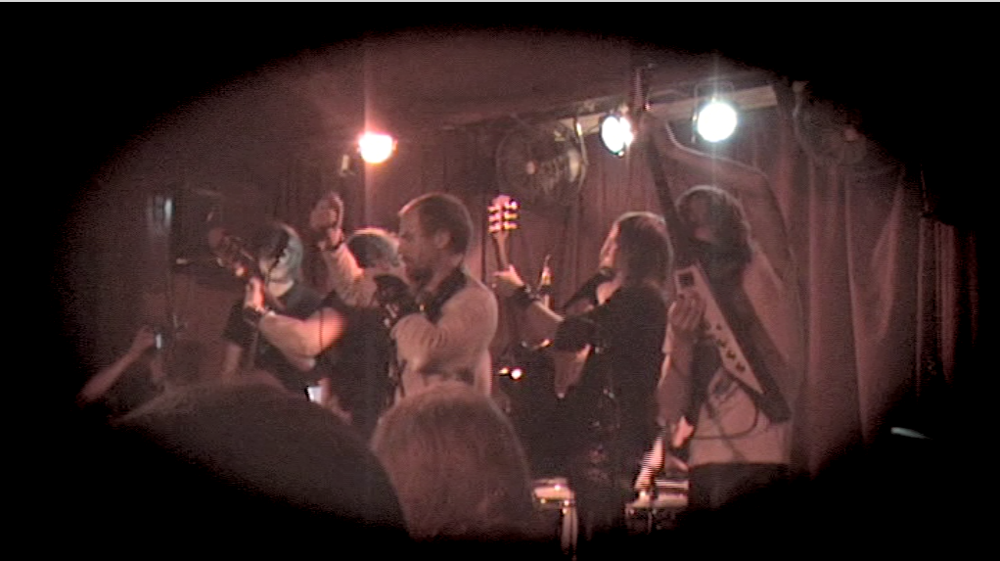 As with their music, so for their stage presence; this is a group who take inspiration from everywhere, but whose melding is ultimately transcendent, with no hyperbole intended. Circle give the impression of individuals who take their persona(l) preferences — whether that be rock god in a leather cap (though
Mika Rätto
isn't wearing this particular headgear these days, it  seems), metal
axe-wielder, guitar-weirdo or thunder-god bass-bringer
— and combine them into a whole whose pieces are more effective together than they might be apart (though having said that, their plethora of side and solo projects demonstrate that this is a group whose parts are often the equal of their fearsomely developed whole).
On both nights, they blast straight in after a slightly intimidating introductory passage from Jussi, making an opening statement of intent with "Kassukello", its glories of extended repetition, grind and Mika's operatic wails complementing the sustained chords which seem to live forever and a day. Never ones to be restrained unduly by the limitations of genre, Circle riff up and down the scales, stop/starting from rockouts into kosmik prog territory and back again via excursions into free music workouts and avant-rambling, complete with scrapes and skronk; and that's just within the space of "Rautatie" ("Railway" in English) too.
The bombastic thrash of "Saturnus Reality" allows the band to let off some super-heated NWOFHM
2
steam in a grind and wail of Jussi's guttural lead vocal, while Mika's keyboard keeps things ever up in the stratospherically imperious FM range and
Janne Westerlund
thrashes away at his Flying V; likewise, he switches to some febrile electric piano during both evenings' renditions of the rip-roaring  "Tähet", where the
motorik
— and much, much more — manoeuvres are given free rein to gallop down the riff and drumbeat road with gleeful abandon, propelled by the steady dynamics of
Tomi Leppänen
's drums as Mika lets his vocal demons ride wild. Circle put on performances an altogether different kind; these are not the usual sort of rock and roll shows; each demonstrates just how far beyond the normal this band are on stage, a veritable force of nature who manage to transcend their mere physical presence without resorting to over-use of costuming or the need for special effects. It's here that the obligatory
Magma
comparisons creep in, but there have been few bands who have taken on many off the hallmarks of that most immense of jazz-rock ensembles in their freely evolved combination of style, genres and extraordinary vocal presence as Circle. Does Finnish sound like Zeuhl? Perhaps to an Anglophone ear, but that's only really a starting point; compare any live footage of Magma with Circle as they appear here, or on stage in the flesh, and the same
expressive energy and solid determination
is evident in both groups. Circle may be more playful, willing to allow ludic tropes into their stage set which Magma would probably dismiss as fripperies, but in their assured hands, what might otherwise seem ridiculous — pompous, even — here makes total and utter sense.
So when Mika gets up and starts laying hands on each member of the band or gesturing with clenched fists towards the crowd during the frazzled stomp of "Pelkkä Meno", his charismatic presence, his complete air of possessed yet commanding conviction marks him out as a powerful figure in the rock'n'roll lexicon — a Rob Halford fan he might be, but a pale imitation he most definitely is not. His moment of crowning glory comes at the conclusion of the YK-Klubi set as he motors around the stage before perching himself above the crowd, resplendent in what appear to be some very tight spangly trousers, channelling the spirit Freddie Mercury, the audience seemingly held completely under his mesmerising spell as he makes obscure passes in the air and offers the microphone like a totem to the crowd before him.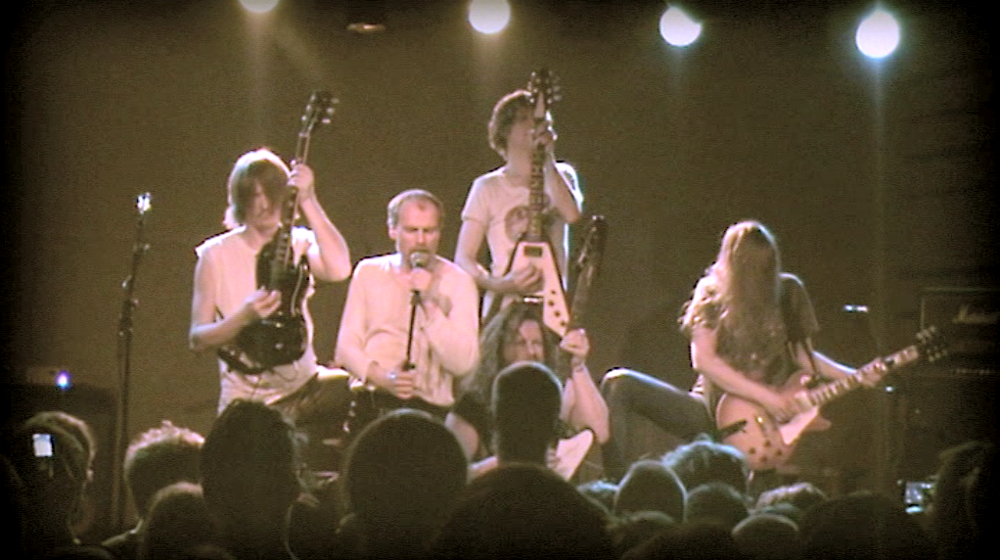 The moment each night when the band stop still and silent, frozen in mid-pose while Mika surveys the audience is electrifying to say the least, flanked in Helsinki by an honour guard of his guitarists like the messianic embodiment of the Platonic ideal of a front man as they take the music down slow, droney and stochastic. When the Dynamo footage moves on in an underwater-like swirl of constrained motion, or YK-Klubi dissolves in a blinding fade to whiteout,
it's hard to determine at first if this really happened
or is a post-production effect — it's undoubtedly the latter — until they kick back in (on both nights) with a hard-rocking "Vaellus" to break the spell.
As with many live DVDs which manage to capture the essence of a particular gig (in this case two), it would doubtless have been even better to have been in the audience, to feel the palpable energy which the band bring to their stage show among an appreciative throng. Just as with watching Circle perform in a crowd in a dark and sweltering club, Silta offers up a truly breathtaking experience, not once, but twice for good measure, even when held within a 16:9 screen format and reproduced on speakers, excellently recorded though both shows are. It's not nearly as overwhelming as being able to catch Circle live and direct, but it's a more than reasonable substitute for the real thing.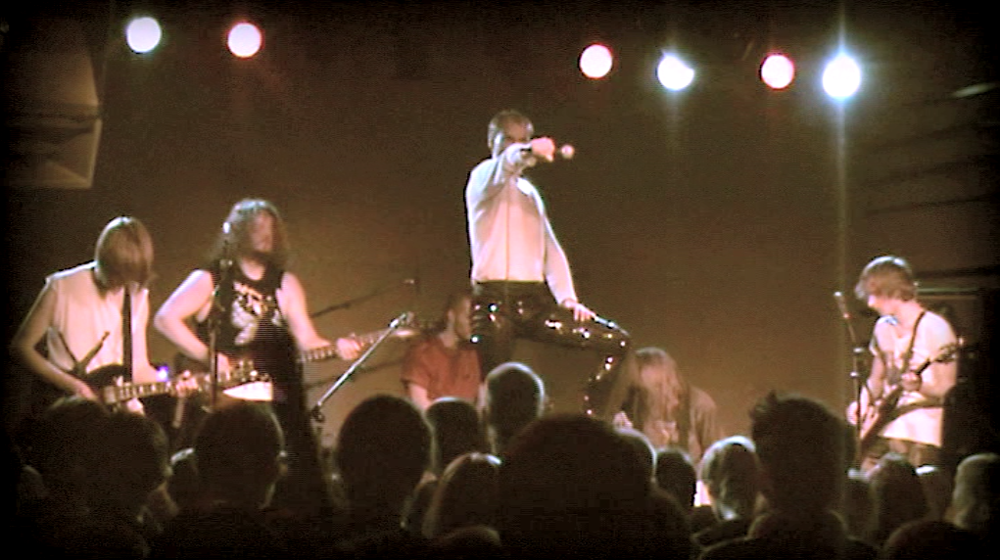 Would it have been better shot in HD with several cameras, then edited into a slick, standard and perhaps less involving concert film? Perhaps, perhaps not. Instead, Circle and director/editor
Max Laine
's work within what has now become (in the age of on-demand video with near-cinematic quality) a lo-fi visual aesthetic that somehow becomes part of the same continuum which made the incredibly odd non-linear Circle documentary
Saturnus Reality
3
such a bizarre stream-of-consciousness experience. While not nearly as peculiar in its construction as the latter, an odd moment comes between the two sets on
Silta
, separated by a segment where the band drive around dreamlike snowbound streets, presumably between gigs, incidental music — or is it the car stereo? — blurring and
voices processed into unrecognisable levels of strangeness
.
Of the two sets, the Helsinki one is probably easiest to watch and seems the more conventional on terms of its setup, with smoke, strobes, coloured lights and suchlike setting the scene effectively in what would appear to be a bigger venue before a larger audience. But both are astonishing in their own particular ways, and the fact that it's the same songs in the same order is almost a mere detail, so impressive are the performances each night. There is of course no particular need to watch both sets back-to-back, but together they make for nearly three hours of live Circle, and who can argue with that as an excellent way to spend those evenings when the band aren't playing in a conveniently nearby venue?
-Linus Tossio-
1 There's some particularly good live footage on Klangbad's excellent Avant-Garde in the Meadows.
2 New Wave of Finnish Heavy Metal, of course.
3 2009, released on DVD via Ektro and No Quarter.