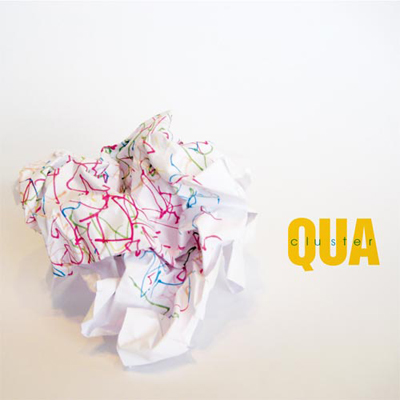 Longevity in the fickle world of pop music has traditionally been an undervalued trait and Cluster, now well into their fourth decade as a musical unit, have long been an elusive presence as they've sailed through the decades since their inception in 1969 (with fellow electronic pioneer and Zodiak Arts Lab alumni Conrad Schnitzler as Kluster with a 'K'). Cluster have seen through the 'heroic years' of krautrock in the 1970s, the popularisation and subsequent instrumentalisation of ambient music into new age in the 1980s and the re-emergence of krautrock as an explicit reference to successive generations of electronica and pop artists from the 1990s 'til now.
There's a ceaseless expectation upon the shoulders of electronic artists of Cluster's generation to be somehow ahead of the curve, somehow anticipating incipient trends in electronic underground ten years before the event – and a cursory listen to Cluster II or Curiosum does reveal eerie pre-echoes of the deep-space exotica of Skaters or the stiff, glacial rhythms of early grime. But, Cluster's beautiful and deeply peculiar fusion of bucolic melancholy, cosmic transcendence and joyously confounding goofiness exists in its own time zone, while all the while being unmistakably of its time (Zuckerzeit or Soweisoso encapsulating the ecstatic spirit of krautrock at its heroic peak.)
Likewise, this new album Qua, released following a fifteen year hiatus since the duo's last, despite being every bit a Cluster record, retains a sonic kinship to the kind of woozy ambient electronica that has emerged from labels such as Benge's Expanding Records imprint, also echoing Mouse On Mars' early synthetic exotica and the fragile, oblique soundworlds of Nuno Canavarro – all these artists doubtless owe some debt of influence to Cluster, so it seems quite a reasonable thing at this stage in their career to reciprocate that influence in turn. Much more, however, than their last album of 1994 (One Hour), this feels very much less the product of its contemporary sonic environment and much more intrinsically a Cluster album. A set of electronic miniatures in the vein of their understated 1975 masterpiece Zuckerzeit, the playful instrumentals that comprise Qua are by turns pastoral, mechanical, uncanny, blissed out and audaciously wrong, often within the same moment.
Cluster's late 70s and early 80s releases on the Sky Records label, once unfairly characterised as the 'elephant's graveyard of Krautrock,' are probably the other nearest point of reference for this set (and the Bureau B label deserves special credit for bringing these undervalued gems back to public consciousness). The murky grooves of "Xanesra" and "Putoil" recalling the Residents-like brittle electronic churn and lollop of Curiosum; "Albtrec Com" and "Na Ernel" meanwhile echo the pop-art (proto)-New Age of Grosses Wasser, marrying familiar rhythmic tropes (albeit rendered off-kilter in such a way that lesser musicians would consider simply wrong) with melodies of disarming, almost nursery rhyme simplicity.
Hans Joachim Roedelius' evident propensity towards the pastoral and ecstatic, and his total lack of inhibition towards sweetness of melody comes to the fore on tracks such as the gently ebbing synthesizer miniature "Ymstrob" or "Gissander," in which a rippling electrical pulse meanders towards harmonic resolution while Waybulloo garden chimes clang mechanically against a mournful electronic tide. As with their best work, the productive tension between Roedelius' bucolic inclinations and Dieter Moebius' more wayward experimentalism here produces an album which seduces, confounds and confuses, unfolding new spaces and pleasures with each successive listen. As ever, Cluster sound utterly out of time, yet it's clear that forty-plus years on Qua couldn't have been realised at any other moment but here and now.
-Jim Backhouse-