Head Over Heels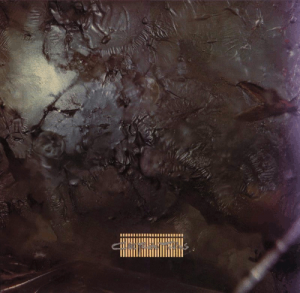 Absolutely loving the saturated colours of this re-pressed artwork, definitely more reactive than the icy grey of my '83 original. The spray-painted water waltzing the eye in hiccupping fissure and blurring nitrate. A suggestion of fossilised form and rupturing collapse, those frosty silvers of the original caught in a refresh of shadowy sunburn and bloody rusts — a festival of festering beauty that gloves the music — a thaw of gothic splendour, slowly shedding its Garlands' skin, stepping out of their debut's angst into something more ethereal.
That boomic splash of the opener "When Mama Was Moth" still floors me, continues to shoot chills through some thirty years later. After the departure of bassist
Will Heggie
, the band was reduced to a duo, but you'd hardly notice: the sound is so full, satisfyingly saturated. A glowing gloom, clockworking the lustred drama of
Liz Fraser
's delivery,
Robin Guthrie
meal-worming your head in majestic sweeps of guitar, diamonding arpeggio, that heavily processed percussion (that defines so many of the tracks here) cleaving the carriage and cantering the action around Fraser's acrobatics. Words that were beginning to slip their straitjackets, kaleidoscope
that mercurial sheen and sun-bleached sheer of the artwork
.
Every song bleeds brilliantly (a favourite soundtrack to quash those housework blues); the pop blister of "Sugar Hiccup", the adrenalinised kick of "In Our Angelhood" taking Garlands' darkness and repurposing it in a glitterati of exploding colour. The dirgey chug of the past, bullet-holed in danceable trajectories. An adventurous splurge of light, flooding in with "Glass Candle Grenades", briefly glancing back in the mirror darkly for the superb "In The Gold Dust Rush" to canvas a cocoon of drummage and sparky acoustics, its tribal contractions and flange-panned ghosties nipping at a new vitality.
"Honey is harbour", sings Fraser to music that sends your eyes and heart murmuring in multitudes. Guthrie's glitzy folds eking at the sensual, his spiralised textures sticky with driven momentums as Elizabeth plucks spells from the percussive patter of "Tinderbox",
an artsy abattoir of panoramic pyramid atmospherically tinkering
with your ventricles. An essence that cumulates on the fiery bombast of "Musette And Drums" that has Fraser soaring over an
MBV
-like scorch that (even now) takes some beating.
Treasure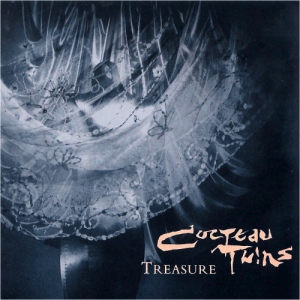 Some time after Head Over Heels, the final piece of the jigsaw popped into place for the Cocteaus in the shape of bassist Simon Raymonde, a musical friendship forged with Robin after his involvement in the making of the first This Mortal Coil album. (Fraser's Tim Buckley cover "Song To The Siren" still haunts me to this day). A sound-world that was shifting further out from its inception, starting to enjoy chart success with The Spangle Maker and its single "Pearly Dewdrop Drops". An inviting warmth and sparkle that bewitched me and an awful lot of others into gooey-eyed disciples almost overnight.
When
Treasure
 (their third long player) hit in late '84, I was straight to my local Woolworths to snag a copy (records were everywhere back then, even the local pharmacy). Vividly remember slapping it on the stereo and just
melting away into its lushness, the child-like skip of Liz's lullabies
, eyes lost in the cover's lacy spires. A spell that hasn't dissipated a jot in the intervening years. Few records stay with you, but this one was destined to stick around for the long haul, almost from first hearing. Curling kitten-like in your ear, Liz's lyrical weave affluently floats in on a contusion of Persian purples to a dense acoustic strum, an opulence that jangles like a wealthy man's pocket, tinder-boxed in drum machine, curves of guitar orang-utaning those gorgeous vocals. "Peach blow, Pandora, pompadour" swimming rainbows through your head, the odd tinkering chime roasted in shoegazery oomph. That
psychoactive wallpaper of echoic swirls and smarting percussion
that is "Lorelei" and its girly peek-a-boo lullaby speaking to her overdubbed self, a mirror-shot of mesmeric repeats. That spidery processional of "Beatrix" an hypnotic succubus of Orientals, powder-bombed in cries of "why?".
The instrumentation carpets an almost composed verve that more than matches Liz's leaps of faith. I can't begin to imagine the amount of studio time this baby required, and it may have contributed to both Raymonde and Guthrie's (initial) grumpiness on the matter (until the sales went stratospheric, I bet). The push-rated contrast of "Persephone" that never fails to drive a Andrey Tarkovsky-like rash of goose bumps across my skin, its verve pinned back and bleeding in a toppling titanium of wow. That plainsong layering all angelic, passionately spilling over, mantra(ing) a tilt of multiple personalities.
No inkling as to what she's going on about to be honest, happy (as I've always been) to let it just drift around in there,
a tease of impressionistic joy and fleeting spasm
. A subjective chameleon that Simon and Robin bind up in shimmering brilliance. The summery hues of "Aloysius" and the ballerina-like dusk of "Cicely" and its subtle stabs of jazz are great. Those tidal whispers of "Otterley" gleamed on a hazy Hawaiian shore inform the majestic jet streams of "Donimo". A song whose slow, pensive build-up blossoms into a breathtaking chorus that leaves you in speechless silence.
Treasure remains a stunning piece of artistry that transcends, witches a dreamlike lucidity that was only bettered by the metaphoric vortex of Victorialand — another record that's well overdue a revival.
-Michael Rodham-Heaps-