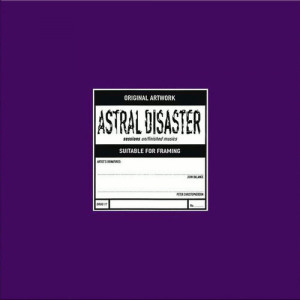 So let's just get this out of the way first. This is going to be a horribly biased review. Coil almost single-handedly squeegied my third ear open. They lit up the left side of my musickal brain like a flare going off in a broom cupboard. I am hopelessly partisan, unutterably in love, deeply impressed by and unashamedly in awe. I just thought I'd get that out there nice and early.
The original Astral Disaster sits on the cusp of what I call the Third Age of Coil. The First Age of Coil is post-Throbbing Gristle old-school Industrial with a capital I, angry and unapologetic. The Second Age of Coil is techno-infused Elphian beats, the sound of a double-drop hitting Sleazy's circadian system. The Third Age of Coil is older, wiser, yet even more beautiful still. Echoes of Ages One and Two still reverberate through their sound, but the A in art is writ even larger than ever. Jhon's poetry is at the forefront, less is more, the space between things emphasised. I adore Astral Disaster as it feels so very complete, containing signposts to Coil's past, yet showing us that the unparalleled Musick To Play In The Dark duology is just over there, just around that corner.
Unsurprisingly,
Astral Disaster
was originally released as a 99-run limited edition 12" with obligatory handmade artwork. Even less surprisingly, there followed a
Threshold House
CD re-release with more tracks to make sure everyone else got to floss their brains with Coil's white light. What is surprising is that changes were made to the tracks when it was released on CD.
Prescription
's welcome haul of unused pieces from the
Astral Disaster
sessions kicks off with a version of "The Sea Priestess" hitherto only found on the original vinyl release. All but gone are the minimal sine waves that propped up the clean vocals found in the CD version, replaced with a transcendental sitar. Jhon's vocals are heavily effected, which makes the meaning harder to discern, but
the fragmentation of his echoed words mixes beautifully with the staccato white noise that jostles with the chimes
and sitar for prominence. Gnostic phrases now rise bubble-like from the narrative to greet you. This version is a call to prayer, cross-legged with censer swinging. It prepares one for what is to come.
The original version of "The Mothership And The Fatherland" is so beautiful it makes me want to weep, and sometimes I do. The twenty-plus minutes of Clannadesque minor synth chords and choral voices act like a hymn to aural diazepam. The version we find here is far shorter, a reprise if you will, yet it is subtly different. The steady drums that beat the rhythm are deeper and somehow more tribal. It's leaner than its big brother, and there's also a mournful quality that the original doesn't possess.
"The Avatars" served as an intro on the CD version of
Astral Disaster
, its small animal heartbeat fading into the first strains of "Mothership". Here we find it mid-record. It remains a brief piece, being
a delicate high-tempo exercise in both speed and restraint
. However, much as it can be mapped onto the version we know almost beat for beat, the palette is different. The warble that marks the first half is reversed and now pans maddeningly from left to right and back again, and when the amphetamine Bontempi drum beats hit they are different in tone, slightly faster, slightly more manic. On this record"The Avatars" feels very different, not so much because it is, but because of its track position seeing out Side One.
"I Don't Want To Be The One (Instrumental)" isn't an instrumental at all, but rather a welcome reprise. Front and centre is the gently flanging electric guitar from the original, a precise and measured motorik plucking behind which now sits various clicks and whirrs reminiscent of tracks like "It's In My Blood". The melancholic strings make a late but welcome appearance, accenting the latter half of the song. Your backbrain sings Jhon's refrain over newfound sounds, a whisper against the restraint not found in the original.
"Cosmic Disaster" was the working title for
Astral Disaster
, an irony considering the song in question never made the final cut. But here it is now, twenty years later. This is the motherlode for the Coil aficionado — fourteen minutes of hitherto unheard musick. Here we enter into a psychedelic soundscape of rolling loop-hills and verdant valleys of sublime minimal sussurance. Fractured shards of Jhon enter into the equation at the mid-point,
vowels without words falling in on themselves, nonsense consonants replete with meaning
. It is the perfect end to our return to the astral. The censer stops swinging. The flame is snubbed out.
Many view Astral Disaster as the zenith of the Coil line-up comprising Jhon Balance, Peter Christopherson, Thighpaulsandra, Drew McDowall and Gary Ramon. If this is true, then Sessions Un/finished Musics is not to be considered an interesting footnote to a grand opus, but rather the missing chapter of your favourite novel. It is undoubtedly a must for anyone who loves them, and yet it stands alone perfectly as well and could easily be your first love, should you live in the darkness that is a world without Coil. But, like I said, I'm horribly biased; so you'll just have to find out for yourself.
-Trevor Alan Jolly-