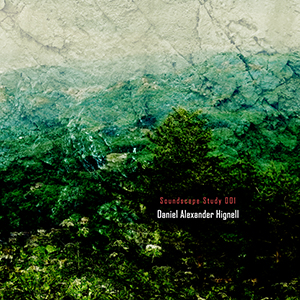 The title Soundscape Study is immediately misleading – while ostensibly sourced from the sonic ambience of dreary and audibly sodden holidays (in Scotland's Isle of Barra and France's Fitou respectively), this disc lacks the arid mic-fetishising of a great many soundscape pieces. Daniel Hignell has come to this work with a peculiar ear for the ambient sounds of thunderstorms and tidal crashes, holistically stitching and interlacing the sounds into a musically continuous suite.
While the
001
of the title suggests this is Hignell's first foray into soundscapery, he is remarkably assiduous with his source material:
he never adulterates the sounds with unnecessary effects but allows timbral and tonal affects to seep from the pores of his recording devices
– subtly deploying in-the-red mics for their rhythmic rattle or miking the patter of rain on tarpaulin so it sounds more like embers crackling in a drum circle.
This aural deception of Hignell's source is part of this record's strength – listening closely, there are moments where my ear was discretely coaxed from distorted choir services into distant thunderstorms, the mutation of the source sounds untraceable. It's a sonorous effect that's rare in soundscapes, which tend to prefer 'transparently' offering snapshots of sound – Soundscape Study 001 reminded me more of the affectionate ears of musique concréte artists such as Bernard Parmegiani or Francisco Lopez.
In spite of his sometime deceptive interlacing of his source material, Hignell has quite clearly demarcated the 'France' (tracks 1-5) and 'Scotland' (tracks 6-10) elements. The trite clichés about the English's obsession with weather are probably accurate here – it would seem that there really is a difference between deluges in different countries. Different ways of recording rain perhaps mean different ways of getting soaking wet. Scotland is a great deal more bare, as represented here, the rain somehow more languorous and menacing than the French equivalent.
That Hignell has managed to impute sonic characteristics to something so banal as rain is really quite impressive
.
This notion of 'transparency' is what I feel often hold me back from fully engaging with soundscapes – like the turgid holiday snaps of the rank-and-file tourist, I'm rarely interested to hear just what the recordist hears (unless that recordist happens to be Chris Watson). Thankfully, that criticism is unfounded with Hignell, who gratifies his listener with a patchwork of engaging pieces. He's unabashed of more conventional musical techniques, so allows the beeping of a reversing vehicle and the braying of lambs to rhythmically frame the train-from-a-distance drones of track 6. More strikingly, he records a pounding disco from some distance to leave the surrounding choir and broken fire alarm sound seeming less like soundscapes and more like some lost Throbbing Gristle piece.
It is difficult to assert whether Hignell was exceptionally fortuitous or astonishingly intimate with the recordings (I suspect a combination of the two), but it is a CD which reveals a quite intelligent tonal regard. There are organ tones (buried beneath more stormclouds – this really sounds like an incredibly wet holiday) on track 2 which, on my fifth or sixth listen, appear to presage a busker's rendition of Edith Piaf's "Hymne l'amour" a few moments later. In the maelstrom, the tones struggle to be listened to directly, and that, perhaps, was Hignell's intention for the CD as a whole – a rewarding and engaging work which subtly and gracefully nags for repeated listens.
-Kev Nickells-