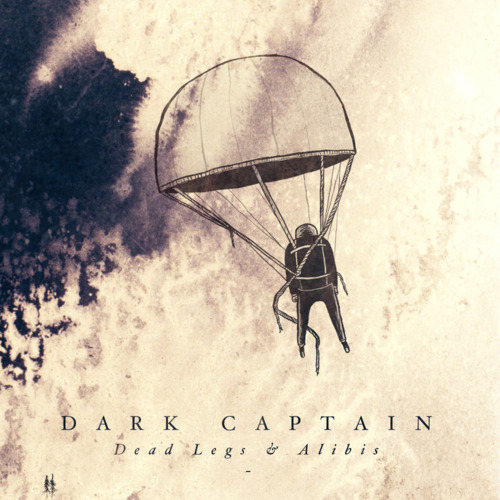 Typical. A great summer album appears just after a dismal, wet August Bank Holiday weekend. Actually that's not really fair. Whilst this year hasn't exactly challenged 1976 for the 'Golden Summer' crown, nevertheless on Sunday afternoon we climbed into the car, slapped this onto the stereo and drove down the sun-dappled lanes of the Chiltern escarpment on the Oxfordshire Plain. Down the twisting, billiard table smooth tarmac of Aston Rowant Hill, with the sun turning the canopy of beech trees glowing green,
Dead Legs & Alibis
provided the perfect soundtrack. For a moment there it could have been a scene from
The Thomas Crown Affair
, except that no-one was going to be mistaking my slightly battered 1997 Nissan Primera for a sleek '68 Ferrari Dino 246. Nor me for
Steve McQueen
for that matter. Damn.
Trying to escape from the exasperating clutches of the alt.folk tag that the band have been straddled with since their 2008 debut album Miracle Kicker, Dark Captain – battle-hardened from extensive touring with the likes of Tunng and the estimable Lætitia Sadier – retreated into the studio and set about broadening and redefining their sound. Chucking delicate acoustic guitars, subtle shades of brass, vocal harmonies and even the odd burst of motorik rhythm through the mixing desk, the results form a pleasingly coherent and satisfying whole.
The album kicks off with the muted emotional Psyche of "Three Years To Go," an elegant, amniotic, drift that recalls
Air
and
Marsmobil
, before the single "Submarines" grabs the attention with its three and half minutes of perfect pop, subverted subliminally by the melancholy and darkness that simmer away almost unnoticed in the background of Dark Captain's music – "You take it so far down you're off the chart" sings
Dan Carney
, and rarely to anthems to doomed love sound this luscious. "Long Distance Driver," though sadly unlikely to ever be the soundtrack to a Yorkie Bar commercial, drifts past like a glittering river with the drums offering a hint of the thunder that Carney suggests lies in the heart. "Right Way Round" sounds like B
ert Jansch
and
John Squire
have gone home pissed from a Manchester bar and decided to record together. John teased Bert for being an old codger. Bert told John his haircut was ludicrous and his painting was overly derivative of
Jack the Dripper
. They laughed, they decided they were both alright.
Is it folk? Is it The Stone Roses? Who cares, it's great!
"Fade" featured some beautiful harmonies and chiming melody, "Different and Easier" – whose lyrics provide the album with its title – is a beguiling and chilly tale propelled forward by drums and piano, "8000 Reasons" is flecked with near-mariachi influences, like it could almost be
Calexico
if
Joey Burns
turned up and fancied doing a stint at the mic. "Strange Journey Home," one of the most upbeat tracks on the album, and featuring some fine yet never overcooked bass, nevertheless again leaves you feeling both soothed by the music yet
discomfited by a creeping feeling akin to having sat through someone else's domestic, like being perched on a sofa between an arguing couple, trying hard to look out of the window whilst accumulated recriminations are hurled past you.
"Ex Detective" clicks along pleasantly, though in truth is probably the weakest track of the album, until the beautiful "Flickering Light" closes the album with its close emotional intimacy, all past regrets and contradictions laid unforgivingly bare.
There's a melodic strength and genuine depth to Dead Legs & Alibis which only fully reveal themselves over time, yet swathed in an immediacy which allows for the kind of easy summer listening that has me cursing the noticeable shortening of the days and the faint autumnal edge to the air.
They are not captains of their souls, merely their most mellifluous passengers.
-David Solomons-