The Black Heart, The Underworld, The Electric Ballroom
London
26-27 April 2014
Desertfest is an event that takes place over three venues in three days. It is a sprawling monster that is there to bludgeon the ears of its attendees as much as possible with every conceivable manner of riff to be explored. This was my first experience of the festival, and I have to say it was a wonderfully well-organised event. The strangest thing about it is because it happens over a weekend the festival goers have to compete with the tourists and casual shoppers of Camden Town which adds to an odd combination. But once the stalls have closed down for the day the points between the venues become the tribal ground of desertfesters.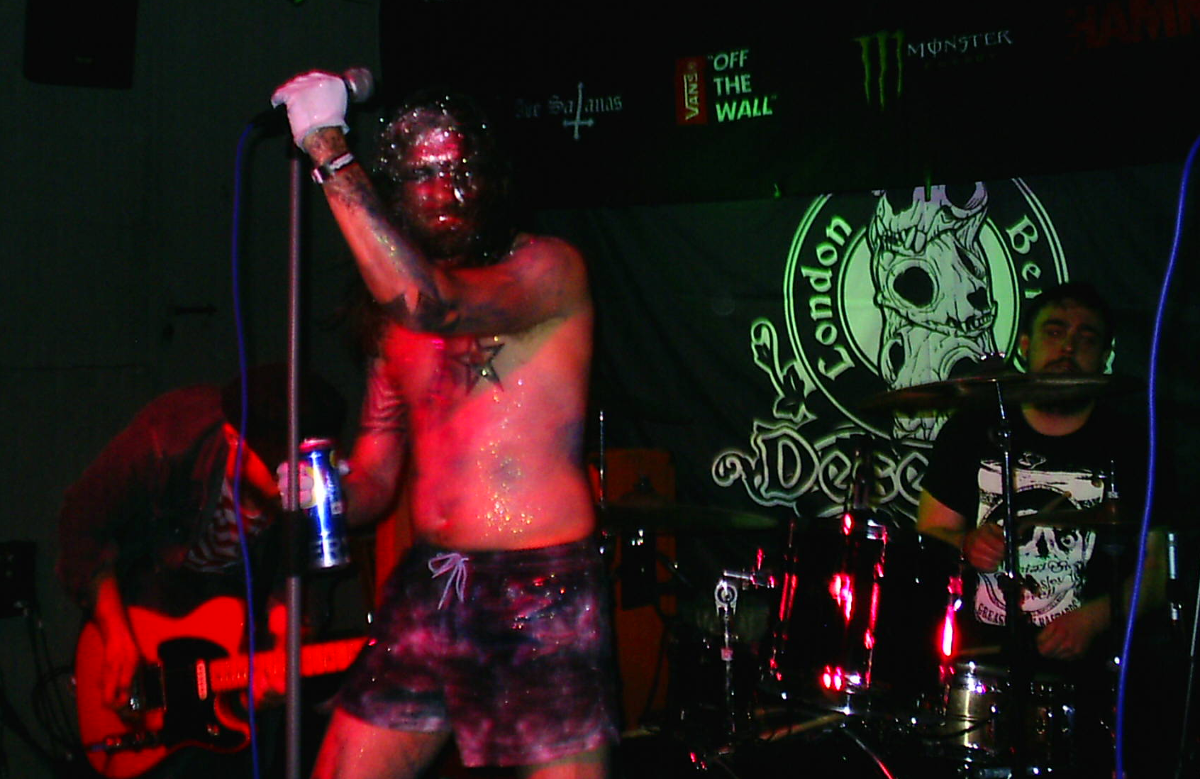 Saturday
The Black Heart
(the smallest of the three venues) seems to be constantly packed to the rafters (I can understand as they do have some nice ciders on there). The first band I catch are
Witches Drum
. The arrival on stage of
the singer painted in silver and covered in glitter
(which reminded me a bit of the old photos of
Nik Turner
I've seen) brings a smile to peoples faces immediately. Then the songs begin, big heavy and psychedelic and damn it catchy as well, I could hear
Hawkwind
mixed with the
13th Floor Elevators
in there. The four piece was a powerhouse with the front man entering the audience on a couple of occasions and the band giving it their all. At one point the singer announces that this may be their final gig as their absent second guitar player had left the band. Lots of the audience start shouting that they shouldn't split up, and to be honest the tracks sounded fantastic with just the one guitarist (keep going lads!). They certainly get my award for the most entertaining band of the weekend and one that gave the audience quite a show.
Wizard Fight was next at The Black Heart. Screaming feedback and big sludgey weedian riffs were the order of the day. They made me think that if early Electric Wizard and Sunn O)) had has some type of collision and members of each were trapped in the other's band. At some points the noise was slow and you waited for the chord to change while it hung there; at other points the riffs were heavy and manifold. I had to leave part way through the set to catch Hey Colossus at The Underworld. I managed to see 20 minutes of their show, whose opening salvo hit like an odd amalgamation of Brian Eno atmospherics and Esoteric-style riffing. The howls of pain the vocalist produced added a further dimension to their sound. But it was the overlay of these almost ambient textures that caught my attention the most as they raised the Colossus sound away from them being mere riff merchants and into something that was far more cerebral, so that the whole acted as some kind of odd soundtrack.
I wish I could have stayed at The Underworld longer but I had to hurry to the
Electric Ballroom
to catch
Samsara Blues Experiment
. Whereas the other venues had no real bouncers to speak of the Ballroom entrance was swamped with them, and they rifled through your bags in a way that bordered on it being indecent. But this was forgotten when Samsara Blues Experiment hit the stage: I am a fan of the band anyway (
see my review of their last tour
) and they certainly didn't disappoint this time either. There set was a mixture of heavy, punchy blues riffs and psychedelic interludes.
Christian Peters
' vocals and lead guitar were on top form as he took us through a journey of
what heavy music should sound like
by adding both light and shade to tracks. Chewbacca-like
Richard Behrens
is a storming, solid bass player who adds so much more to songs than just playing the riff. Their set covered some old favourites and some new numbers as well and judging by the applause they received I think they won over some new fans as well on Saturday.
I had said to my friend Nathan Perrier who is the drummer with 11 Paranoias that I would catch their set as well. So I raced back to The Underworld to see them. By the time I got in there the band were in full flow. Powerhouse chords were mixed with drone synth noises and at times a touch of saxophone that gave them an almost early Hawkwind sound. Between songs drones and feedback carried across the crowd and gave a sense of urgency until the next barrage of riffing hit the airwaves. The sounds were slightly psychedelic and hearken back to an age of darkened woods and witch trials – well worth catching live.
Next it was back to the Ballroom for
Weedeater
. To be honest, after doing five bands without a break I was becoming a little metal fatigued by this point. But the band's straight ahead blues style riffs with monster heavy bass couldn't help but perk up a flagging reviewer for a while. The audience in particular seemed enthusiastic to
these Southern toke merchants as they blazed through a powerful set
and had the audience headbanging from the opening notes onward. After this I headed back to The Underworld to catch a bit of
The Body
. Their slow as deep mud sludge riffs seemed to crawl with aggression. They reminded me of
Khanate
and SunnO)) ,with some doom laden Electric Wizard for good measure. It was at this time I realised I needed some kind of break just to think about what I had already seen. I must try and see The Body again at some point, hopefully headlining so I can take them in better.
A trip to a pub away from the festival for a sit down and some much needed food and to take in all I had witnessed before making my way back to The Black Heart to catch The Cosmic Dead. As earlier the Heart was packed to the rafters, so getting near the front proved difficult. The  Dead gave a blistering set of space rock, psychedelic and krautrock wig outs that was the perfect end to the day. Yup, it's easy to mention Hawkwind and Amon Düül and Neu! etc whilst reviewing them, but parts of these artists do fit into the overall Cosmic Dead sound – although they do have a specific sound of their own, and their flutter of outer space mumblings was a great way to end the first day as their motorik beat travelled around my head for the long journey home.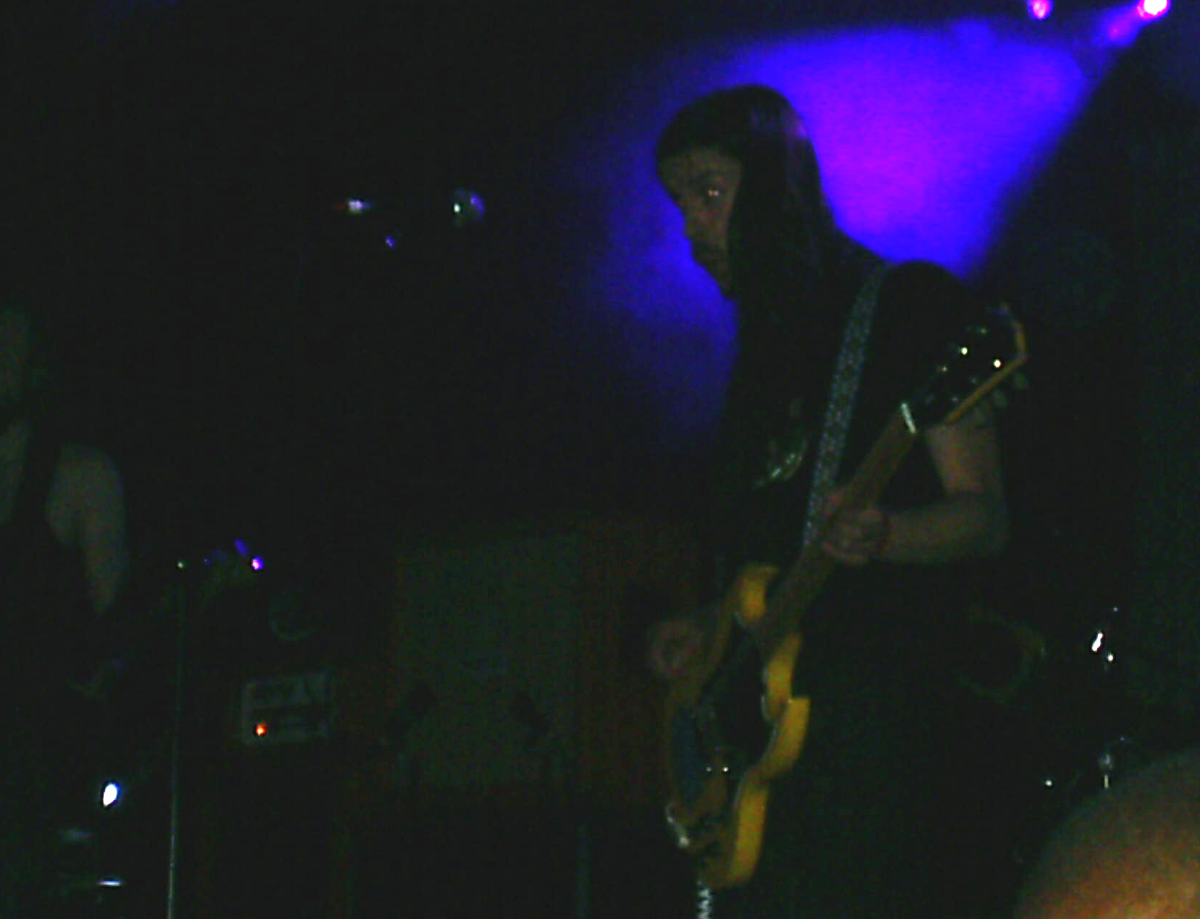 Sunday
Sunday in Camden seemed just as hectic as Saturday, with the queue for the cash machines spiralling down the road. So I headed into The Underworld to catch
Sourvein
. I've seen this band a couple of times before and their good-humoured brand of doom metal was a great late afternoon treat.
T-Roy
's swagger and excellent good old riffing was in keeping with the warm spring afternoon outside. The band has now been going 21 years and they pulled out a bunch of powerful tracks from their back catalogue to please the punters. Its a shame they were not on at the Electric Ballroom as I'm sure more people would have seen this rather excellent and under-rated band there and enjoyed them.
My next band of the day was the Japanese serial killing doom mayhem that is Church of Misery. Founder member Tatsu Mikami's blistering bass forays into the dark world of Charles Manson, Richard Ramirez et al pushed the band's envelope to full tilt during an amazing and chaotic set. Hideki Fukasawa was like a man possessed with the spirit of the Manson Family as he bellowed his way over the psychedelic cacophony and added synth flourishes to the proceedings. The band gave us some classic numbers plus a (blood) smattering of numbers from their new album Thy Kingdom Scum. I have seen the band a few times over the years and their energy live is always amazing. At times their set has steady riffing – at others it explodes into what seems like free-form madness. If you have not seen them live yet I would strongly suggest catching them.
They were my final band over what was an immensely enjoyable weekend. Would I do Desertfest again? I sure would and I look forward to seeing who is part of next year's line up.
-Gary Parsons- (all pictures too)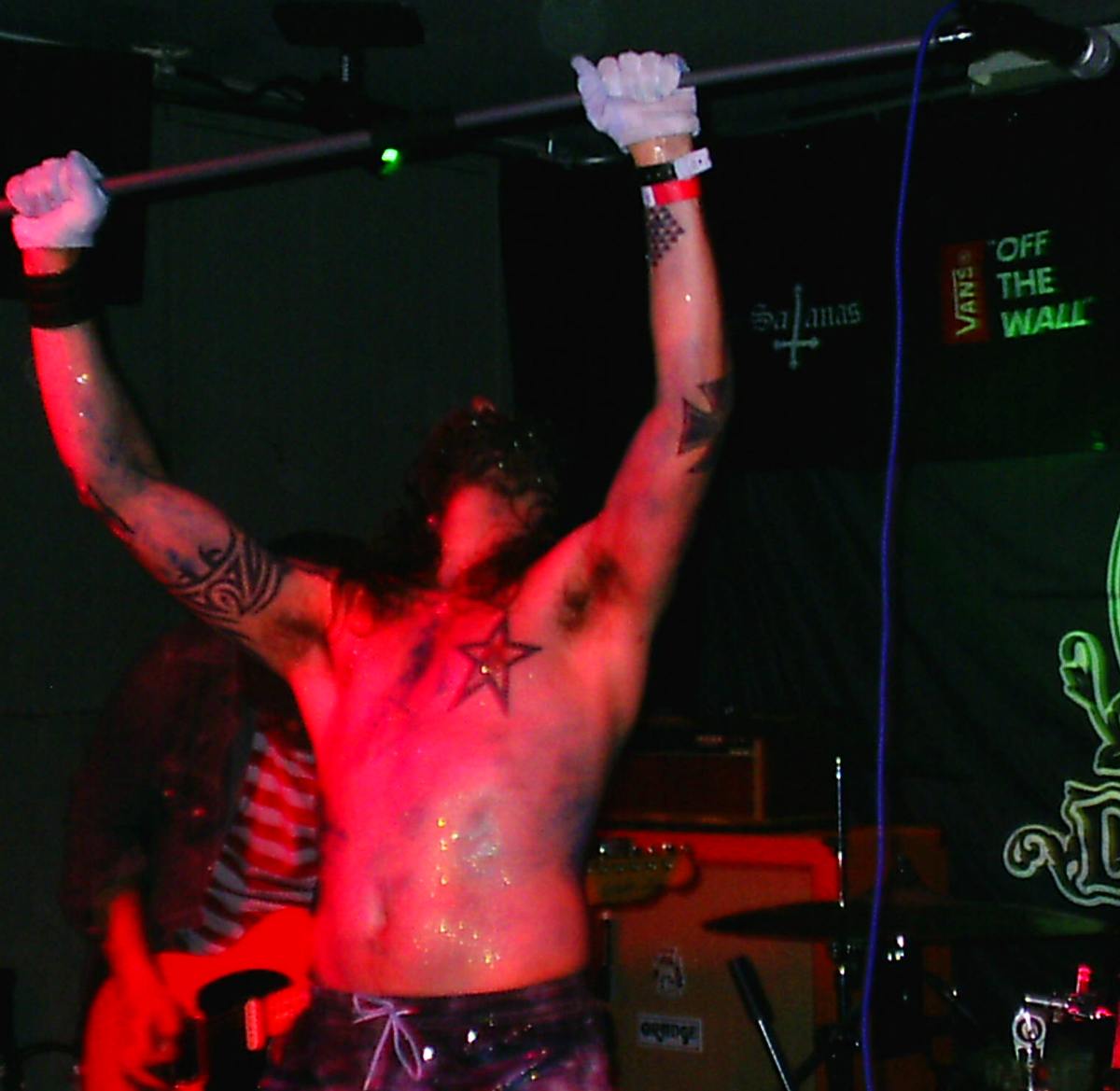 Sunday (continued)
Beards. Setting aside for a moment the comical hysteria from the press about "peak beard" and speaking instead from the much more authoritative stance of my own incredibly limited personal experience, festivals these days are all about beards. Well, the last three I've attended have been, anyway.
Bearded Theory
–
hey, that one pretty much explains itself
.
All Tomorrow's Parties
–
beards of the thoughtfully stroking variety
. And now Desertfest, where unless you're
Boris
or a lady it seems compulsory to have one before venturing on stage. Although these are neither false beards nor hipster beards – these are proper beer-swilling Viking beards. But beards nonetheless. For this is a heroic age, an age of drinking and carousing, of moshing and shouting.
This, my friends, is an age of METAL. Well, the third day of a weekend of metal, anyway, which is good enough for me
.
First I have to check out Baron Greenback, largely because of the name. I loved Danger Mouse (only time I've never wanted to punch David Jason, as it happens), and especially his amphibious nemesis the Baron. And the band who bear his name are suitably big, brash and loud, not to mention a whole lot of fun. It's pretty good-natured stuff going on here upstairs at The Black Heart, a touch of Ian Astbury in the vocals on the verses, and a whole lot of chugging and soaring guitar on the rest, calling to mind the glory days of the New Wave Of British Heavy Metal, and eliciting much raising of pints. Because apart from beards, it's also all about beer, something most of London's metal community will live to regret the next day, if Twitter is anything to go by. (It's also a lot about the ghosts of Lynyrd Skynyrd, as will become apparent).
The next thing I catch is the doomy minimalist spacerock of
Pombagira
at The Underworld, about whom I've heard much, but have never actually heard. And to be honest, to start with I can't figure out for the life of me what all the fuss is about. It just seems very much like exactly the sum of its parts; some loud doomy guitar and some drums. Nothing wrong with it, exactly, just not much point to it. Until they lock into a groove, at which point I realise they're doing that same arcane magick that
Om
do, whereby I begin every song trying to remember exactly what it is I loved about this stuff in the first place, then
trance out for a bit and reach the end wishing it could go on forever
.
Tempted more by the name than anything else, I wander over to the Ballroom to see Lonely Kamel, and they're great. Despite hailing from black metal capital Oslo, they serve up big slices of proper good-time sleazy Southern stoner rock with an undercurrent of doom. It's like Lynyrd Sabbath, and it's glorious. They're what should be playing on Sons Of Anarchy when the boys are chilling with some beers at the clubhouse. They even have lyrics about "making sweet love." Fantastic. I then embark on a brief yet intense pub crawl in search of wi-fi, having decided I need to liberate some funds (ie raid my rent money) to buy a Boris t-shirt. And of course it's rude not to buy a drink in a pub you've just gone into to ask a question, isn't it? So yeah, a few of those. And I even manage to impress a gay couple with my unexpected knowledge of both John Waters movies and Divine's pop oeuvre of the '80s before my quest is done, and it's back to The Underworld.
Radio Moscow
, unlike Lonely Kamel,
take the Skynyrd template and go in the other direction
, making it less sleazy and more twiddly. It doesn't really do a great deal for me, if I'm brutally honest (which I am), but maybe I'm missing something, as The Underworld is heaving and everybody else seems to be having a great time with it. I decide to leave them to it wander off to catch
Graves At Sea
. At least I try to catch Graves At Sea. Ironically they are running late, because they are trapped under the sea. Well, the official story is that they're stuck on the Eurostar, but thematically it works better if I assume they're stuck on the bit of the Eurostar that's actually under the sea. And as a result they end up getting pushed out of my carefully (well, technically "hastily") constructed personal schedule for the day. Which is a shame, partly because I've heard good things about them, but also because Desertfest's been organised pretty well, and there are few if any significant clashes today – provided the trains are running on time. So in keeping with the nautical theme (at least I assume it's in keeping with the nautical theme and not beginning some entirely new Yorkshire theme) I go to see
Hull
at the Black Heart instead. And they do sound a bit nautical, in that they've got a big,
Leviathan
-era
Mastodon
kinda vibe going on, all stabbing at the whale from Hell's heart and all that. Big beasts, crashing waves, splintering timbers. All that kind of good shit. Or at least that's the impression I get;
I do have to point out that at this point I am quite monstrously drunk
. Also calling to mind Mastodon are Elder, playing back at the Ballroom. Chunky, solid riffing, with long instrumental passages and soloing that it seems only polite to describe as "stratospheric". Yeah, Elder are great. Though ironically very, very young. Then it's
Midnight Ghost Train
, who I've been looking forward to since checking out some of their stuff on YouTube and who don't disappoint. Again the ghosts of Lynyrd Skynyrd are present at the feast, only this time they're fronted by a dude with
a voice like Tom Waits shitting gravel
who says "motherfuckers" a lot. But that's just the start. They are, to put it simply, ALL THE METALS. They sound like a bunch of talented carnies playing Rock Night at the Titty Twister, and end with an
a capella
gospel singalong. They're fucking RIGHTEOUS. Due to the aforementioned railway fail and subsequent schedule rearrangements at The Underworld, Sourvein don't really get the audience they deserve, at least not at first. As their Electric Wizardy darkness gathers, however, acolytes begin to drift in, and it all turns out right in the end. And bless 'em, they rocked just as hard at the beginning when there was no sod there. Definitely check 'em out if you're into that culty doom thang.
And then it's Eagle Twin, who I've been looking forward to all day and wanting to see ever since The Unkindness Of Crows proved that all Ted Hughes was missing was a doom metal band. And they are pretty much the PERFECT doom metal band. They make a colossal amount of very deep noise very slowly. They're like the SunnO))) you can groove to, a less crushing SunnO))) with tunes and songs. And they beget DOOM. And they beget MORE DOOOOOOM… Sadly I have to miss the very end of their set in order to get a good place for Boris, because, well, because Boris. But what to expect? Given that over their 20-years-plus history they've proved pretty much incapable of making even two records that sound the same, they could always surprise us with, say, the techno J-Pop of New Album. Which would have been a stunningly ballsy move, but probably wouldn't have been as much fun as what we get, which is a Heavy Rocks-heavy set which is both heavy and rocks.
And audience goes crazy. There's one (to my mind) awkward moment just after
Wata
has taken the mike where she receives mid-song a smattering of polite applause which is probably well-meant but just comes off as patronising – come on, guys, she's played in Boris for over twenty years and her singing stands on its own. She's already more metal than all of us put together, she doesn't need guys patting her on the head. For an hour we get all the riffing, soloing, double-necked guitar action and totally hypnotic rhythm section we can possibly handle, before they kick us out into the shitty Camden night, pausing only for a brief encore so we can have a last stab at pretending Desertfest will go on forever,
like pushing the snooze button when you're having the most metal dream ever
.
I spend the rest of the night wishing I could have been there for the whole weekend, and the entirety of the next day being pretty thankful that I didn't. And that, ladies and gentlemen, is the mark of a truly great day out.
-Justin Farrington-