London
29 April – 1 May 2016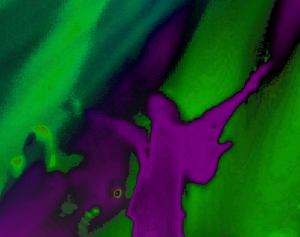 Desertfest is the place where the stoned immaculate of Britain (and several other countries) meet in one of London's coolest areas, watch some of the heaviest (and out there) bands over a three day period in five different venues.
Logistically, on paper, it just shouldn't work in this part of London, one of the capital's top tourist spots; but each year the festival not only gets bigger but seems to run seamlessly and with a certain type of laid back vibe about it. Before I start I have to tip my hat (if I had one) to all the people working for the festival. Every band I witnessed were onstage at exactly the time they were billed as appearing, and the old duck analogy sprang to mind of things seeming calm on top but were probably paddling away furiously underneath to make it all run so smoothly.
Friday
After days of atrocious weather the sun had decided to creep into view as I exited Camden underground station. As this was Friday I was expecting fewer people to show up than on the main days of the weekend, but at 2pm the venues (and pubs) were already
buzzing with beads, long hair, denim and leather as the invasion of the Viking hordes began to slowly take over the town
.
The first band I witness is The Grudge, a band that was added to the bill last moment because Planet of Zeus had to drop out, so this was probably already going to be a tough gig for the band. The packed Underworld audience though make sure that the band's southern-fried brand of stoner rock is going to go down a storm as everyone is gearing up for a long weekend of partying. The riffs are big, heavy and powerful and Keith Barker's full-on vocals and stage presence helps their set move along at a breakneck pace. All in all a fine start and a good omen of things to come.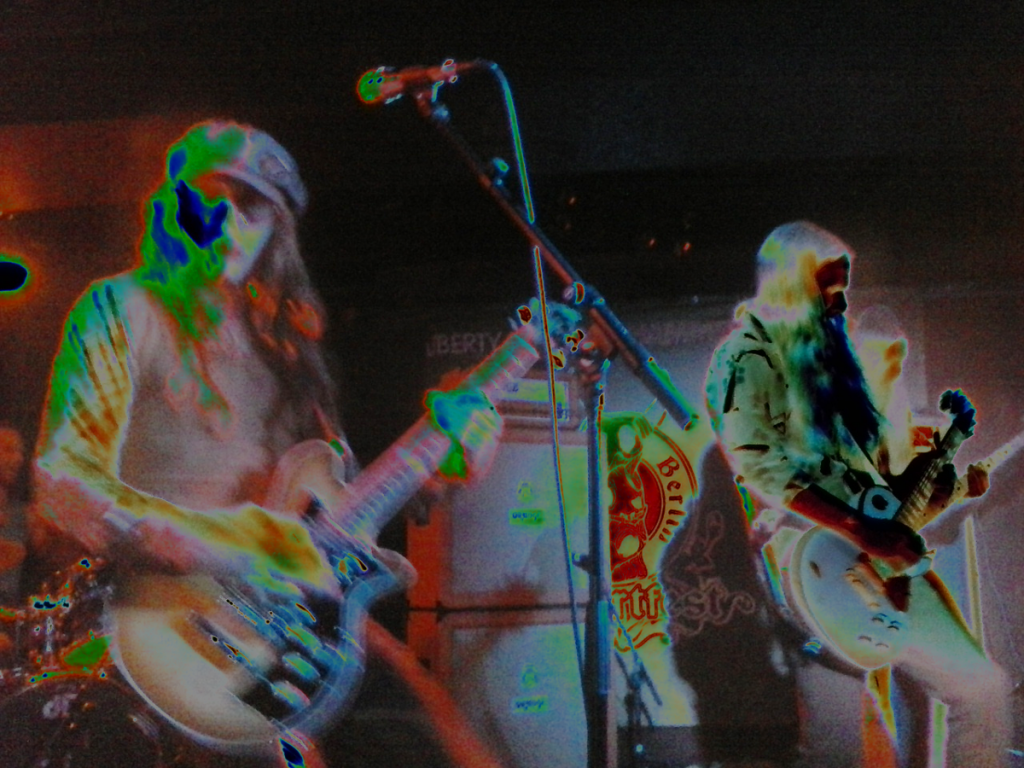 Black Pussy
were one of my must-see bands of the festival and this is also their first ever UK gig. Playing material from their new album
Magic Mustache
, their sound is a mixture of psychedelic madness and Seventies hard rock, all held together by
Dustin Hill
's bluesy vocals. The band are in full flight within their opening number and they power through their set with
hip-shaking heaviness of riffs and choppy organ chords
. It's an intoxicating blend that hangs in the air like a fog of sweet leaf over the crowd and with track titles like "Into Your Cosmic", you know you are getting some out there vibes laid down upon you. I'm really looking forward to seeing a full set by the band when they return to the UK later this year. Next I catch
Lionize
, who have an almost funky but proggy edge to them — they are like a headlong collision of
Clutch
,
Deep Purple
and
Black Sabbath
. The only unfortunate thing was is that I have to leave before the end of their set to head over to the
Electric Ballroom
to catch the next band on my must-see list.
The Ballroom is packed with people ready to enjoy the psychedelic madness that is Asteroid. Judging by the band's reaction they are surprised as well. "Wow, there are so many people here", says guitarist Robin, who looks out over the audience in a dream-like lysergic haze as the first chords are stuck. The band is certainly giving it all they have as they charge through such multi-coloured anthems as "Karma" from their latest album 2. As each track passes by, the more the band push themselves towards a far-out nirvana. Lead guitar wails while Joannes' bass throbs with early Santana magic mushroom blues. This is weedian Zen music to help you climb higher mountains in your mind, but having it blasted into outer space. Certainly another band that I have to catch live again.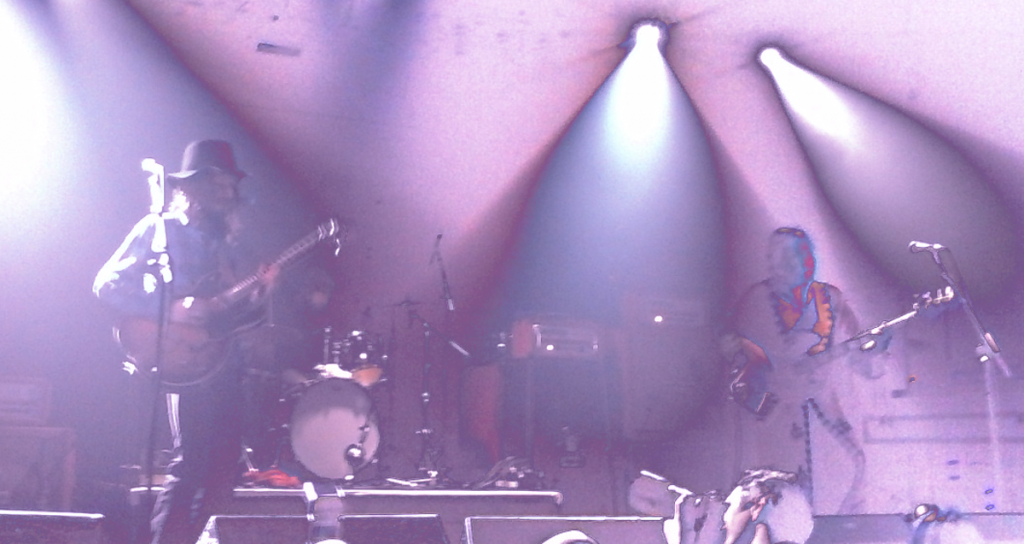 After a short break to refuel I head over to
The Black Heart
to catch
Teeth Of The Sea
. The Heart is certainly the hottest and sweatiest venue of the weekend and also the one place where people are queuing down the stairs to try and get in to see bands. The only problem with the Heart is if you are near the back it's quite hard to see the band on the stage at times (but this is only a small complaint as I've seen many fine groups play there). TOTS play an energetic set using the full orchestra of their sound to wash over the audience.
Jimmy Martin
's guitar work is quite wonderful and moving at times, as it caresses the songs in a warm fuzzy glow. Their sound is
a wonderful breath of fresh air after the heavy fug
of so much (terrific) pounding metal and proves that this years line-up is probably one of Desertfest's most eclectic.
Sunday
Today is one of the biggest and busiest of the festival, with the largest venue Koko opening its doors to become part of the fun. Today the crowds are larger and I will be running between four different venues. There is so much happening that I may only get to glimpse a couple of songs by some bands before getting to the next venue.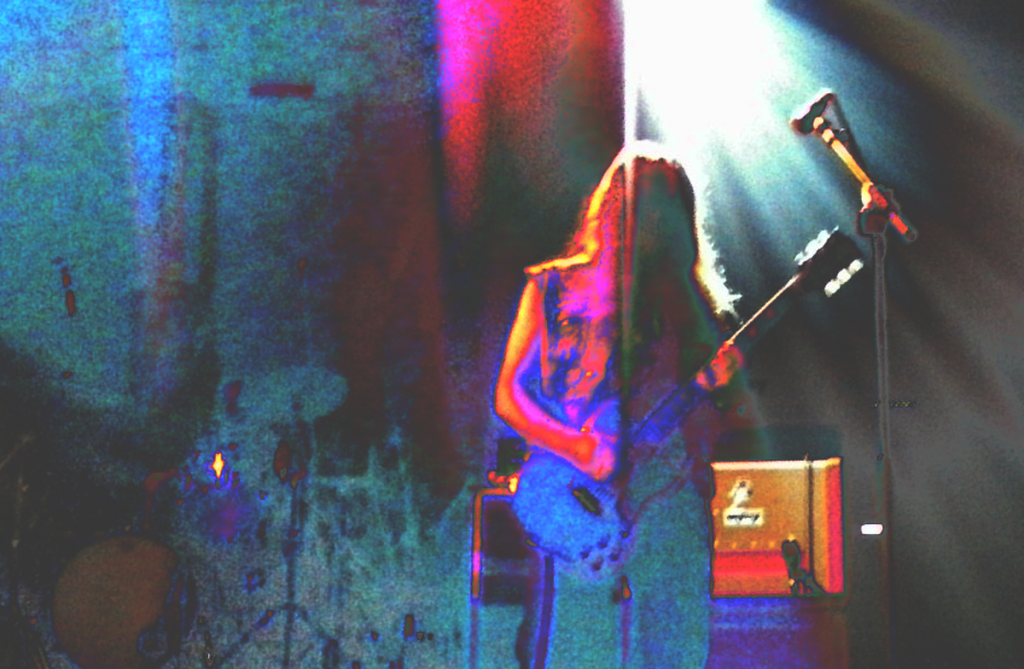 Witchsorrow
open today's events at the Electric Ballroom. It's been a while since I last saw them play live and their overall sound has not only changed from the doom sound of old, but their range has grown to be more dynamic as well. Yes, there are their trademark slow heavy sludge doom bits, but now these are tempered by some wonderful fast guitar work from
Nick Ruskell
. New songs like 'To The Gallows' have a certain power and majesty about them which sets Witchsorrow apart from most other doom acts. The songs are delivered with fire and passion and the band look like they are enjoying themselves
making the audience's ears bleed this early in the day
.
It's about a ten minute walk to the Koko from the other venues, so by the time I head there to see Monolord the place is already beginning to fill up. Monolord's sound is monolithic; it touches between head-down sludge with deep growling bass lines and cosmic-style space rock as it ascends heavenward. Tracks like "The Cosmic Silence" and "Empress Rising" have a kind of unearthly quality about them that drags you into the black hole and spits you out into the void. It is Lovecraftian in its majesty as its sounds drag towards cosmic dread.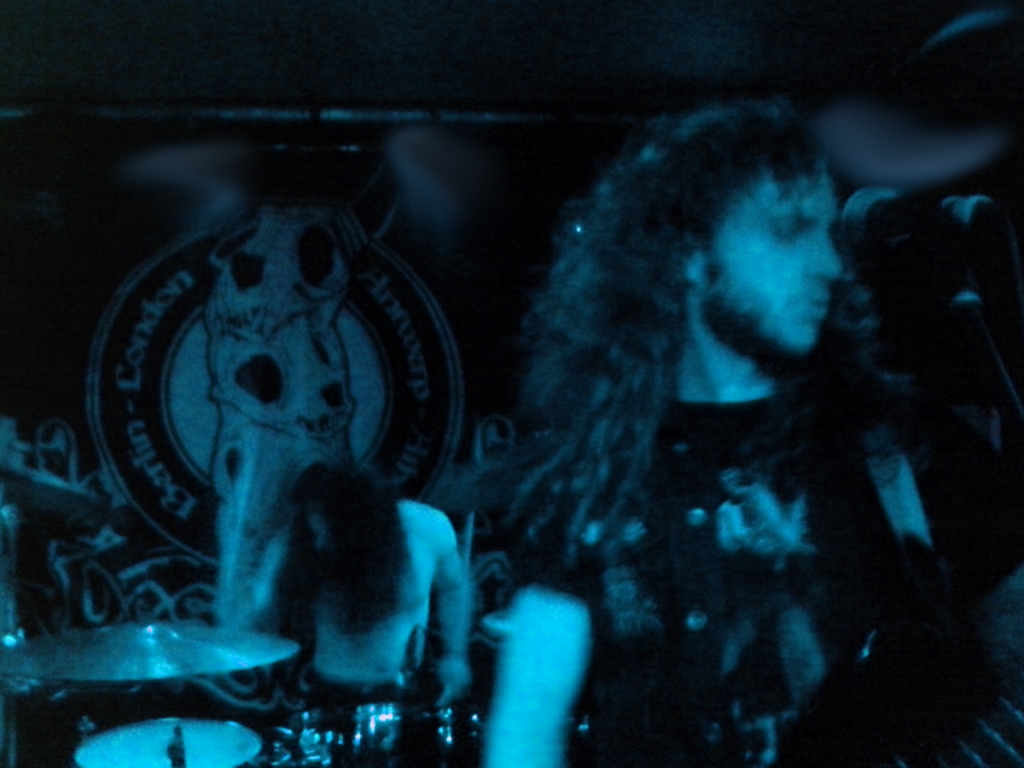 After a break to get my head together, I head back to The Black Heart to get there early and find a place near the front for one of my other must-see bands,
Beastmaker
. Like Black Pussy, this is the band's first UK show and by the time they take to the stage to the sound of a tolling bell The Black Heart is packed. Playing songs from their album
Lusus Naturae
, the band launch into
a blistering set of everything that's great about doom and occult rock
.
Trevor William Church
's amazing guitar licks hover over
John Tucker
's fluid bass work and
Andres Alejandro Saldate
's battery of drum assaults.
"You Must Sin" is a killer tune and "Astral Corpse" bludgeons the audience with its power. The band seemed to be having a great time, even though the heat of the venue turned it in to a bit of a sweat box. "Mask Of Satan" conjures up the power of old Mario Bava horror movie in its deep, riff-filled groove. All too soon their set is over, and Beastmaker are another band I will look forward to seeing on their return visit to these shores.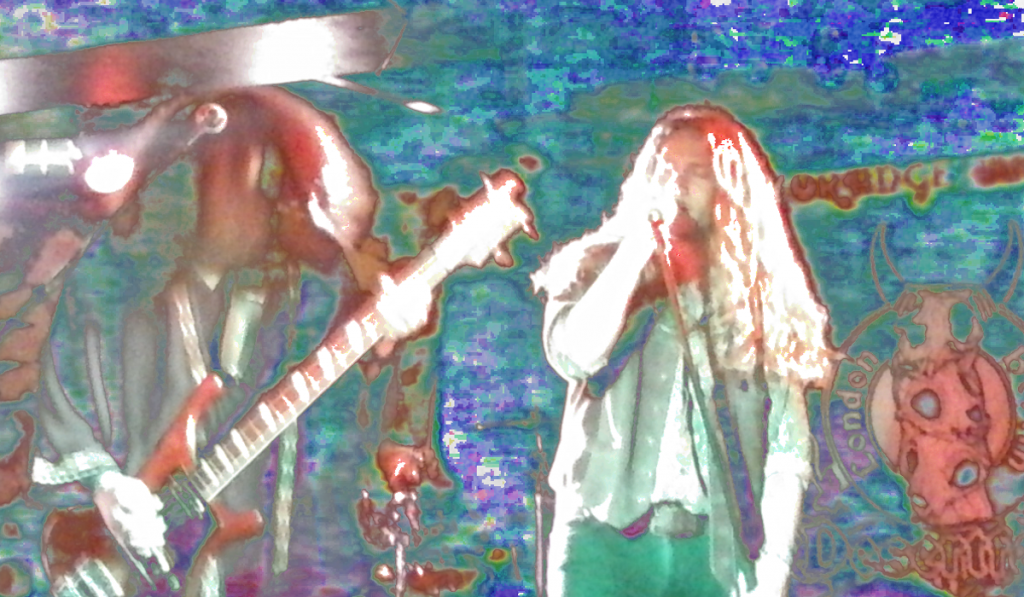 It's then a quick rush to The Underworld to see
Siena Root
play. After all the occult darkness, Sienna Root are like a ray of sunshine. Their sound a glorious psychedelic mix of
The Doors
,
Ten Years After
and Deep Purple all squelched together in a wonderful cosmic pie that can't fail to please and the band are always wonderful live.
Samuel Björö
is a fantastically warm front man, his vocals light up the
song
s
and his stage presence is wonderful. The band are on the top of their game tonight as they mix brand new songs with old classics. At times you are transported back to a 1967 wonderland; then next you are grooving to some early Seventies rock funk, but all the while you are basking in the warm glow of the band.
Matte Gustavsson
's guitar work is
fluid and intense as he climbs the rainbow bridge in to mystical realms
. There is just something you have to like about a band whose music makes you feel this good.
Blood Ceremony then take centre stage at The Electric Ballroom on what seems to be their only London show on their Lord of Misrule tour. I've managed, so far, to see the band at every London date they have played and they never fail to deliver. Their set tonight is peppered with old classics such as "Master of Confusion" and"Oliver Haddo", as well as tracks from the new album. Alia O'Brien is a wonderful front person; not only do her vocals have a touch of the demonic about them, but she sways and moves like a woman possessed when playing her keyboard and flute. Their sound is the glorious music of The Wicker Man mixed with Sabbath-style riffing that percolates into a perfect witches' brew.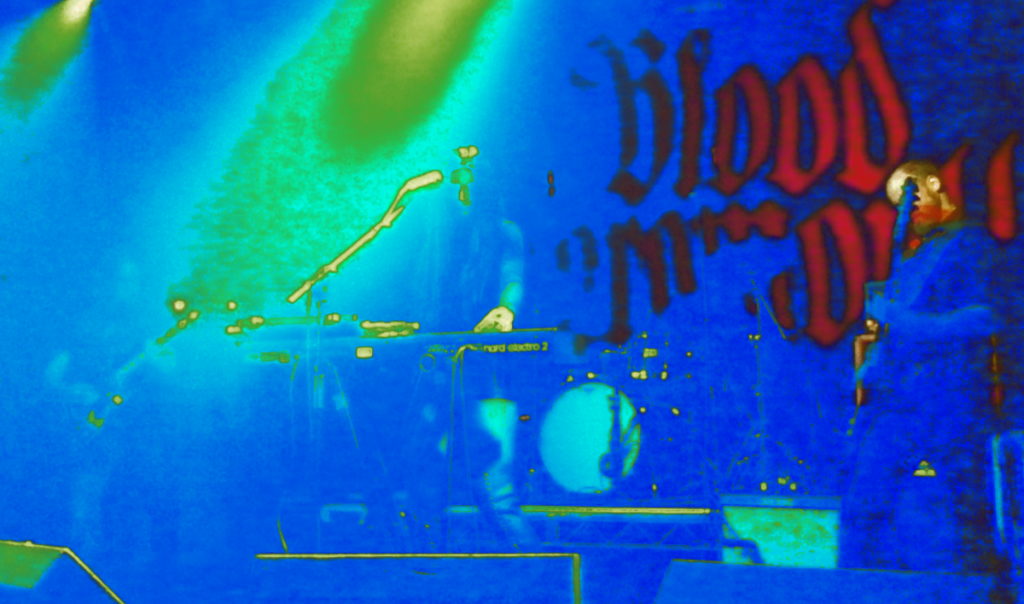 The songs create atmospheres of folk horror and the exploits of
Aleister Crowley
that could easily be a soundtrack for the entire occult scene of the early Seventies. Tracks like "Summerisle" and "The Magician" can't fail to please, although crowd favourite "The Great God Pan" was missing from the set this time. The band manage to weave a spell over their audience and transport them
back to the dark side of the Age of Aquarius
.
Then I do (what feels like) the long walk back to Koko to witness Electric Wizard. The band is now one of the elder statesmen of the doom revival, being one of only a handful of groups who kept the flag flying for huge Sabbath-style riffs before the explosion of bands in recent years. The band live are a well-oiled machine these days, compared to some of the chaotic gigs I saw many years ago. The visuals they use work well in creating an overall atmosphere for their pounding sound. The Wiz have to be loud, there has to a waft of something sweet floating around the audience and if you're heading to a black mass ritual afterwards, their songs are a perfect soundtrack for your evening's events. In fact, Electric Wizard pretty much rewrote the book of doom that a lot of other bands read and copied.
Their set tonight seemed almost designed to take no prisoners as they powerhoused their way through "Lucifer's Slaves" and "Satanic Rites of Drugula". "Return Trip" is filled with psychedelic madness as it pushes you over the edge of sanity and into a lysergic cauldron of laughing demons. "Black Mass" crushes its audience with its sheer unbridled satanic power. This is
music from the dark path of the human psyche
; its malevolence shines through and gathers together Lucifer's children to dance at the end of time while the world is engulfed by flames. "Funeralopolis" crushes the mind and the soul as it lurches along, dragging all those willing towards the opening to hell. As the band finish their set, you feel almost worn out by the experience. I can't wait to hear what delights the new album, due later this year, will hold.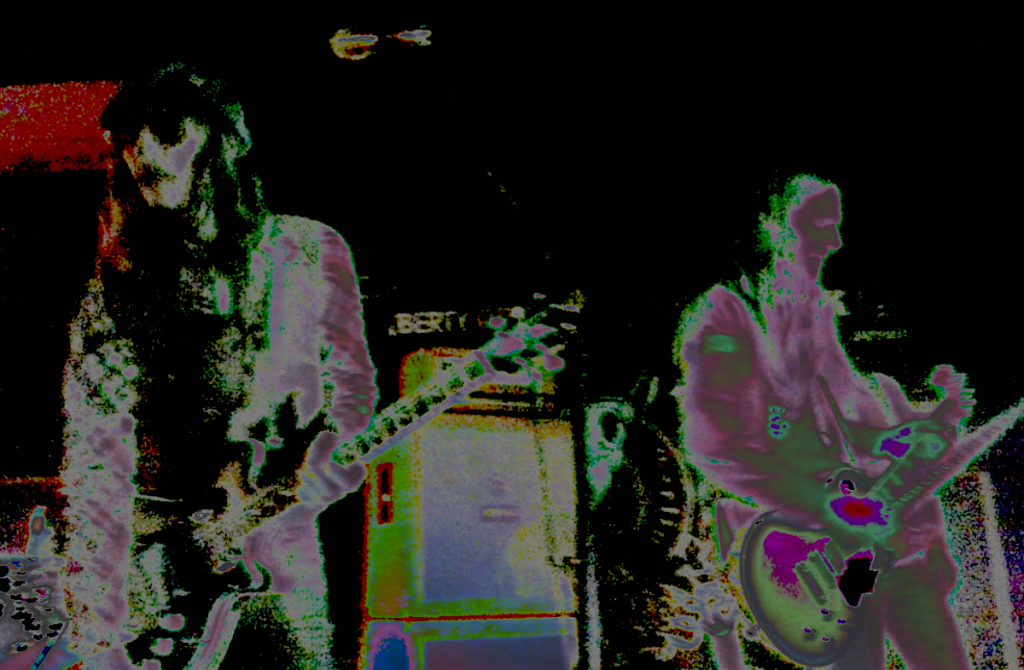 This year's line-up had been amazing and the atmosphere and vibe of the whole festival was incredible and friendly as always. As Desertfest seems to get bigger every year, I hope that its laid-back feeling still remains intact for what is
the best festival of heavy music in the UK
. Well, I suppose the only way to find out is to do it all again next year.
-Words and pictures: Gary Parsons-
Sunday, continued
It really doesn't matter how gentrified Camden may have become — the hipsters can get in the sea (usually the case, to be honest) because the streets around the station now belong to the Desert, whose hard-riffing 'Fest has blown its way into the third day, and there's
a sandstorm of metal and weed in the air as the faithful converge
on the crossroads for a celebration of all that is huge, heavy or just plain baked.
After a quick chat with the friendly Desertfest staff in their temporary bunker outside The Black Heart, during which I am told I really should catch Elder (advice I am sadly unable to take due to scheduling clashes), I find myself sitting in the pub itself trying to plot a course through the afternoon's mayhem. According to the brochure, a band called The Moth are about to begin upstairs, and sure enough, drinkers are starting to drift towards the staircase. I neck my pint, buy another one, and join the throng.
Hailing from Hamburg, The Moth are a three-piece who specialise in sludgy swamp-rock with a healthy side order of thrash shredding — their bio describes them as "Slayer-doom", and you can kind of tell why. The male and female vocal contrasts add an element of Sonic Youth to the proceedings, though that's ripped away by the sheer heftiness of the riffing, all doomy three-string bass and manic guitar chugging. And, as promised, their drummer really DOES make amazing faces as he slams his way through their set.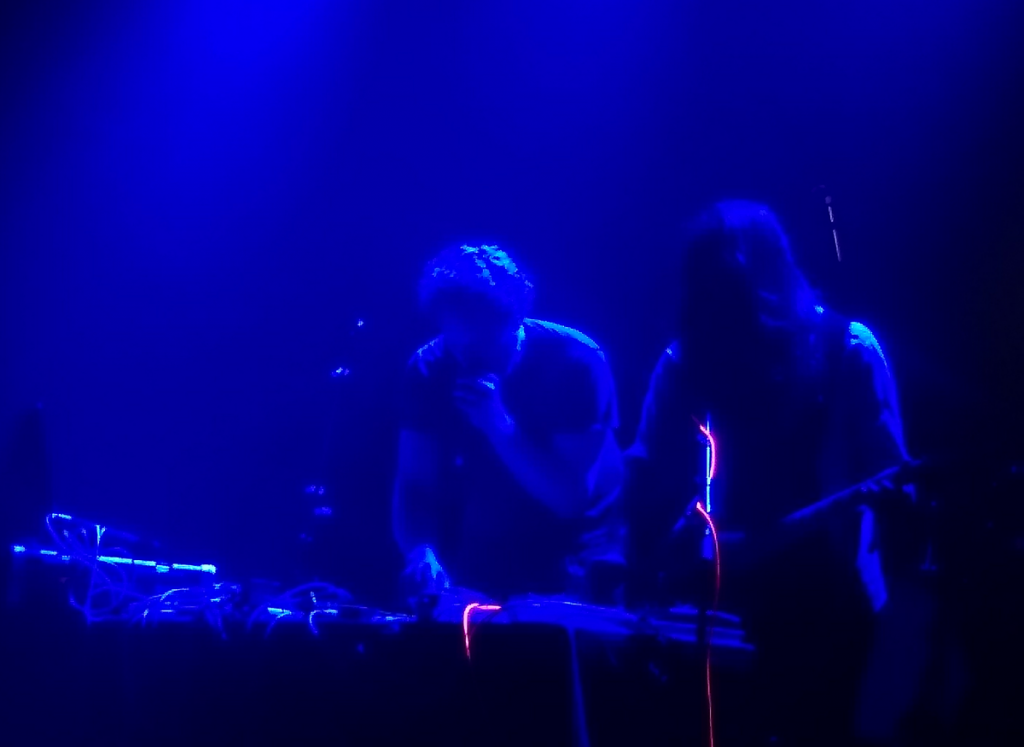 Then it's off to The Electric Ballroom, where I will be spending most of the rest of the day, for
Necro Deathmort
. I have to confess, having seen their name on the bill, I figured with a moniker like that they were over-egging the pudding somewhat — they might as well have called themselves
Deathy McDeathface
— but having checked out some of their recorded material I'm keen to see them as they promise to be one of the more nuanced and layered acts on the bill. And they don't disappoint.
Two guys behind a rack of electronics, one of whom lays down some excoriating guitar filth while the other does arcane stuff with his hands, resulting in what you could probably get away with calling drone doom electronica, bringing to mind some of the heaviest shit you could imagine. There's some Cop-era Swans in there, or maybe a slower Godflesh, but probably the closest I can come to drawing a direct parallel is with Scorn, until they speed things up a little and become what I can only describe as a black metal Front 242 for a while. There are moments of dark and genuine transcendence in their relentless bleakness, and I'll later find myself wishing Godflesh had been on first so the joke I'm about to make, about them being as if Earth (the band) had been entirely colonised by robots, wouldn't end up having to be delivered punchline first, as it just has been.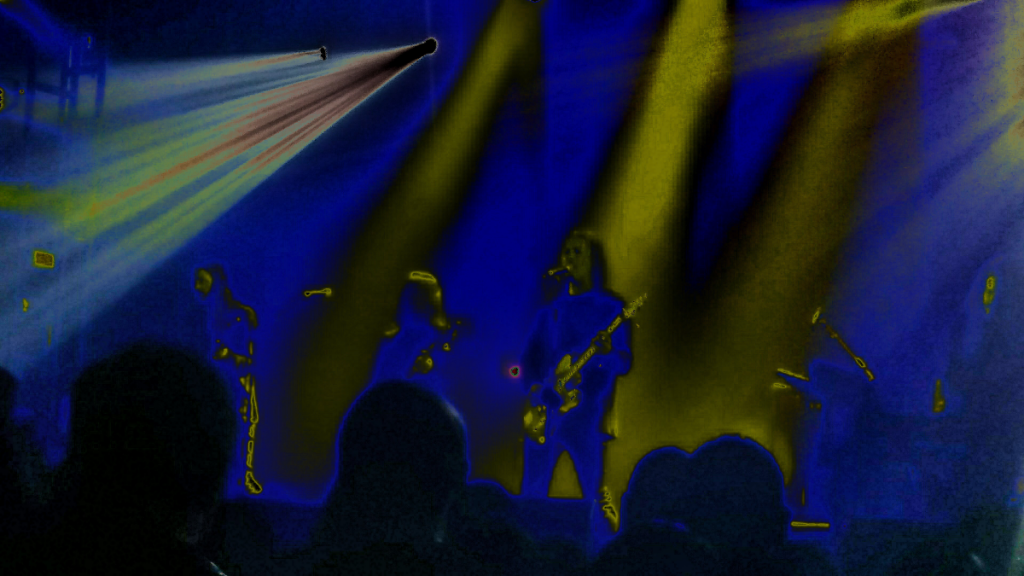 My other must-see of the afternoon are up next, also in the Ballroom — Finland's
Oranssi Pazuzu
, another band of whom I was shamefully unaware until this morning. Blending
Nachtmystium
-style melodic black metal with a percussive onslaught worthy of
Neurosis
, they use this as a base on which to weave what can only be described as
dark and psychedelic necromancy
. They deliver on the atmospheric promise far too many black metal acts don't quite manage, and it's like the intensity of the early BM scene blended with its later experimentation. There's even some
Fields Of The Nephilim
in there. If you want a smutty soundbite based in physical reproductionary impossibility, it's like
Wolves In The Throne Room
fucked Neurosis and they had a baby in
Carl McCoy
's living room during a particularly heavy Friday night session. Tremendous.
Blood Ceremony follow, and while I know they're being covered elsewhere in this thrilling organ (matron) they probably deserve a few extra words. They mostly play stuff from their new album, Lord Of Misrule, which is entirely fair enough, and while I personally prefer their earlier stuff (#occultmetalhipsterism), you can't blame them for not wanting to be the band that just sounds like Sabbath but with a woman and flutes forever. And they're great — probably the most traditionally rock act of the day, their supernatural melange of classic riffage, Hammer-movie organ and Tull-esque flute solos goes down a storm, Alia's cheerful (though often-redundant — "this one's about black magic!") between-song audience addresses providing a humanising centre around which the rest of the day rotates.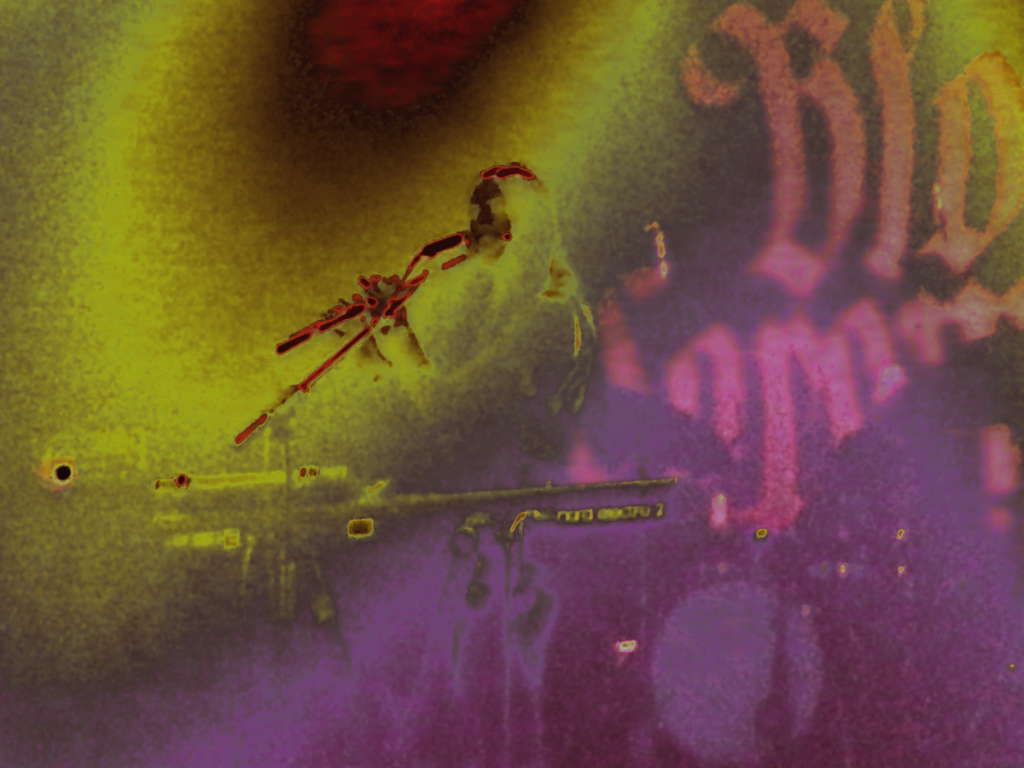 I catch about half their set then leg it down the road to Koko to see what I can of Electric Wizard (also covered above), who are, of course, ELECTRIC FUCKING WIZARD.
Immense, sleazy and crushing; although that can also be said of the crowd
, meaning as a latecomer I'm relegated to the back near the bar. On tiptoe I can see
Jus
,
Liz
and the gang rocking their exploitation stoner doom like motherfuckers, and they're kicking out a storm. "Dunwich", "Incense For The Damned", it's an awesome set. I stick around for the immensity of "Dopethrone", which takes full advantage of all the bass Koko has to offer, and then have to leg it back up the road to the Ballroom again, which is kinda empty as we await the thunderous cybernetic invasion that is Godflesh, everyone else still seemingly caught in the Wizard's spell.
This proves to be quite handy as it's easy to get a beer and get to a good spot before the remaining hordes pile in and pack the venue about two songs in, which makes what is to come all the better. Godflesh are, in many ways, the opposite of Electric Wizard, like brutalist architecture is in many ways the opposite of Dracula's castle. It's like they tickle the same bit of the brain but from the other side. The crushing heaviness, the relentless, driving, monolithic onslaught, that's all there. But it's a cleaner, less sleazy sound; it's The Terminator rather than Kill Baby Kill, Ballard rather than Lovecraft.
Broadrick
and
Green
still make a formidable onstage duo as the latter plays
bass that sounds like there's an electric charge running through the strings
and the former attacks his guitar like he's sick of it fucking with his shit and screams like he's sick of everything else. It is, of course, as if robots had taken over Earth. (The planet. See, that doesn't really work this way round, does it?)
There's stuff from their triumphant comeback LP A World Lit Only By Fire, of course, but they dip into their considerable back catalogue too, every track as brutal as the last, if not more so. Being beaten into submission has never felt so exhilirating. My mate goes CRAZY when they kick into "Like Rats", though to be fair he's kinda been going crazy to that song ever since we left Koko. It's entirely understandable. So does everyone else. Including me. It's the perfect amphetamine-fuelled mechanised smackdown to end a day of pot-heavy dark bliss.
Onwards and downwards. Roll on next year. All hail Desertfest!
-Words: Justin Farrington-
-Pictures: Richie Ruchpaul-