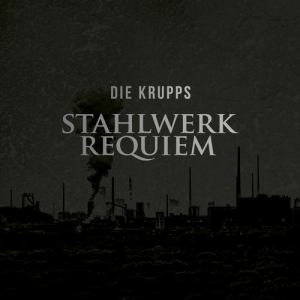 That bass is über meaty on the first track, steroid-injected, heavy on the recoil as a heavenly bounty of guitars burn up around it with Makoto intensity. A wow of toasty angles, quiver-toked in flinty sparks that curve-claw at the dark. This is just brilliant, clanking metallics and all, gathering in claustrophobic waves of pure joy and exploding contours. Wah-faring frets flying, mangled, percussively dancing that solid bass continuum in fiery tongues. A very heady 23 minutes to be savoured.
Back in '81, this Düsseldorf band released the ultimate industrial homage in the form of a
Steelworks Symphony
,
a monolithic shindig of metal, guitar and saxophone
. Now, some 35 years later the
Die Krupps
ians have revisited their fallen fruit, this time enlisting the help of a whole bunch of extra talent in a supergroup consisting of
Jean-Hervé Péron
and
Zappi Diermaier
from
Faust
,
Mani Neumeier
from
Guru Guru
, the
The Pyrolator
 and
Scott Telles
. An impressive line up that burns aplenty. That rattling fence shiver-fishing in a tracery of falling diamonds. The chloraseptic hum of motor tools that roar off at the 15 minute mark in a manic spin-cycle to breed more
fanciful fractures and chord-fed motoriks
. The stratospheric shoots, that fall in malfunctioning futurisms for The Pyrolator's synth to bubble-wrap and nocturne away. What a journey!
The second track is shorter (at 13 minutes 23), but no less intense as the cymbal kiss ushers in a drum-hungry Zappi and that bassy foundation breeds some lovely post-punk fuckery. Rich pickings indeed that land themselves into some groovesome wig-outs, and have got me scouring Discogs in search of its original inspiration.
-Michael Rodham-Heaps-