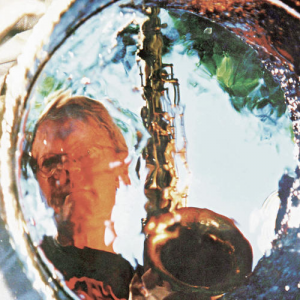 Originally released on LP in 2003 on the French label Élevage De Poussière, Dietrich was the solo debut of noise rock band Borbetumagus's saxophone player Don Dietrich. Here it comes in remastered form on CD, also including "Chinese Root Letter/Tabulae Sex", originally released as a 7″ on Ecstatic Peace in 1994. Named a classic of the noise field, Dietrich has none the less gone under the radar of many, being released only a small run LP edition with minimal distribution and has been for a long time out of print.
Dietrich is in-your-face, uncompromising, intense noise. His saxophone is heavy manipulated, although I can hear from time to time his heavy reed. If I try to get a feeling for his playing, it certainly is very much weightily free-form, both complex and simple at the same time, very physical and intense. But he destroys it. Makes it even more intense; by using electronics, he makes the sax disappear, turning it to even more noisy strings of piercing sounds. If the sax playing was intense and uncompromising, the manipulations make it even more so.
Although it is sax-generated feedback noiseall the way through, and the sounds often takes me to a dark place,
Dietrich
 is also very playful. Powerful intensity shifts suddenly to more minor screeching sounds. Sometimes I can actually hear Don playing the saxophone, and the tones move very fast up and down, or in various directions. There are some longer tracks alongside shorter ones, but the album gives no real intermissions as the sonic power is forever present, changing back and forth,
full of saxophone wailing, screaming, shouting, manipulated by delay, echo, reverb or electronic distortions
of some kind.
Being one of many who never realised that this album ever existed, so I can understand why Dietrich is sought after by fans of pure noise music. This LP stands out as uncompromising in every sense, giving the listener no time to relax, being so far from the mainstream that the common listener would find it hard to classify as music — though the musicality is very present, but in a completely unfamiliar shape. Lou Reed's Metal Machine Music comes to mind as an example of such musicality, and by all means, Dietrich should really be given the same attention.
Dietrichs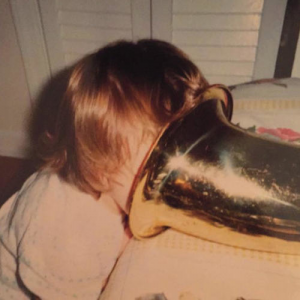 The reissue of Dietrich is accompanied by a contemporary recording and début of the duo of Don Dietrich and his daughter Camille. No doubt she has been inspired by and learned from listening to her father over the years, as they play very well together.
The first seven tracks are bound together as "The Decapitator Suite", and all have names fitting for Italian classical works, it seems to me. The final and eighth track is standing alone, although it fits well with the rest of the album, and is maybe even more powerful.
My first notes from each track (their actual names are actually longer, mind you):
Prelude. Saxophone in my face, cello accompanied. Free, gliding sounds, full frequencies, raw unmanipulated sounds, still far from a traditional sax/cello duo. Sax creates overtones, and the cello in lovely disharmony.
Minuetto. More careful, but goes on into crescendo, although the two seem to talk to each other. Looping intensity, although looped by playing the same over and over again. Fun.
Canto. Talking to each other again, this time in high pitch. Getting more full, still intense. Accompanying a dystopian future, scary, strange, exploring various aspects of the instruments.
Allegro. Aggressive conversations, fighting over scraps of bones, as starving inhabitants of the post-apocalyptic world of Dietrichs. They seem to agree on the tone, or on the level of talk.
Appassionato. Looping again. Like a train going too fast, ending with brakes screeching.
Agitato. Angriness, conversing looping sax, more playful cello, good interplaying
Allegretto. Cheerful insanity talk.
And finally "Wenis Supreme". Even more powerful. Sirens, looping, changing tempos,
The whole album is full of the same music that
John Coltrane
and 
Pharoah Saunders
 explored in their most extreme parts of improvisations, or as
Albert Ayler
did, if you wish. But here it never stops. It doesn't start as, or come back to, some traditional melodic structures, as 'Trane did so very well.
This is improvised free form all the way
.
Acoustic, but noisy. Natural and organic, but industrial. Jazz, but unjazzed. Unmelodic, but with a sonic, coloured palette. Exhausting and lovely. I could find only one downside; the mix makes the cello disappear from time to time. But all in all: this is a definite must-listen-more-album.
-Ronny Wærnes-