Bristol
14 November 2016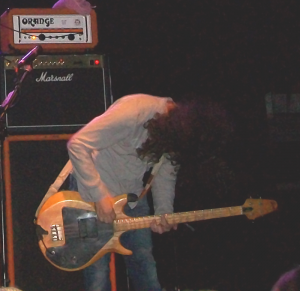 A revolving blue police light welcomes us to the stage at the cold and cavernous Motion. I puposefully had not looked anything up about Wild Style Lion, so knew not what to expect. Their setup was parked in front of Murph's drums with their logo emblazoned on the front and was small enough to be wheeled away afterwards.
A duo from Berlin, relatively young and good-looking, wearing caps and looking cool, one controlling the rhythms and bass and the other with a hot electric guitar. The rhythm machine starts and immediately you feel it in the gut. The guitar player is fantastic but subtle, and for the first three of the six tracks they play,
Philipp Virus
's 
heavily phased guitar lines weave in and out of the waves of belly-bursting bass
and staccato drums like metal candyfloss-enmeshed gears as the singer,
Khan Of Finland
, serenaded us. If you could cross
Alan Vega
with
Matt Monro
, you are some way there, a touch of the street poet with an aura of subtlety.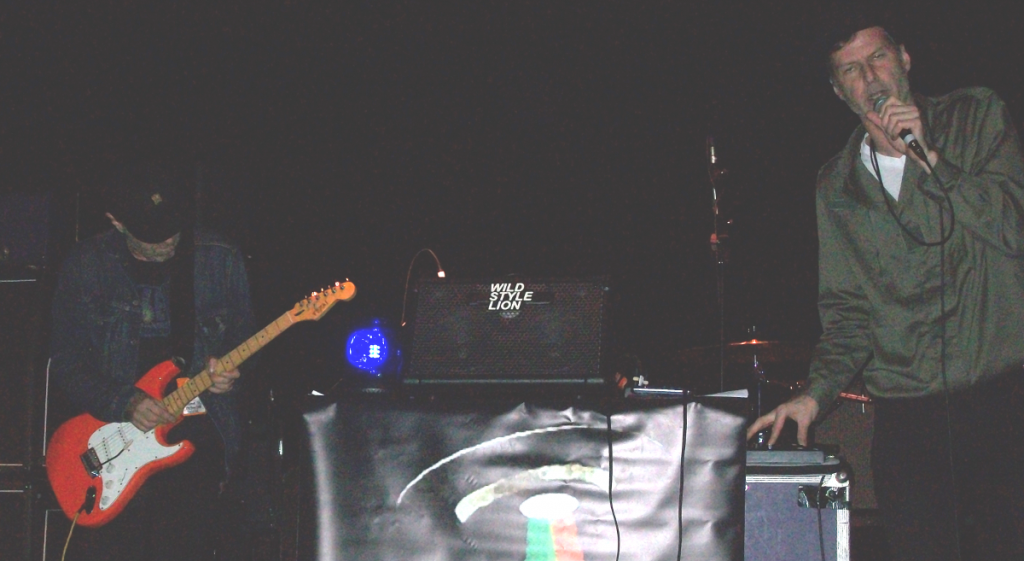 The rhythm tracks change song by song, one with insistent hi-hat and bass dirge, while the fourth track, which originally had
Kim Gordon
as vocalist, introduces a metallic industrial rhythm with the guitar appearing out of the shadows, with beautifully controlled feedback blowing across the landscape. The vibe of this track came across as if they were auditioning for
David Lynch
and they
would not have looked out of place in the Twin Peaks roadhouse
. On the final track, the vocals were echoed to a massive degree and with the feedback sweeping overhead, it was as if we were being divebombed by a squadron of screeching eagles. It makes for a dizzying finale and although they only played six tracks, they were a worthy addition to the lineup.
There are a lot of different emotions seeing Dinosaur Jr live. I grew up with the band and to see them making such a success of the reunion of the original line-up is really pleasing. It still makes me smile to experience J Mascis's apparent inability to engage with the audience, but there does seem to be a little more of a rapport between the three of them these days.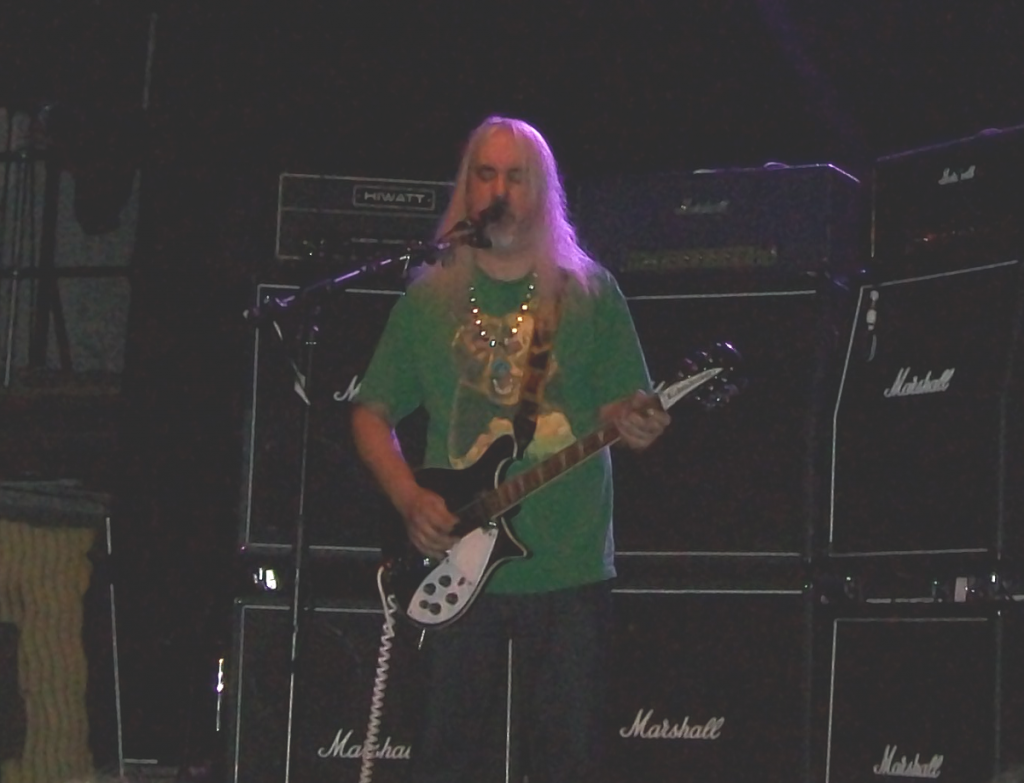 After a lighting-related false start, the band blast into "Bulbs Of Passion" and the hair on my arms stood straight up. You can tell that the last ten years have not only enabled the band to produce some fantastic new material, but to hone and enjoy the older tracks and with all the extra amplification and time on the road, they do great justice to these earlier songs. Not only is it a
thrill to see a thirty-year-old track dusted off and given a good kicking
like this, but it goes some way to showing that the band seems that little bit more democratic now.
J, in his tired t-shirt and wild white hair, swaying slightly, rarely smiles but allows the guitar to express things for him instead. For me, he has to be the most expressive guitar player of his generation and that seems only to be improving. In contrast to his Sebadoh days, Lou Barlow has become a wild, windmilling bass hero, legs splayed, crazy curly barnet, sweat-soaked shirt, his effortless bass chords perhaps the secret to their success, allowing a low-level rumble with a sweet progression the songs, then flowing easily. As for Murph, what can I say — he pins it all together with the easiest of demeanours.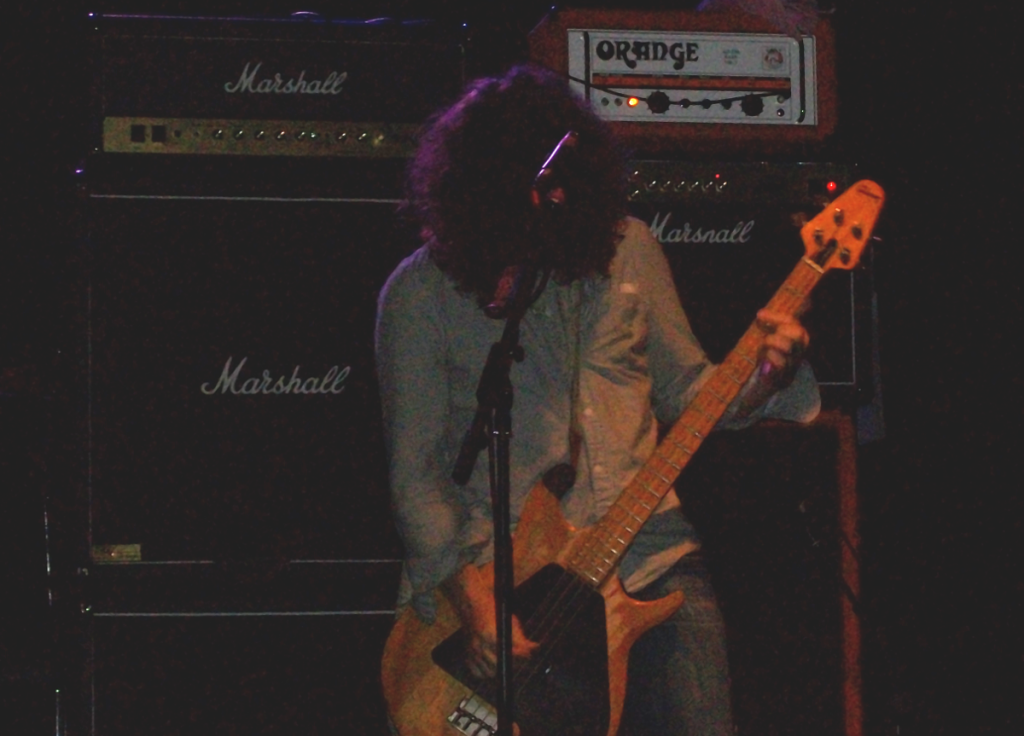 What did they play, I hear you ask? Opener "Bulbs" was blistering and closer "Gargoyle", taken from the first album — so also now over thirty years old — was a delightful churning surprise with Lou and J duetting, if you can call it that. There were three or four from the new album, including Lou's "Love is…" The new album,
Give A Glimpse Of What Yer Not
, is quite mannered in some respects, but the
new tracks were torn up and terrorized just for our delectation
, the volume turned right up and the rush attacking our senses
"The Wagon" found the band augmented by John Moloney (Eggs, Sunburned Hand of the Man) of all people, playing the Jay Spiegel part on toms and the guitar tech taking the Don Fleming part on second guitar. The noise was phenomenal — and then "Feel The Pain" saw the house erupt into a frothing mosh-y mass, as did "Freak Scene", the closest to a sing-along we had. They encored with "In A Jar" and the old Cure cover "Just Like Heaven" and left us desperate for more.
What this goes to show is that, despite tinkering with country and folk and other styles over the years, when they step on stage,
Dinosaur Jr are still that classic hardcore punk band that fried our minds
three decades ago. Thank goodness!
-Mr Olivetti-