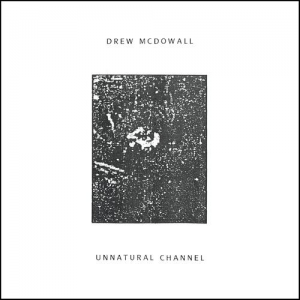 "This is what it's like." A softly whispered, wraith-like voice appears during one of the tracks and it's an exemplar: this is one (relatively) short descent into a steaming woodland of madness. There's great chasms opening up all over the land and we're listening to ourselves being swallowed.
Some of these tracks — "Tell Me The Name" is a great example — sound at times like giant iron beasts shifting in cavernous w(holes). Iron Men underneath the Earth, shivering and fucking, grinding against each other. We hear the echoes of their desire, these monstrous beasts.
There's some parts of
Unnatural Channel
that seep the ambient electronics from
Compound Eye
's
Journey From Anywhere
, the same hues and dribbles, the same sharply skewed beams of light; but this release is
altogether darker… the water is still warm but it's black as night
. The percussion still pits and patters (like blue rats), but it's more obvious on this release and the pulsing electronics this time often act as a shadow to the thunderous drums, as on the last track where the attenuated near-vocals and yelps of "Unshielded" acts like a demented herald of still darker things to come. Imagine the early
Animal Collective
shining through a gauze of dark magick. Actually, remember the West Country crazies
Furious Pig
? Well, those vocals with a side-salad of deep-popping electronic hellfire. If I have one small gripe it's that this is too short; I'd have been happy with an extended double of this set.
The pieces slide magnificently along
, but many of them could have kept sliding. I'm gonna ring
Drew
and ask to do some extended remixes for them; we need these rough babies to be stretched. This music needs the space to move.
-Loki-