London
13 July 2013
It's the middle of summer and London burns in plus 30 degree heat, and whilst some spent a sweltering day in parks at bars or on beaches some of us spent the time preparing for a whole weekend of psychedelic, doom-laden stoner rock. As it was so hot outside The Garage in all its wisdom decided to keep the air con on minimum (raising the temperature in the venue by quite a few degrees) and only put on four bar staff – so at times it was six people deep at the bar. But the bearded masses were not about to let boiling temperatures and dehydration stop them from enjoying an evening of great rock and roll.
I had not seen
Atomic Bitchwax
before and was rather pleasantly surprised as they kicked out the jams and got the audience rocking. They were a band on fire, wanting to prove to the London crowd that they weren't just any support band – in fact judging by the large following present they didn't really fit the 'support' category. They power-housed through numbers such as "Shit Kicker" and "Force Field,"
clattering away at their desert bong-filled riffs and adding an air of Hells Angels madness
to a humid Garage.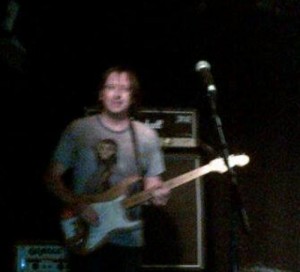 Then the surprise came that I, for one, wasn't quite expecting – they announced they were going to do a cover song and slipped with ease into Pink Floyd's "Pigs on the Wing" followed by "Pigs (3 Different Kinds)." They played both these songs with power and passion, making the lead guitars wail where David Gilmour would have been more sedate. Their short set ended, leaving the crowd wanting more. It would be interesting next time to see them play a headliner.
The last time I saw Earthless was at The Borderline and they were one of the loudest bands I had ever seen. My ears rang for days because I was right at the front wanting to lap up every moment of magic. So my expectations were high this time, and the band didn't disappoint. From the opening feedback from Isaiah Mitchell on guitar, the band launched into an hour-long attack on the senses.
Their tracks are like
a stream of consciousness that rolls into one heady haze of psychedelia
. They were a battering ram, a fug on the mental senses that sprawl you into a cosmic void. I have to make mention here of
Mario Rubalcaba,
one of the best live drummers I've been fortunate to see. How he kept up the unrelenting pace for that long as well as managing to be creative and original in his drum patterns is quite astounding. Half way through a set that included "Sonic Prayer," the heat of the venue looked like it was getting to Isaiah as sweat poured from him and from the end of his guitar, but this seemed to push him harder into the fuzz-filled
Hendrix
territory as the band crunched their way through the set.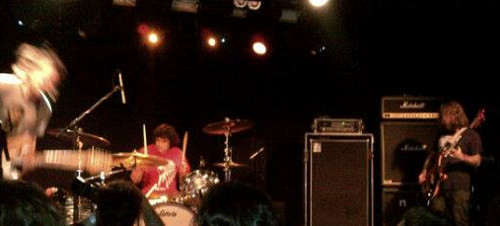 After more than an hour of music we thought it was over, as did the soundman as he started playing music for people to exit by. But Earthless made their way back to the stage to play a marvellous version of The Groundhogs' "Cherry Red." A scorching end to a scorching evening, and we left the venue and were spat back out into normality again.
If you have not seen Earthless before make sure you take a ride on the cosmic train next time they are in your town.
Words: -Gary Parsons-
Pictures: -Andy Oram-