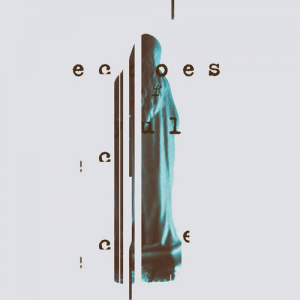 Consisting of otherwise unplaced material from Echoes Of Yul's The Healing album and originally released as limited run of cassettes, The Healing Sessions now appears on CD.
Given that the first album only held eight tracks, the thirteen extras here could perhaps have made it a double album and then some, but works well — and maybe even better — as a companion piece too; sometimes that's just how it works out. Michał Śliwa (the project's only member) has given the cassette tracks a touch up here and there, but the essential ingredients — weighty bass guitar, languidly dubby percussion and sensitively-placed instrumentation of various sorts — remain the same.
In contrast to
The Healing
, the 
Sessions
feel like they have been allowed more room to breathe, to revisit similar thematic territory on more than one occasion too, and it's of course here that there origins as sketches or pieces that didn't necessarily fit the mood of the first album becomes more evident. Despite this, they still manage to form a cohesive album that rolls out with all the stately grace of a force of nature, while also belying their origins as a solo project.
Śliwa's attention to detail is exemplary, and the fuzzy tone of his bass shares a textural affinity with contemporaries such as
Rothko
and
James Welburn
in its scrawling yet precise room-shaking presence. There are occasional lightly distorted vocals buried in the mix, usually crackling with the added sound of old vinyl and treated to the echo FX of a heat-haze dub mix and the grooving tones of organ melodys that reverberate like they have wafted in from another place and possibly time. There's still a place for rock'n'roll in the Echoes Of Yul canon though, as
riffs wander off into curlicues of brittle notes and chugging distortion
, and even similarly extrapolated funk on the unwinding "La Chèvre". But not for too long, and while there are also some pieces such as "Sweep" that might have the feeling that they have their origins in jams or ideas that never quite reached a definitive conclusion, they're still agreeably listenable for all that.
The Healing Sessions is one of those rare albums that springs almost fully formed from the discard pile of another — it works extremely well in its own right, sometimes perhaps even outshining its older sibling.
-Linus Tossio-